Back
The HKIE Innovation Award 2021 Grand Prize (Category II – An Innovative Application of Engineering Theories): Together, we fight the virus . Fast track design and build of the world's first hospital with all-MiC negative pressure 816 beds in four months - The North Lantau Hospital Hong Kong Infection Control Centre
Significance and critical challenges
In August 2020, COVID 19 overwhelmed the global healthcare system. The Central Government of the People's Republic of China (PRC) fully supported Hong Kong to build the North Lantau Hospital Hong Kong Infection Control Centre (HKICC) near the Asia World Expo. Facing the urgency of the pandemic situation, the HKICC was designed and built within four months, in full compliance with Hong Kong building regulations and international healthcare standards.
The HKICC covers a 44,000 sq m construction area, including six two-storey ward blocks with gradient negative pressure rooms, one two-storey medical centre, one one-storey energy centre, one DG store and VIE tank (Figure 1). Each ward block is served by one lift and one lifting platform. All blocks are linked by central covered walkways and three link-bridges. Underground service trenches are provided for building services.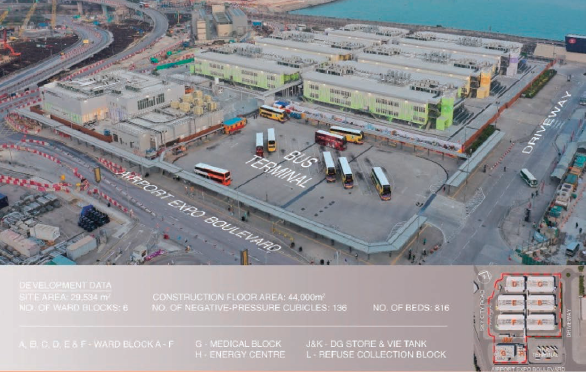 Figure 1: Bird's eye view of HKICC
Innovative technologies
The following technologies were applied to reduce the design and production coordination time, and finally speeded up the construction process.
1) Each isolation room was composed of three Modular Integrated Construction (MiC) units (Figure 2), and total 524 MiC units were manufactured in Zhuhai and shipped to Hong Kong for assembly.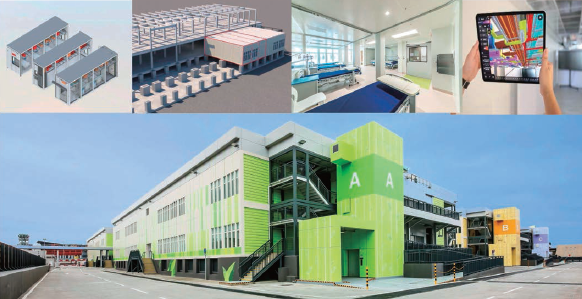 Figure 2: Completed ward block and MiC works
2) Using the "Live Model Coordination" working module, design team and Building Information Modelling (BIM) team developed the BIM-MiC model synchronously for factory production.
3) Structural design incorporates the concept of Standardisation, Simplifi cation and Single Integrated Element. By applying the Design for Manufacture and Assembly (DfMA) method, MiC, prefabrication, precast, steel deck formwork, bolt joint and coupler connections were developed by optimisation technology.
4) Sophisticated Building Services works were divided into small sections and fabricated by the DfMA method at off-site. Each section was provided with a QR code to identify the corresponding location and then to expedite the on-site assembly.
5) Apart from the Full-BIM, Digital Works Supervision System, Virtual Reality, Laser Scan Technology and Augmented Reality had been successfully adopted and facilitated the efficiency of the on-site coordination.
Creativity and values
The innovative technologies aforementioned boost construction productivity, bringing about savings in 50% construction time and 50% manpower, and at least 50% reduction in carbon emission.
The project has gone through design, construction to testing and commissioning within the targeted four months. The usual construction time of a hospital with similar complexity needs to take more than four years to complete.
The fast track design-build for the world's fi rst hospital with all-MiC negative pressure isolation wards is a benchmark for future hospital buildings.