Back
The HKIE Innovation Award 2021 Grand Prize (Category I - An Invention): 3D Printed Copper Acupuncture Human Model (3D Acu-Man)
Acupuncture is a key component of Traditional Chinese Medicine (TCM). From acupoint localisation and needling techniques of acupuncture, the ancient methods are passed down as the TCM heritage. The current understanding of acupuncture has been advanced tremendously by in-depth anatomical localisation and functional manipulative therapy. Also, a lot of information has been gained from clinical application and research, such that knowledge is much expanded.
In the 21st century, more should be worked out to educate and train practitioners away from simply using rigid old traditional wood to plastic manikin models. Appreciating 2D descriptions from textbooks is also demanding for starters to apply them to the body. Even advanced learners, cannot collate well the vast information correlatively along the acupoints.
An innovative generation of"3D Acu-Man"
To promote the advancement of TCM and acupuncture, the "3D Printed Copper Acupuncture Human Model (3D Acu-Man, 3D針灸銅人)" project has been designed by the project team of Hong Kong Museum of Medical Sciences Society to form a physical approachable model whence a click at the correct acupoint would source out a good information.
Making of the "3D Acu-Man"
To start with, for presenting this 3D-Acupuncture Model in a modern state of art, a series of normal human body images was acquired with compurterised tomography (CT) and 3D scanning techniques. A 3D computer model of the human body was created and printed in true size using metal copper 3D-printing. The ordinary Fused Filament Fabrication (FFF) technique is optimised to reduce the production cost significantly. The medical images (in DICOM mformat) of a real human body were used to generate a three-dimensional model (in STL format) with over 370 common acupuncture points, precisely localised by a group of professional Chinese Medicine Practitioners and CAD/CAM engineers. Based on AR technology, an infrared tracking system was built which is composed of infrared emitters, sensors, trackers, and controller. The trainer/trainee would use the controller pointing to the surface of the 3D Acu-Man for acupuncture accuracy and knowledge. The 3D position of the controller was tracked and compared interactively with the acupuncture points in the computer model for teaching and training purposes.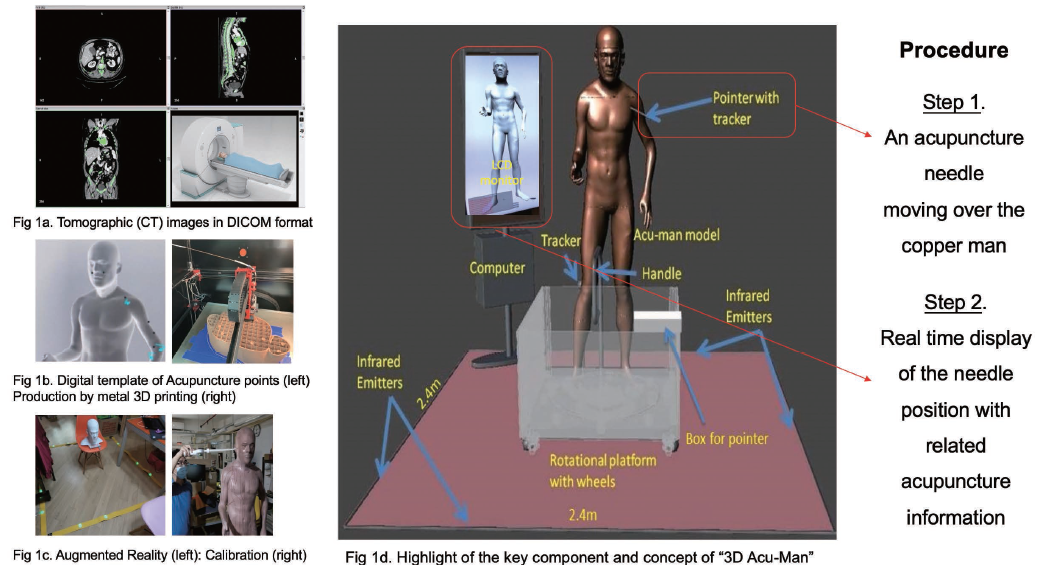 The design of "3D Acu-Man"
Our contribution
This is the first 3D printed Copper Acupuncture Human Model at this size (6 ft tall) in the world. The design and production was done in Hong Kong and patented. The "3D Acu-Man" is now instituted in the Hong Kong Museum of Medical Sciences for promotion and education of the general public on TCM and acupuncture. It is also used to train learners and practitioners for locating the acupuncture points and
needling techniques. Abundant positive feedback has been received from the general public and Chinese Medicine Practitioners. Since the official launch in November 2020, a number of media including those from the HKSAR and Mainland China had reported this project. The 3D Acu-Man will be published in the Hong Kong Yearbook of the HKSAR.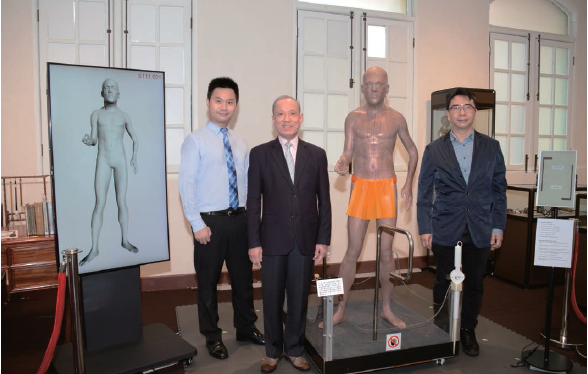 The team members (L to R): Ir Oliver C M Chan (Project Engineer), Dr Edwin C L Yu (Project Chief Coordinator) and Dr Carrison K S Tong (Project Scientific Leader)