Back
Young Engineer of the Year Award 2021 - Ir Ivy Y L Leung Gear up and be motivated to reach the goals
"It is the mechanics that drive the motions and allow us to do more powerful things. It teaches us to 'gear up and be motivated to reach the goals'." This is why Ir Ivy Leung chose a career in mechanical engineering. She wants to contribute to the community with her professional engineering knowledge and believes that engineers are the ones who steer the world forward in improving the living standard of humankind.
Gearing up as an engineer
"Always stay humble to learn is a key attitude for success" is the mantra that drives her to excellence as she pursues her engineering career. To obtain a top notch foundation in engineering, she attended Imperial College London and received her Master in Mechanical Engineering in 2010.
Returning to Hong Kong after graduation, Ir Leung put her career plan into motion - to become well-rounded in managing engineering projects by exploring the diverse roles of contractor, consultant and the Government. She started her engineering career with contracting firm ATAL Engineering Ltd as she wanted to understand on-site operation and working culture. To gain design experience, she then joined consultancy firm AECOM Asia Co Ltd where she was qualified as a chartered engineer. Afterwards, she joined the Electrical and Mechanical Services Department (EMSD) of the HKSAR Government and is currently under secondment to the Drainage Services Department (DSD) responsible for public works projects.
Aiming for environmental sustainability
As a rising trend in this generation, Ir Leung believes that it is an obligation to lift up sustainability in engineering projects in order to minimise environmental impact by humankind. She has, therefore, worked on Hong Kong's large-scale environmental engineering projects for sewage, waste and water treatment. These include Stonecutters Island Sewage Treatment Works, Integrated Waste Management Facilities (IWMF) and Tai Po Water Treatment Works. For the IWMF, it will be the first waste-to-energy plant for municipal waste in Hong Kong. With no precedent to reference to, Ir Leung had to learn the technologies from scratch by herself. She recalls, "I worked with specialists from Germany to bring the waste treatment profession to Hong Kong while designing the plant to suit local characteristics and modifying the design to enhance the overall efficiency. I think it's the new challenges that keep me motivated."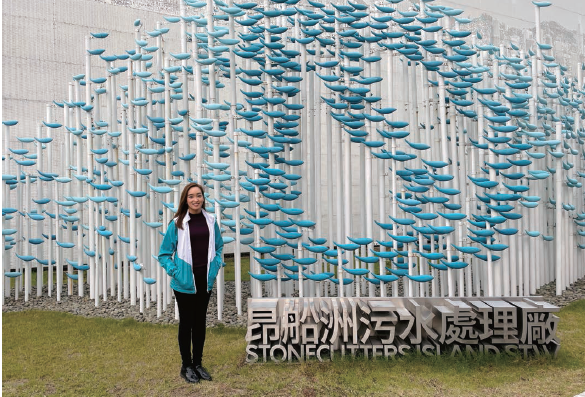 Working for environmental projects in Stonecutters Island Sewage Treatment Works
Volunteering and mentoring
Ir Leung's volunteer spirit began in the UK when she volunteered on construction-related projects during her study. Upon returning to Hong Kong, she was chosen as one of the ten members under the HKIE President's Protégés Scheme in 2011/2012 and became the President's Protégés Club's (PPC) Chairlady in 2015. She led teams of young engineers in PPC to initiate volunteering activities to promote engineering locally and in developing countries. She has travelled to Cambodia, Nepal, Armenia and Sri Lanka for various construction projects aiming at improving the quality of life and hygiene for needy families.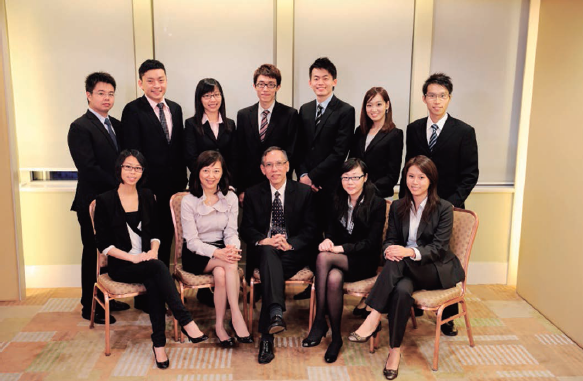 Ir Leung with other Protégés for Session 2011/2012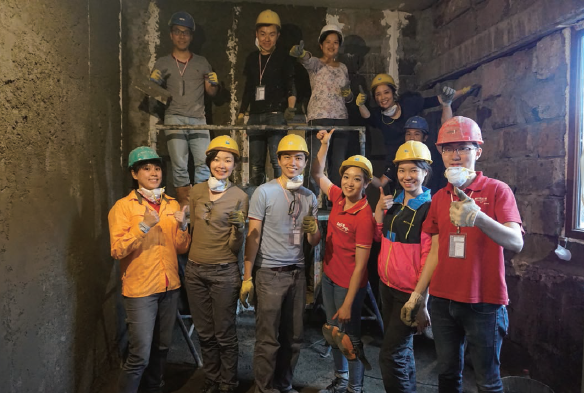 Volunteering to rebuild the walls for the family in Armenia
Describing what she finds most rewarding about her ongoing volunteer work with the Institution, Ir Leung says, "HKIE is a brilliant platform to build up our network. It is inspiring to work with talents from different disciplines. Leading and volunteering with teams of other young engineers overseas are definitely memorable experiences as it allows people in other countries to know that Hong Kong engineers have great passion for caring about those in need."
To young people interested in engineering, Ir Leung advises, "equip yourself with a creative, analytical and logical mindset, and strengthen project management and presentation skills so as to deliver the ideas and concepts well." She believes that it is essential for young people to "understand engineering principles, the social and environmental issues that the world is facing, and how we could solve the problems to create a more sustainable
world."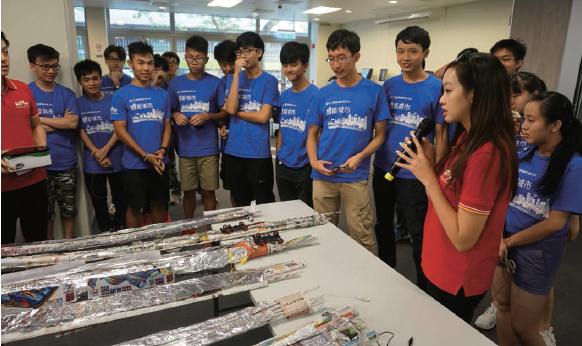 Organising Engineering Exploration Programme to nurture the youth while serving as the Chairlady of the President's Protégé Club
Reflecting on career and achieving work-life balance
Reflecting on the proudest moments in her career, Ir Leung enthuses, "achieving the HKIE Young Engineer of the Year Award is definitely the proudest moment in my career so far. It's a remarkable recognition of my hard work over the years." In 2012, she was awarded the Third Prize in the HKIE Trainee of the Year. In 2016, she acted as HKIE Executive Observer as a young engineer representative reflecting young members' views to the management level of the Institution. She also served as the Vice Chairperson of the activity sub-committee at the Institution of Mechanical Engineers (Hong Kong Branch).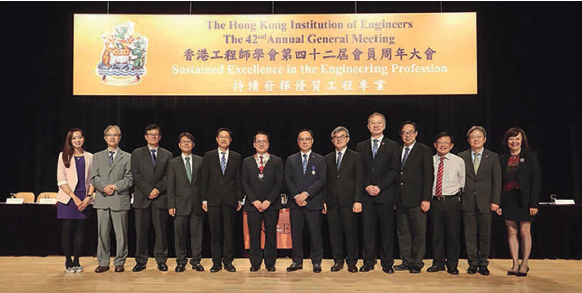 Acting as the Executive Observer in Session 2016/2017
When asked why she chose a male-dominated profession, Ir Leung explains, "as we are in the world promoting equality, female engineers should never underestimate their power in achieving the same goals as others; just like other professionals, I believe that one day being a female engineer would not be an oddity to be mentioned." Indeed, Ir Leung has met many talented female engineers who are competent in dealing with management, technical and contractual issues in the industry. With more than ten years of comprehensive experience, she is certainly one herself and is an influential role model for young girls and boys.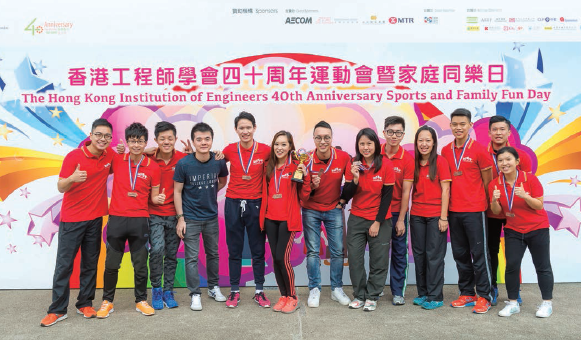 Proactively leading the President's Protégés Club to participate in the HKIE 40th Anniversary Sports and Family Fun Day
Ir Leung loves travelling to explore around the world, especially learning different cuisine for her cooking. She is also a certified tea sommelier enjoying tea pairing. She believes work-life balance is simply about time management. She exclaims, "keep exploring the excitements in life and investing time with families and friends are always important, so let's just work hard, play hard."
Ir Leung wishes to acknowledge the support from her award nominee Ir Raymond K Y Poon, JP, Deputy Director Regulatory Services of EMSD; referees and supporters Ir Eddie K M Pak, Ir Dr F C Chan and Ir Y H Chan. She would also like to thank all the seniors and peers who have been partnering with her over the years, as teamwork makes wonderful things happen.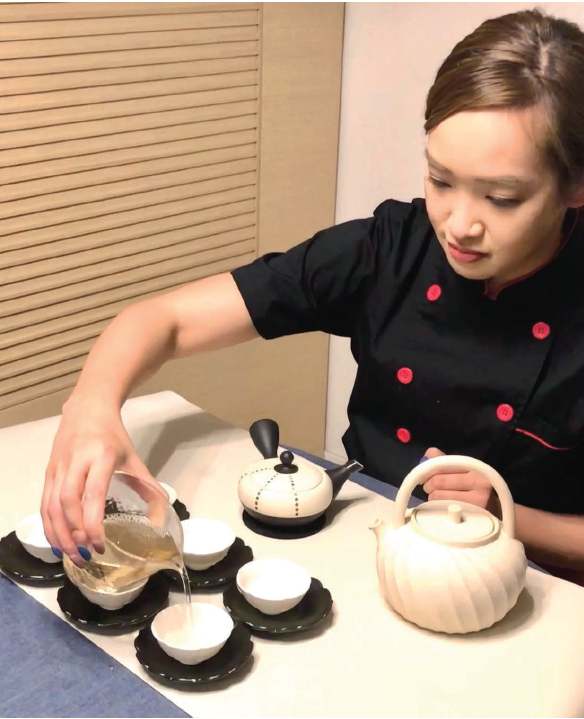 Having tea ceremony in the tea pairing session