Back
The President's Award 2021 -Ir David C H Chang Engineering for a better life
"Everything you touch and use is related to engineering. You need an engineer from the moment you wake up."
This belief motivated Ir David Chang to become a professional engineer. He wanted to solve problems that are important to everyday life, and to help make life better.
After receiving his Bachelor of Science in Civil Engineering in 1975 from National Taiwan University, he won a scholarship from the Japanese Government to further his study in Master's Degree at the Asia Institute of Technology in Bangkok and obtained his Master of Engineering in Geotechnical Engineering in 1979.
After obtaining his Bachelor Degree, he worked with a contractor in the initial stage of the construction of Hong Kong's MTR. Later, he joined the engineering consultancy firm, Binnie & Partners, after earning his Master's Degree. In 1983, he joined the Geotechnical Engineering Office (GEO) of the Civil Engineering and Development Department (CEDD) of the HKSAR Government, formerly known as Geotechnical Control Office. His nearly 30-year career with the GEO was diverse and challenging. He says, "I am blessed to gain valuable work experience by working as a contractor, a consultant and a client throughout my engineering career."
Keeping Hong Kong safe and stable
His first major task upon joining the GEO was to stabilise all unstable slopes along King's Road on the Hong Kong Island. Ir Chang reminisces, "Back then, Island Eastern Corridor was under construction, so King's Road was very congested and frequent slope failure led to closure of traffic lanes, causing serious disruptions to the public." Working as both a designer and contract administrator, he led two contracts to complete this massive task in four years. These were the first two batches of slopes under the Landslip Preventive Measures (LPM) programme. He proudly states, "I prepared many standard drawings for use in LPM works which were adopted and are still used today as CEDD's Standard Drawings. Engineers are problem solvers for society."
In addition to the stabilisation of the steep slopes along King's Road, Ir Chang also took up many important roles in the GEO. Those he remembers vividly and are still having
huge impact on the community are:
Management of consultants engaged in the investigation, monitoring, design and construction of LPM works, disused tunnels and landfill restoration works;
Statutory checking of government and private designs of geotechnical works;
Deputy Controller for the organisation of the Government landslip and rockfall emergency system and overall coordination of on-duty emergency teams;
Advisor on geotechnical related subvention projects for the Education Department (now known as Education Bureau) and Social Welfare Department of the HKSAR Government, Hospital Authority, and University and Polytechnic Grants Committee (now known as University Grants Committee);
Monitoring of demand and supply of aggregates and rock products in Hong Kong to ensure adequate supply to the construction and building industries; and
Overall supervision of quarry rehabilitation contracts and control of rock crushers.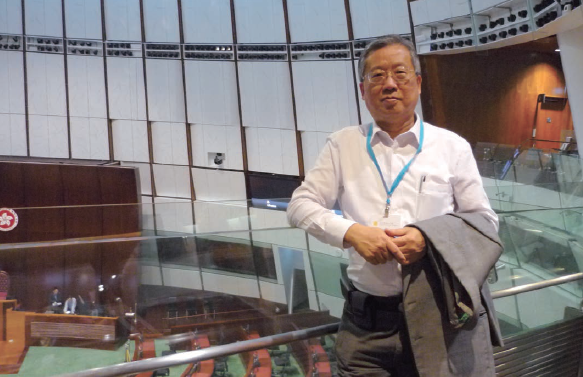 Visiting the Legislative Council in 2012
Engaging the community through engineering
Ir Chang's sense of duty to contribute to society, the engineering profession and the nurture of young engineers led him to become an extremely active member in the Institution. Since 1997, he has been a Professional Assessment Assessor of the Institution, helping to ensure that new members are well-qualified as engineers. In 2010, he was elected as HKIE Council Member. During his four years with the Council, he contributed his talents by joining many committees including Planning Committee, Finance & Investment Committee, Staff Resources Committee, Alternative Dispute Resolution Committee, Management Committee, and Public Relations Committee. He believes that it is one of the most effective ways to gain a full understanding of the organisation and operation of the Institution. Ir Chang has also served as a Member of the Engineers Registration Board from 2012 to 2020, and an Ex-officio Member of the Administration Board and the HKIE Transactions Committee.
Since 2014, he has been the Deputy Chairman of the Journal Editorial Committee (JEC) that monitors the development of the monthly Journal of the Institution and was later appointed as the Chairman in 2017. His wish the Journal can become a professional monthly publication of the Institution that members are proud of and which meets their diverse interests. To achieve this goal, Ir Chang enriches the content of the Journal by inviting Government bureaux/departments, HKIE Divisions/Disciplines and related professional organisations to contribute articles. He also initiated the digital transformation of the Journal. To be kind to the environment and to encourage engineering knowledge transfer, the Journal will become a paperless and online-only publication from August 2021 and onwards.
After the major earthquakes in Sichuan in 2008 and 2013, Ir Chang participated in joint projects held by the HKIE Geotechnical Division and Sowers Action to supervise and check the construction of school buildings to ensure the quality of the rebuilt structures. When asked what he finds most fulfilling about volunteering, Ir Chang explains, "I met many prominent and influential leaders in the industry… and I learned a lot from them… and have good connection with brilliant engineers to work hand-in-hand with them to contribute to society. This also helps me develop my career because most of us share the same vision."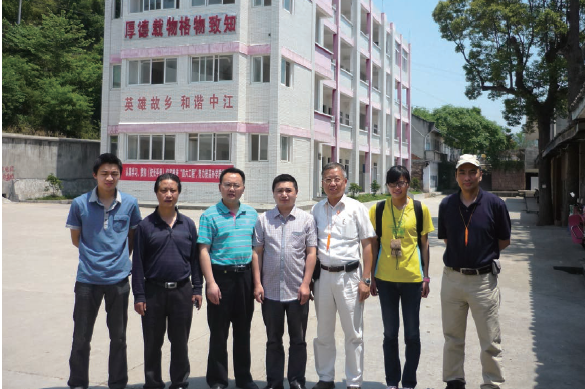 Visiting the School of Hope at Shiquan Xiang (石泉鄉) in Sichuan in 2013 after the completion of the school building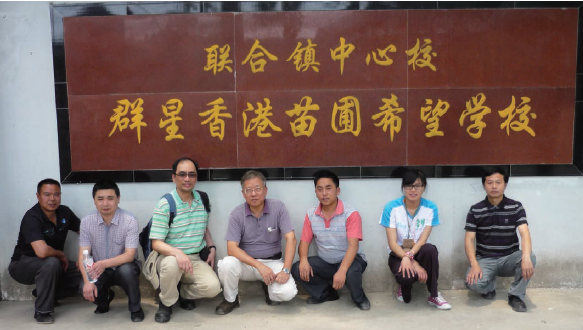 Visiting the Multi-Stars School of Hope in Sichuan in 2013 during construction of school buildings
Apart from volunteering with HKIE, Ir Chang has also served as School Supervisor/Manager for a number of schools over the years. He was also the Chairman of CEDD Geotechnical Engineers' Association between 2005 and 2011.
Value-adding as a lifelong journey
Since retiring from the Government, Ir Chang has mentored aspiring professional engineers as Training Manager and Engineering Supervisor overseeing the HKIE Scheme "A" Graduate Training with SMEC Asia Limited. He sees it as the duty of professional engineers to nurture and guide the next generation. To young engineers, he advises, "Discharge your professional responsibilities with integrity, dignity, fairness and courtesy. Learn from others as there is always something you can learn from your team members. If you plan one step forward, you are a good engineer. If you plan two steps forward, you are a team leader!" Summing up his contribution to engineering and society at large, he modestly claims, "As engineers, we should be value-adding to any organisation and endeavour to achieve a win-win situation whenever we can." Ir Chang has indeed gone beyond excellence in achieving his and society's vision of a true professional engineer who makes Hong Kong peoples' life better.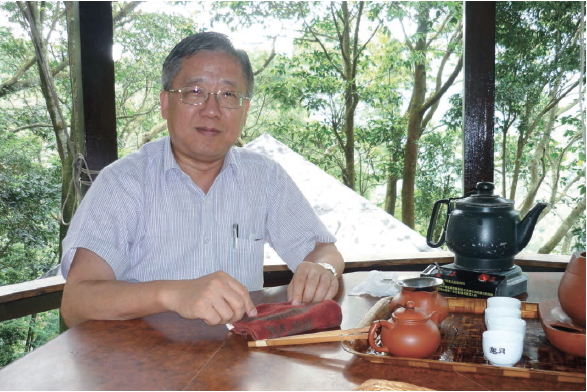 Appreciating tea culture during leisure times