Back
The HKIE Gold Medal 2021 - Ir Prof Norman W M Ko A gold renaissance man
Ir Prof Norman Ko has been extremely successful in all he has set his mind to. One can envision him as a Renaissance Man, as was Leonardo Da Vinci, who is well-rounded and brilliant - highly educated, self-taught, analytical, scientific, artistic, athletic, humble, entrepreneurial, well-travelled, compassionate and philosophical. Ir Prof Ko's long list of contributions, achievements and accolades is remarkable.
Highly educated
"Since childhood, I have been interested in many things such as aeroplanes, books and arts," says Ir Prof Ko. "I built model aeroplanes and started a business when I was in primary school." Discovering his school's library, he joyfully read about Ancient Greek, Roman and Renaissance arts. "My perpetual curiosity is what drives me forward," he enthuses.
His dream was to become an aeronautical engineer. As no such programme was offered in Hong Kong, he studied Mechanical Engineering at The University of Hong Kong (HKU). His formal learning continued with a Doctor of Philosophy and earned a Doctor of Science from the University of Southampton, England in 1969 and 2004 respectively. In 1995, he earned his Doctor of Science from HKU.
An educator, scientific researcher and engineer
Ir Prof Ko was a Chair Professor in the Department of Mechanical Engineering at HKU, until he retired in 2000. He continues to be an Emeritus Professor and Honorary Professor in the Department of Mechanical Engineering.
He has published extensively in international journals and conference proceedings, including over 240 research papers on fluid dynamics and sound.
When he researched jet noise in the UK, the noise pollution of jet engine aircrafts was a severe problem around the world. He worked to improve the understanding of their mechanism and flow dynamics. He explains, "I was very fortunate in establishing that the basic mechanism of flow noise was caused by the excitation of the instability layer and the interactions of the flow structures generated."
When he resumed his research at HKU, no active research in Fluid Mechanics existed in Hong Kong. He organized international conferences, inviting over 300 participants from 50 countries. He recalls, "The aims were to explore further and exchange ideas for the better understanding of all branches of Fluid Mechanics." To enable young research students to participate, he set registration fees at an affordable level.
On describing his passion for teaching the younger generation, "My work is not 'a job', but 'an interest', in which I search for aim, enjoyment and higher plateau." To the younger generation, he advises, "Keep an open mind, watch, ask and attempt. These are the important and necessary ingredients, not only for engineers, but for all of us."
Self-taught - underwater diver, photographer, inventor
While in secondary school, Ir Prof Ko borrowed a mask and snorkel. He reminisces, "As soon as I put my head underwater, I was fascinated by the marine life." While
studying for his PhD in the UK, he started aqualung diving, and took up underwater photography in 1964. He says, "My love of underwater beauties tempted me to record them. I spent nearly all my resources and vacations in oceans around the world." In 1970, his eye for capturing marine life won him the gold and silver medals from the Underwater Federation of Hong Kong. Describing underwater camera technology at that time, Ir Prof Ko explains, "It did not give me the satisfaction of good photographs…. so as an engineer, I tried to improve it." His underwater camera invention has three patents. His love of diving and marine life led to advocating for Hong Kong's marine heritage. In the 1980s, he proposed to build a marine park in Hong Kong. His dream is "that all Hong Kong waters will become one marine park, which will act as a refuge and nestling places. I am sure engineers have the expertise to help realising this dream."
A talented artist
At 41, while doing research at the Cambridge University, his wife guided him into the arena of art. He shares, "At my age and with no formal education and training in fine art, I started a late and dubious journey. Very soon, it became a journey of no return." Ir Prof Ko started sculpting in 1979 and just four years later, won the Urban Council Fine Arts Award for Sculpture. He has held 25 solo exhibitions in sculpture, painting, underwater photography and installation art, and has participated in over 70 joint exhibitions. Also, he has delivered 27 lectures on sculptural art and photography. The HKU Library recently established a collection of his 250,000 photographs of world sculptures. He elaborates, "The collection took me more than 50 years of visiting more than 50 countries around the world."
Artwork by Ir Prof Ko entitled "Warrior I" in 1979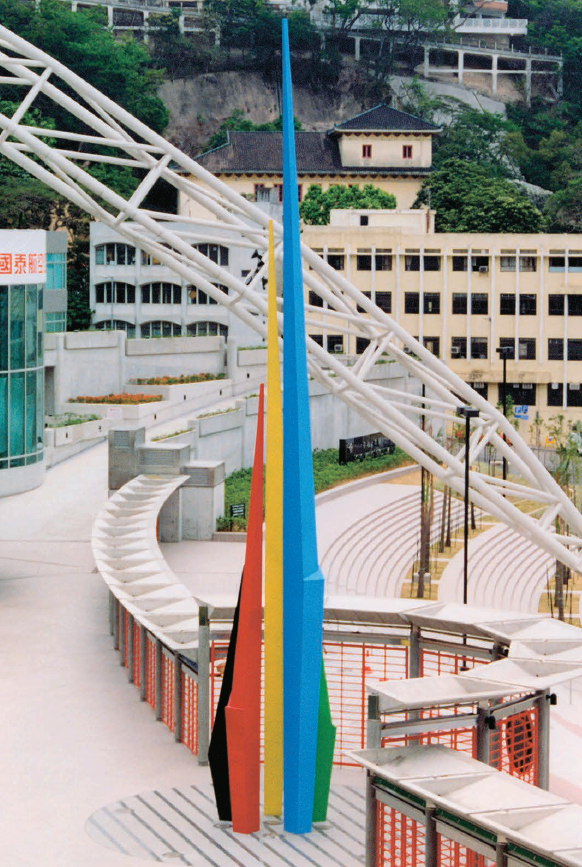 Artwork by Ir Prof Ko entitled "Sky is the limit" in 1994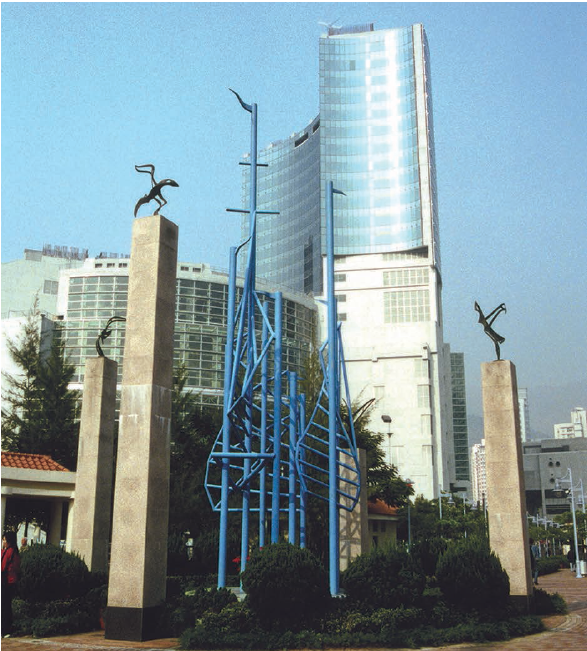 Artwork by Ir Prof Ko entitled "With the wind" in 1997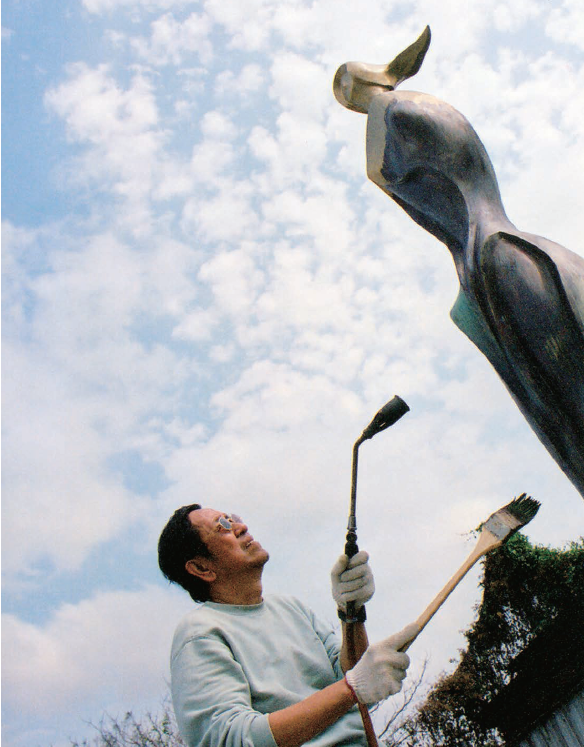 Ir Prof Ko applying patina to bronze sculpture entitled "Mother and child" in 2004
Engineering, science and art
Entering the art arena was enlightening. He explains, "It dawned on me that the difference between engineering and art was only the difference in the initial conception. I do not categorise my works into different arenas. They are merely the outcomes of my perpetual search." Ir Prof Ko humbly continues, "My engineering background gives me confidence in attempting to create large sculptures, especially in the severe typhoon environment of Hong Kong. After I have the initial concept, its feasibility, fabrication, transportation and installation are all purely engineering." Many of his dynamic sculptures are on display around Hong Kong. His tallest sculpture is indeed an engineering and artistic feat - 19 m high with base dimensions of only 300 x 500 mm. From his readings of ancient Greek philosophers, Ir Prof Ko came to understand there is "no distinction between art and science. It is the searches of oneself and of the unknown."
Compassionate about the environment and education
Ir Prof Ko was a pioneer in the control of noise pollution in Hong Kong. He laments, "When I came back from the UK some 50 years ago, noise pollution control was non-existent. Hong Kong had all the different types of noise - aircraft, traffic, construction, industrial and community. Coupled with its high rise nature, I promulgated 'Hong Kong is the noisiest city in the world!' It was a reputation not to be proud of."
He believes engineers must shoulder much responsibility for improving the environment. "Engineering is involved in all aspects of life, our development of better education, quieter appliances, methods, processes and a quiet working environment. Thus, the consciousness of engineers is the ingredient."
His most satisfying reward was seeing the Government earmark funds for a more suitable study environment in schools. He feels this is necessary for the welfare of future generations.
Accolades for contributions
When asked how he has managed to achieve so much during his lifetime, Ir Prof Ko replies, "Enthusiasm and passion drive me forward with fulfilment."
Some of his accolades include:
For education: Honorary Fellow of The Open University of Hong Kong, Honorary Fellow of HKU, University Fellow of The Hong Kong Polytechnic University
In the arts: Fellow Member of the UK Royal Society of Arts, Member of the Chinese Artists Association
As a Chartered Engineer: Fellow Member of The Hong Kong Institution of Engineers, Honorary Fellow of the Hong Kong Institute of Acoustics
On receiving the HKIE Gold Medal 2021, he enthuses, "It is my finest award in which the HKIE acknowledges, apart from my contribution in engineering, my contribution in art. The 'broadened' inclusion of other disciplines, besides engineering, in the deliberation for the award is with foresight and nobility!"
In the eyes of the Institution, the choice of Ir Prof Ko, a Renaissance Man, requires little deliberation.