Is telemedicine the 'New Normal'? How is it changing our lives?
By Hong Kong Economic Times
Many people believe that Hong Kong's public medical services are overloaded. Long waiting times present a significant healthcare barrier for many patients. Could technology-driven 'telemedicine' service somehow helps to address this problem?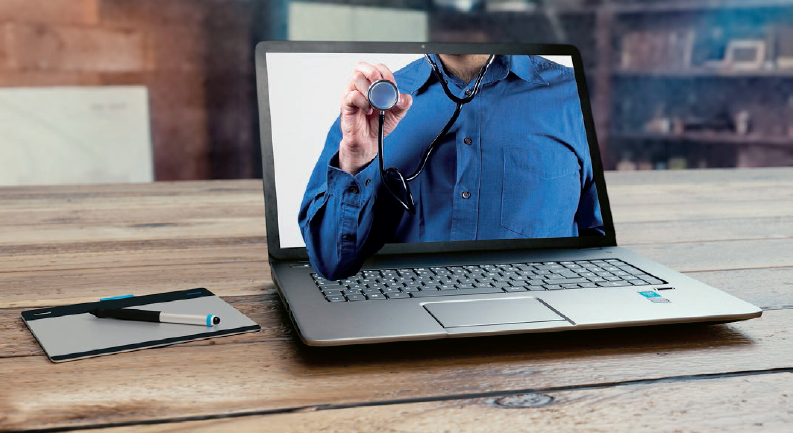 Medical service providers are adopting telemedicine to meet the growing demand from patients
Definition of telemedicine
Telemedicine1 is an important element in the World Health Organisation's (WHO) Digital Health concept. The WHO has been developing a global strategy for digital health in order to support national efforts of member states to achieve universal healthcare coverage. The strategy divides digital health solutions into: census information data warehousing, data interchange and interoperability (for example, the exchange of medical records amongst different practitioners and between the practitioner and the patient), emergency response systems, laboratory and diagnostics information systems, pharmacy information systems, public health and disease surveillance systems, and telemedicine.
Although telemedicine seems new to many of us, in fact, records show it existed more than 100 years ago. In the early 20th century, Willem Einthoven, a Dutch physiologist, developed the first electrocardiograph in his laboratory in Leiden. With the use of a string galvanometer and telephone wires, he recorded the electrical cardiac signals of patients in a hospital 1.5 kms away.2 In 1924, Einthoven was awarded the Nobel Prize in Physiology or Medicine for inventing the first practical system of electrocardiography used in medical diagnosis.3
Benefits and shortcomings of telemedicine
Technology is changing our world at a speed never seen before. Usually it does so for the better and makes our lives easier and safer. In the healthcare field, telemedicine offers enormous potential for reducing the variability of diagnoses as well as improving clinical management and the delivery of healthcare services worldwide by enhancing access, quality, efficiency and cost-effectiveness.
In particular, telemedicine can aid traditionally underserved communities, especially those in remote or rural areas with few healthcare services or medical staff. Telemedicine thus overcomes the barriers of time and distance between healthcare providers and patients. Evidence also points to important socioeconomic benefits to patients, families, health practitioners and healthcare systems, including enhanced patient-provider communication and educational opportunities.
Telemedicine does provide benefits and has always existed around us. Despite this, however, the rate of use was extremely low before the COVID-19 pandemic. According to a 2019 J.D. Power Pulse Survey tracking telemedicine user experiences, only 9.6% of Americans used telemedicine services in 2018, while 74.3% said they either had no access or were unaware of telemedicine options.4
In Europe, telemedicine had largely failed to attract patients to change their consultation habits. The reasons include the unfavourable development of the regulatory environment, gaps between the healthcare system and insurance regulations, plus stricter privacy laws. In the UK, before the outbreak of COVID-19, video appointments made up only one percent of the 340 million annual visits to primary care doctors and nurses in Britain's National Health Service.5
In Asia, however, China's telemedicine services seem to have moved forward considerably. For example, Ping An Insurance's Ping An Good Doctor' service recorded more than 300 million registered users before the COVID-19 outbreak.6 The internet giant, Tencent, has invested heavily in its online medical platform 'WeDoctor', which allows patients to connect to more than 240,000 doctors online.7 In addition, e-commerce leader Alibaba provides services such as telemedicine and online drug purchase through its healthcare platform: Alibaba Health Information Technology.
"The pandemic has significantly boosted people's usage of internet healthcare platforms and online pharmacies in China. Dominant e-commerce companies like Ping An, Alibaba and JD's healthcare units provide online medical consultations and operate some of the most popular internet pharmacies in the country, and have millions of paying users."
Overall, however, due to the restrictions in many countries, the development of telemedicine has been stagnant for quite some time. But recently this situation has been changing. Two major factors have caused telemedicine to suddenly become the focus of attention in the global medical market.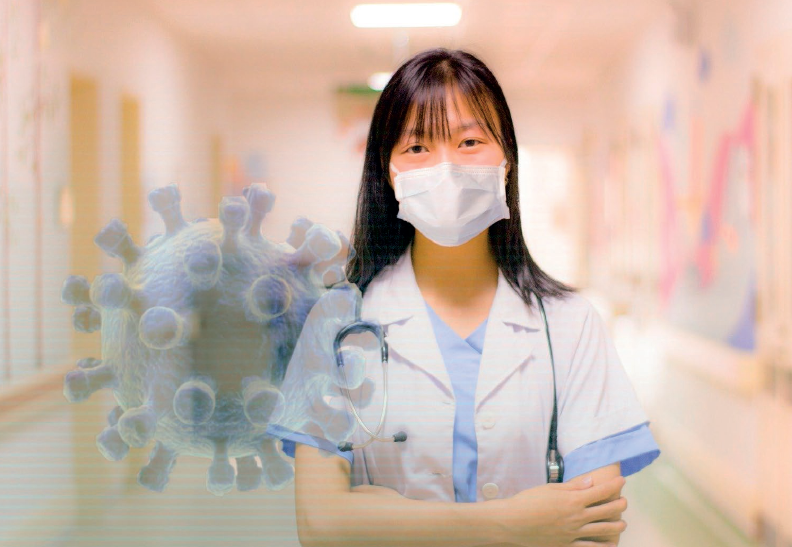 The COVID-19 pandemic has increased the need for medical services via telemedicine
The pandemic turns telemedicine to be the 'New Normal'
The COVID-19 pandemic has provided a catalyst for the expansion of telemedicine services around the world. As a result of movement restrictions and social distancing rules, telemedicine has been used increasingly for disease management as it enables continuity of care for high-risk populations while reducing the risk of exposure to infection. More and more doctors and patients have been turning to telemedicine for routine medical care to avoid risking a visit to a hospital or clinic.

Soon after the pandemic broke out, telemedicine also quickly became regarded as an important means of fighting it. On 28 January 2020, China, the leader in telemedicine, opened an online 'air hospital' in Suining City, in Sichuan Province to help prevent and control the spread of COVID-19 8 by offering remote diagnoses, supervision, command, teaching and convening. On the opening day of the hospital, 28 patients with fevers were remotely diagnosed within 24 hours. In early February 2020, the General Office of the National Health Commission of China sent out a notice actively encouraging medical institutions at all levels to use Internet+ to provide services such as voluntary online consultations and home medical observation guidance for COVID-19.9
The use of telemedicine services owned by some technology giants also increased significantly shortly after the outbreak. For example, at the end of February 2020, Xiao Jianbo, the General Manager of Internet Healthcare at JD Health, claimed that daily online consultations for respiratory-related diseases had increased nine-fold and mental health consultations had increased by about five to seven times. Baidu also reported that its online doctor consultation platform Ask a Doctor was handling around 850,000 free enquiries every day, of which 400,000 were related to respiratory diseases. This is about 50 times more than a year ago. Ali Health stated as early as the end of January that the daily number of medical consultations exceeded 100,000, and some respiratory doctors were providing more than 200 consultations a day.10
On the other side of the world in March 2020, the US Congress urgently approved US$8.3 billion in anti-epidemic funding. In response, the Medicare and Medicaid insurance services announced that claims for remote diagnosis would be accepted at the same cost as traditional in-person consultations. The US Government also temporarily relaxed the Health Insurance Portability and Accountability Act of 1996 (HIPAA) privacy laws, allowing the use of common chat and video applications of companies such as Apple, Google and Microsoft for online diagnosis and treatment.11
Many industry analysts have stated that the pandemic will forever change the face of healthcare. Traditional barriers to telemedicine application, such as awareness, costs and regulations are no longer applicable in today's reality, and the demand for telemedicine is likely to soar even further after the crisis.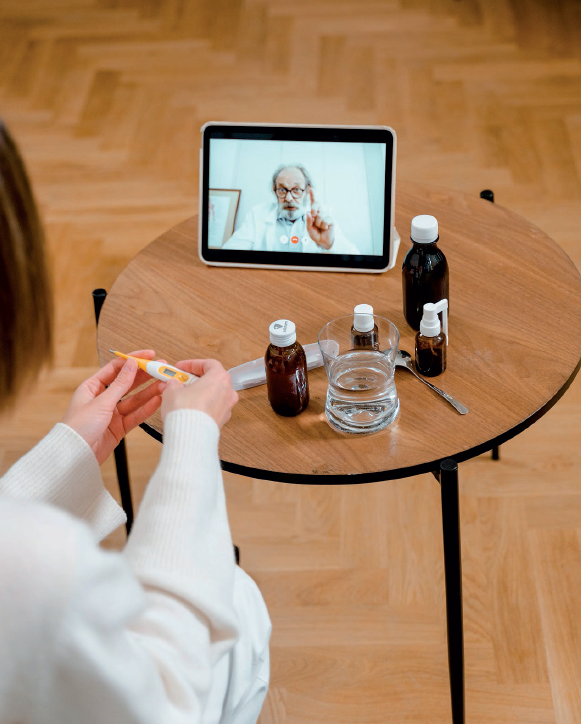 With the mobility of 5G networks, patients can now video chat with doctors from their homes
5G puts wings on telemedicine
Another factor leading to the great leap forward in telemedicine is the application and popularisation of 5G telecommunication networks.
In the past, although telemedicine could help alleviate inadequate medical resources under ideal conditions, it was restricted by shortcomings in the speed and delay of mobile networks. In recent years, however, the emergence of 5G networks has given new impetus to telemedicine. 5G networks offer high speeds, large capacity and low latency and have eliminated many of the bottlenecks restricting the development of telemedicine.
Compared to previous mobile networks and wired networks, the mobility of 5G networks overcomes the weaknesses of traditional wired connections and remote consultations. During the pandemic, 5G based telemedicine has been used for more and more remote consultation. Earlier generation 4G networks and traditional wired networks, could also support remote consultations, but the comparatively slow data transmission speeds reduced efficiency. The high speed and greater capacity of 5G allows for high-definition medical images and videos to be shared in real time and, with only milliseconds of delay, also allows for remote ultrasound examinations. In the future, the implementation of remote surgery may also become possible.
Outside the hospital environment, many telemedicine companies are focusing on the development of web and mobile based applications and platforms for patients. This trend will likely see long-term stable growth as an increasing number of the population in developing economies become smart phone users. Developing high speed telecommunications networks will serve as a major factor for the growth of web and mobile based telemedicine platforms.
5G also significantly reduces latency, allowing for improved use of applications such as cloud technology and artificial intelligence (AI) to execute faster data analysis locally. 5G is also expected to unleash more innovations in healthcare applications in tandem with other technologies such as AI machine learning, augmented/virtual reality and cloud computing. There are considerable and ongoing developments in new medical devices, especially in wearables and hearables that will also leverage 5G technology for remote patient monitoring.
As a result, the industry believes that 5G will prove to be a key point in the development of telemedicine and will become a stepping stone to bringing new advances in telemedicine to reality.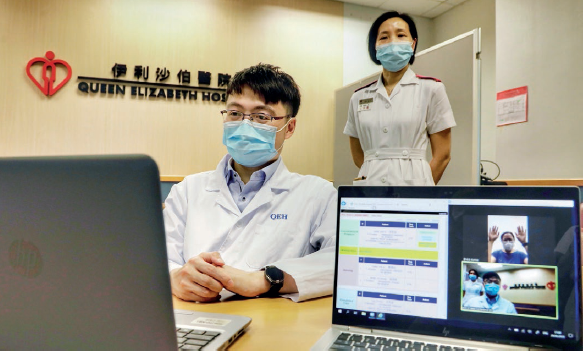 Queen Elizabeth Hospital's neurosurgery department conducted a pilot telemedicine scheme in 2020, providing one-stop service from registration to diagnostic services through a cloud clinic system (Photo by Hong Kong Economic Times)
The telemedicine development process in Hong Kong
Could telemedicine be effectively used in Hong Kong?
The Medical Council of Hong Kong is the statutory appointed body handling registration and disciplinary regulation of medical practitioners in Hong Kong. This includes regulation of the practice of telemedicine by medical practitioners on patients where at least one party is located in Hong Kong.
In Hong Kong, telemedicine is defined in the Ethical Guidelines on the Practice of Telemedicine12 to include the following scope of activities: tele-treatment of patients over a distance in which interventions, diagnoses, therapeutic decisions and subsequent treatment recommendations are made; collaboration between doctors and/or with other healthcare professionals through telecommunication systems; monitoring of patients through telecommunication systems; and the dissemination of service information and/or health education to the public (including patients) through telecommunication systems.
The development of telemedicine in Hong Kong was slow before the outbreak of the COVID-19 pandemic. The pandemic is now helping telemedicine to become a major trend, with a number of public hospitals and private medical institutions in Hong Kong already offering video consultation service. Queen Elizabeth Hospital, for example, has launched a video consultation service to help the public become familiar with the application of telemedicine. Queen Elizabeth Hospital's neurosurgery department conducted a pilot telemedicine scheme in April and May 2020 in which it provided a one-stop service from registration to diagnostic services through a cloud clinic system to eight patients. The CUHK Medical Centre has also been providing remote consultations since February 2021. Prof Hong FUNG, the Executive Director and Chief Executive Officer of CUHK Medical Centre, says that a majority of doctors are familiar with telemedicine13, as they usually make confidential phone calls to regular patients. However, many doctors are concerned about issues such as consultation charges and insurance claims.
In addition to the pandemic, the ageing trend of the Hong Kong population has also triggered discussions on telemedicine. Facing an increasingly older population and a dwindling workforce, the use of digital technology and automation in healthcare, medical services and management can help alleviate the pressure on human resources. Telemedicine app platforms such as DoctorNow and DrGo are using advanced telecommunication technology to provide regular follow‑up consultations and health management services to patients with minor illnesses or chronic diseases.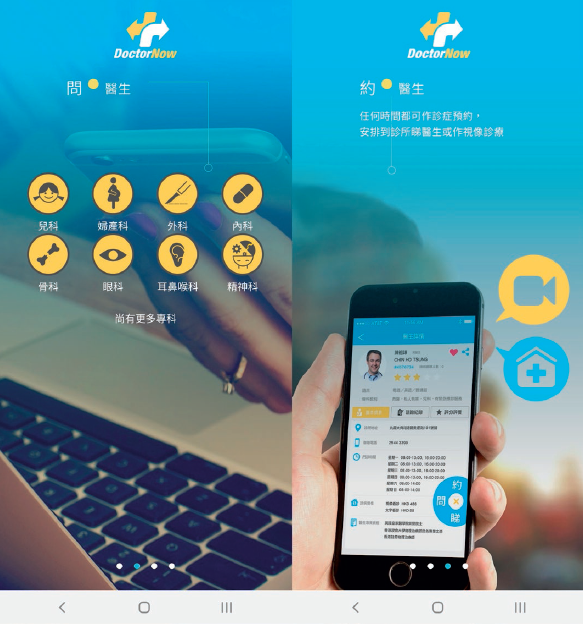 Through telemedicine App platforms such as 'DoctorNow', patients can choose where to receive treatment when having minor illnesses or chronic diseases
The long-term development of telemedicine services to tackle the needs of an ageing population may also require the Government to step up its effort on various fronts. These include laying down a clearer regulatory framework and guidelines on the application of technology in the healthcare sector, encouraging service providers to develop innovative solutions, and boosting the adoption of these solutions by healthcare professionals and patients.
"Telemedicine technologies such as remote consultation should be considered as an alternative or supplement for delivering treatment and health care. Hong Kong has the infrastructure and capability required to deliver telemedicine services effectively. With appropriate modifications of the regulatory framework, telemedicine can definitely help reducing healthcare cost and improving public welfare."
Specialised engineering professions for developing telemedicine
For Hong Kong and the rest of the world, aspirations for telemedicine are not abstract. In fact, they are highly achievable when technology and industry leaders work together. In this regard, engineers are now working to reinforce the legitimacy of telemedicine, in addition to exploring the broader telemedicine field and providing organisations with specific technology and services, driven by an up-to-date understanding of this topic and the value it provides.
Biomedical engineers in particular, are playing an important role. According to an article written by the HKIE Biomedical Division, biomedical engineers play an important role in the medical industry14 as they are responsible for monitoring and maintaining the quality of medical equipment in hospitals and providing safe medical services to patients.
Starting from the purchase of equipment, biomedical engineers must understand the needs of users in detail. They are required to strictly screen suitable medical devices on the market according to the needs, purpose and nature of the department seeking to purchase them, and provide users with professional opinions and analysis.
After any equipment is purchased, appropriate testing equipment should be used to ensure that the function and safety of the equipment meets international standards before use. In addition, the biomedical engineer will conduct monthly, quarterly or annual inspections of equipment according to the risk levels involved and ensure that routine inspections are conducted on time. As for equipment disposal, the biomedical engineering staff will first remove the personal data of patients according to the guidelines and isolate components that are harmful to the environment, humans and animals before disposing of the equipment through legal means.
All medical devices used in hospitals must be approved and tested by biomedical engineers before they can be used. In addition, based on the international interoperability of medical equipment, biomedical engineers must constantly pay attention to global safety warnings for existing equipment in hospitals. If a safety alert notification is received, biomedical engineers must immediately coordinate with suppliers and users to discontinue, replace or follow up on affected equipment to ensure that patients receive treatment under safe conditions.
Biomedical engineers working in hospitals should fully understand the difficulties from the perspective of medical staff and apply their professional engineering knowledge to eliminate loopholes in the system and protect the interests of patients and hospitals.
There is no doubt that telemedicine will become increasingly more sophisticated and more widely accepted. Biomedical engineers in the telemedicine field will also need to upgrade their skills and knowledge of engineering and medicine plus their knowledge of physics, chemistry and biology. As they are the link between medicine and engineering, biomedical engineers must also understand what physicians require in order to define product specifications or come up with solutions. Biomedical engineers also need to manage projects and handle manufacturing, evaluation, certification, marketing, maintenance, calibration, repair and training in the use of new developments and instruments.
Another matter not to be ignored is that the wider use of telemedicine means that patient data must be transmitted and received both reliably and in a timely fashion. To make this possible, biomedical engineers should be involved in the development of communication technologies, relevant applications and their integration as well as the adaptation and transformation of operating rooms and other medical settings.
Conclusion
As one means to reducing waiting times for consultations in public hospitals, telemedicine should be seriously considered as a viable alternative or a supplement to traditional modes of delivering medical treatment. Hong Kong has the IT infrastructure and engineering capability to develop and refine existing infrastructure to achieve the WHO's vision of a global digital healthcare strategy. With appropriate modifications to the regulatory framework, telemedicine will become a major factor in reducing healthcare costs and improving public welfare.
Reference
1. The term 'telemedicine' has been used interchangeably with other terms such as 'eHealth' and 'telehealth' by healthcare authorities around the world. These terms may have similar definitions, thus the term 'telemedicine' is used throughout this article for simplicity.
2. Strehle EM, Shabde N. (2006). One hundred years of telemedicine: does this new technology have a place in paediatrics? Archives of Disease in Childhood, 2006, 91(12):956–959. Available at: https://www.ncbi.nlm.nih.gov/pmc/articles/PMC2082971/
3. NobelPrize.org. Willem Einthoven Facts . Available at: https://www.nobelprize.org/prizes/medicine/1924/einthoven/facts/
4. J.D. Power (2019). The 2019 J.D. Power Telehealth Satisfaction Study . July 31. Available at: https://www.jdpower.com/business/press-releases/telehealth-usageand-awareness-pulse-survey
5. Benjamin Mueller (2020). Telemedicine Arrives in the U.K.: '10 Years of Change in One Week'. The New York Times April 4. Available at: https://www.nytimes.com/2020/04/04/world/europe/telemedicine-ukcoronavirus.html
6. Ping An Good Doctor (2019). Number of Registered Users on Ping An Good Doctor Exceeds 300 Million. September 23. Available at: http://www.pagd.net/newsPage/newDetail/3-6-5
7. WeDoctor (2020). About WeDoctor. Available at: https://www.guahao.com/about
8. Sichuan Online (2020). 遂宁8小時建起防疫專用"空中醫院"24小時內遠程會 診28名發熱門診病人. January 30. Available at: https://sichuan.scol.com.cn/xnxw/202001/57465119.html
9. The General Office of the National Health Commission of China (2020). 國家衞生健康委辦公廳關於在疫情防控中做好互聯網診療咨詢服務工作的通知. February 7. Available at: http://www.nhc.gov.cn/yzygj/s7653p/202002/ec5e345814e744398c2adef17b657fb8.shtml
10. Yingzhi Yang, Brenda Goh (2020). Worried Chinese turn to online doctor consultations amid coronavirus outbreak, Reuters. February 26. Available at: https://cn.reuters.com/article/china-health-internet-healthcareidCNL3N2AQ0E5
11. Office for Civil Rights (2021). Notification of Enforcement Discretion for Telehealth Remote Communications During the COVID-19 Nationwide Public Health Emergency, The mission of the U.S. Department of Health and Human Services (HHS). January 20. Available at: https://www.hhs.gov/hipaa/for-professionals/special-topics/emergency-preparedness/notification-enforcement-discretiontelehealth/index.html
12. Medical Council of Hong Kong (2019) The Medical Council of Hong Kong, Ethical Guidelines on Practice of Telemedicine , Newsletter Issue No. 26 of the Medical Council of Hong Kong. December. Available at: https://www.mchk.org.hk/files/PDF_File_Ethical_Guidelines_on_Telemedicine.pdf
13. The Standard (2020). Health check for virtual docs . August 31. Available at: https://www.thestandard.com.hk/section-news/fc/7/222402/Healthcheck-for-virtual-docs
14. Biomedical Division - The Hong Kong Institution of Engineers (2020). 醫療儀器都需要管理?生物醫學工程師成醫院解決師 人才需求日增. March 1. Available at: https://www.hkie.org.hk/zh-hant/quali/story_detail/86/