Back
Pioneering reinforced concrete modular integrated construction (MiC): Private residential development (28-Storey full MiC) in Hong Kong
Introduction
In support of the 2018 Government Policy Address promoting wider adoption of MiC in Hong Kong, the Hong Kong Housing Society (HS) implemented in 2021 the use of the full reinforced concrete (R.C.) modular integrated construction (MiC) technique. This is the Hung Shui Kiu 1A Project (1A Project), a multi-storey residential development project.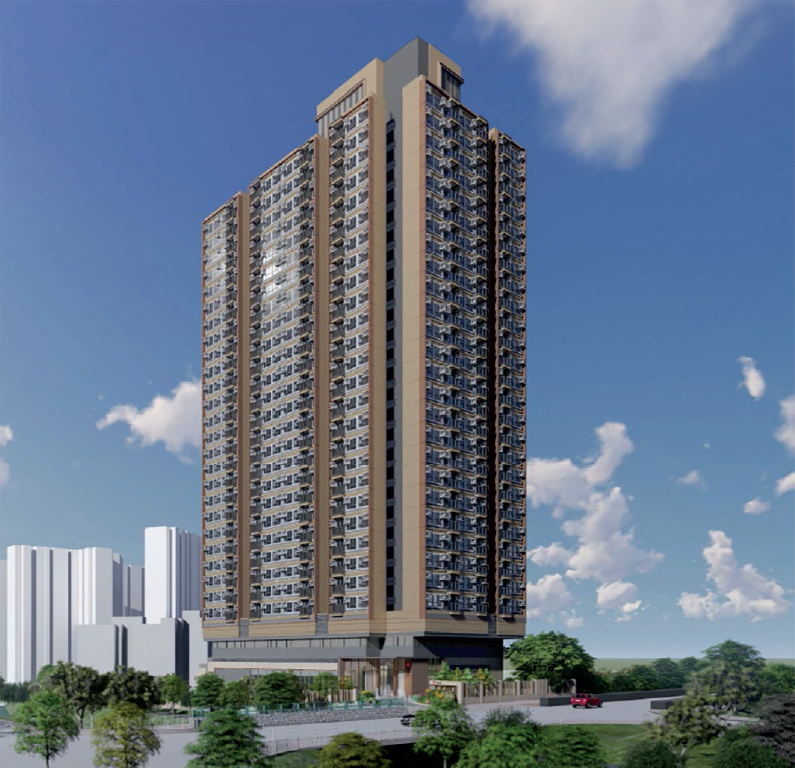 Rendered perspective of the 28-storey residential private development at Hung Shui Kiu
MiC is a revolutionary and innovative construction method. By adopting concepts from industries such as automotive and consumer products manufacturing, the idea of factory production, assembly and transportation to the site was conceived. MiC refers to the construction of free-standing integrated modules which are manufactured and prefabricated in a factory complete with finishes, fixtures and fit-outs. They are then transported on-site for rapid installation and integration in the building. Being able to construct these free-standing integrated modules under a controlled factory environment allows buildings to be substantially completed off-site without site constraints, unforeseeable weather impacts, insufficient labour resources and other time and cost implications that may occur in traditional construction. MiC provides substantial advantages in quality control, construction productivity, safety and sustainability.
The 1A Project site located at Hung Ping Road in Hung Shui Kiu is a single block 28-storey building with 25 floors of MiC, each comprising 12 residential units made up of 42 MiC modules. A total of ten unique MiC modules are used to make up the 42 MiC modules used per typical floor.
The site is generally flat and rectangular in shape. The north and south sides of the site are bordered by Hung Ping Road and Tin Sam Road respectively. The east side is government land while the west side faces open river.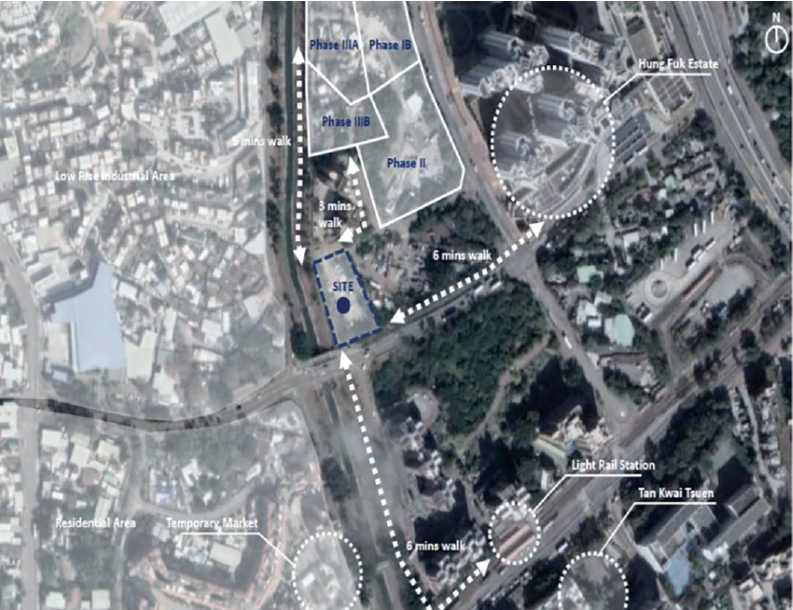 Site location at Hung Ping Road in Hung Shui Kiu
As required by the Buildings Department (BD) of the HKSAR Government, the Housing Society has appointed an authorised person (AP), a registered structural engineer (RSE) and a registered geotechnical engineer (RGE) to coordinate and execute the design and supervision of the Project under the Buildings Ordinance. SYW & Associates Limited was chosen as both the RSE and RGE for the Project, while Ronald Lu & Partners is the AP.
Design and challenges
Successful deployment of the MiC technique depends significantly on the lifting capacity of the tower crane on-site and the maximum dimension of the R.C. MiC modules that can be transported by vehicle via public roads. Therefore, efficient factory fabrication should be prioritised through site assembly and quality control, standardisation and buildability of such modules. For example, the number of different types of modules that make up the flat layout of each floor in the tower block should be minimised. Similarly, the number of modules required to form each individual flat is also minimised in order to reduce the number of in-situ connections.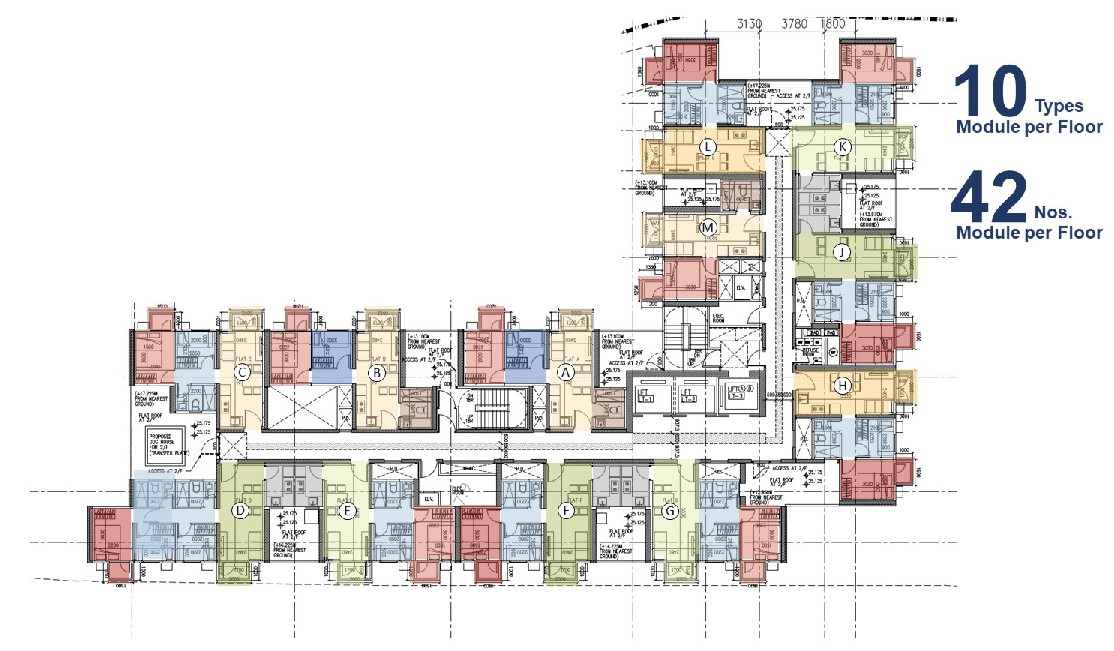 Typical floor plan of Dedicated Rehousing Estate of Hung Shui Kiu, Phase 1A. 12 flats per floor comprising ten unique MiC modules with a total of 42 MiC modules used per floor
To facilitate transportation and lifting requirements of the Project, only 45 modules are deployed to make up the flats for each floor. Each individual flat is composed of three to four different modules. The maximum size of each individual module is limited to 2.75 m (W) x 7.28 m (L) x 2.975 m (H) and its weight including all pre-fixed finishes, fixtures and building services fittings is less than 26 tonnes.
To accommodate all vertical imposed dead and live loads, plus wind and lateral loads acting on the tower block, the load bearing walls and shear walls are formed entirely by module upper and lower precast vertical walls connected in-situ with specifically designed upper and lower precast walls. Meanwhile, the top slabs and semi-precast beams of the modules are poured in-situ to form the rigid diaphragm to transfer the horizontal loads.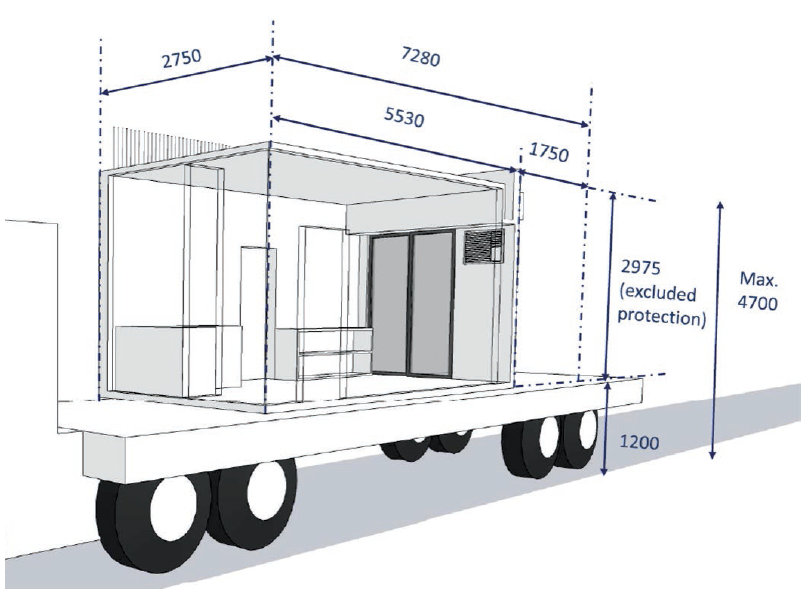 Transportation limitations dictate the maximum size of each module
All connection details are designed to be as simple as possible, while adhering to the traditional reinforcement lapping method and strictly complying with the Code of Practice for Precast Concrete Construction 2016. The entire MiC tower block comprises 1,125 total modules, including 11 types of standardised modules. The largest module measures 2.7 m (W) x 6.9 m (L) x 2.95 m (H) and weighs 26 tonnes. In contrast, the smallest module measures 1.75 m (W) x 2.95 m (L) x 2.95 m (H) and weighs 10 tonnes. This innovative design arrangement is expected to achieve a four-day erection cycle per floor.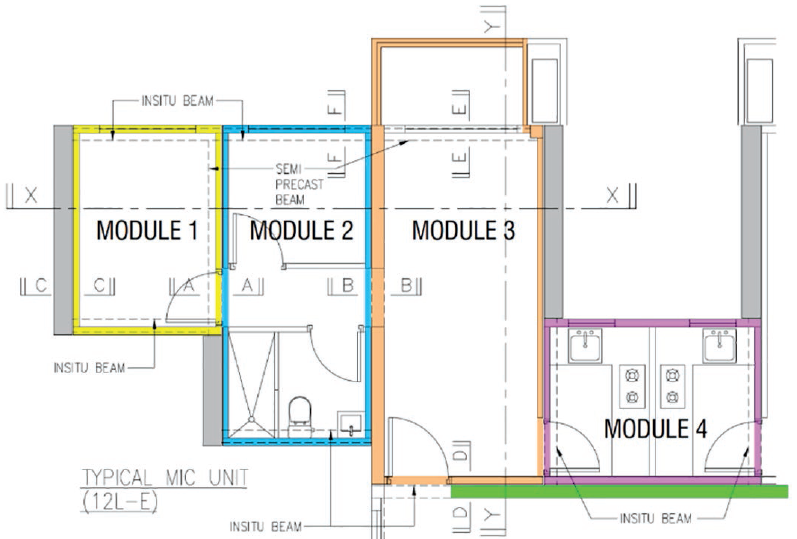 Typical MiC Unit Floor Plan; colours represent unique MiC modules used
The MiC tower block is supported on a transfer plate at the 2/F level. The entire transfer plate together with the floors below need to be constructed entirely in-situ on-site. The entire tower block in turn is supported by 11 bored piles of 3 m diameter each with depths varying from 20 m to 30 m below grade.
To ensure seamless coordination amongst the different building disciplines and faultless design for the 1A Project, a building information models (BIM) is vital and has been deployed. The result has significantly assisted the design teams in timely works completion.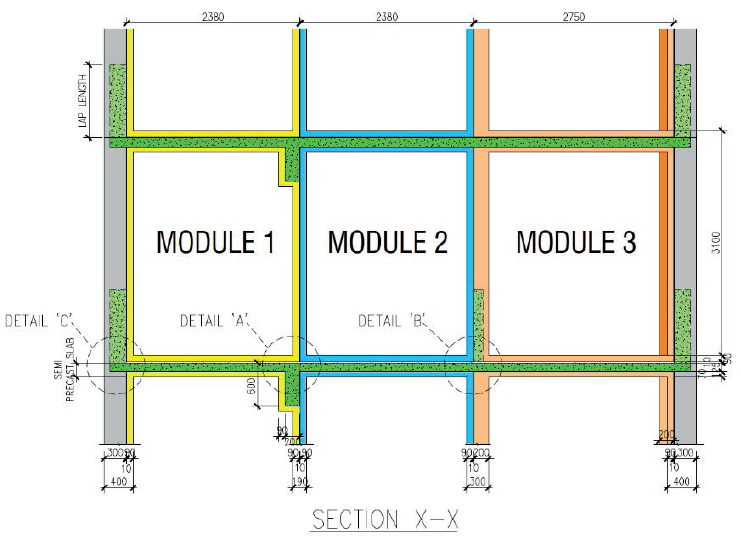 Typical Section; colours represent unique MiC modules used
Consultant-led MiC modules
Crucially, the AP and RSE were able to make a direct superstructure submission to the BD for approval instead of an in-principle acceptance (IPA) submission. An IPA submission to the BD normally takes several months and must be submitted by a MiC Supplier. Bypassing these requirements has been highly favourable to the HS as the project developer.
In this MiC Project, the AP and RSE together dictated the usage type and dimensions of the different standardised modules that will form the basis for future MiC Supplier tender documents. The MiC module tenderers could also provide competitive alternatives for improving the module connection details and their internal fixtures and fit-outs.
Allowing consultants to lead the MiC design therefore significantly accelerates the design and submission process, which further reinforces the advantages of the MiC technique for private development projects.
Manufacturing and delivery
All R.C. modules are being fabricated by MiC Supplier Yau Lee Wah's prefabrication factory located in Dongguan, Mainland China.
For quality assurance purposes, prior to the fabrication of the modules, the AP and RSE must submit a copy of the Quality Assurance Scheme of the MiC Supplier. This confirms that the scheme provides quality control tests of materials; calibration of laboratory equipment for quality control tests; efficient and proper operation of equipment at the prefabrication factory; production process; testing procedures and requirements; frequency and extent of inspection by in-house staff and independent parties; and frequency and extent of audit by in-house staff and independent parties.
For quality and qualified supervision purposes, the AP, RSE and Registered Contractor (RC) for the fabrication, assembly, installation and examination of modular units and pre-installed finishes are required to provide qualified supervision. They must also submit to the BD an MiC Supervision Plan before fabrication of the modules off-site. The AP and RSE must assign their respective Quality Control Supervisory Teams (QCST) to supervise the modular unit production work covering fire-resisting construction (such as fire resisting doors and fire resisting pipe collars), drainage works, and structures. Similarly, the RC should assign a Quality Control Co-ordination Team (QCCT) to supervise the modular unit production work in the prefabrication factory. The AP, RSE and the Authorised Signatory of the RC together must determine the required qualification of the supervisory personnel and necessary frequency of supervision of the QCST and QCCT.
Construction sequence of the superstructure
The sequence of construction for this MiC Project will be to complete all R.C. structures up to the transfer plate at 2/F. Part of the G/F construction will be deferred for delivery of the MiC modules to allow sufficient area for unloading and lifting of the MiC units.
For the MiC floor above the transfer plate, the process will first begin with the erection of all precast structural R.C. walls, followed by the installation of all structural MiC modules (i.e., all living/dining room units). Second will be installation of all remaining non-structural MiC modules (i.e., bedrooms, washroom, kitchen) on the same floor. Third, will be rebar fixing for all lapping between modules and concreting to fill the voids. Last will be the concreting works for slab diaphragm on top of the modules. The building services fittings in-situ connection between modules and each floor will proceed at the same time. This sequence will be repeated for the upper floors through completion of the roof. The final step will be to construct the deferred portion at G/F.
The Project targets a four-day construction cycle per floor, requiring approximately ten months to complete the entire tower structure including all in-situ R.C. works.
Conclusion
Traditional in-situ concrete or steel construction has been the preferred method of construction for decades. The success of this methodology has been tried, tested and honed on the wide plethora of buildings that make up today's cityscape. The flexibility of in-situ construction is showcased by the wide variety of shapes and sizes. As human innovation progresses, however, we must constantly look for more effective and reliable methods of completing tasks. As we enter an age of digitalisation with 3D BIM models, we must seek methods to standardise and simplify to efficiently achieve tasks.
Traditional methods have always been marred by labour shortages, labour demands, poor workmanship, human errors, miscommunication, misalignments and poor coordination amongst disciplines. Resulting delays and cost variations can also remain unaccounted for by developers during cost analysis. MiC strives to reduce labour demands, improve occupational safety, improve site conditions, and improve coordination resulting in less extensions of time and fewer variation orders. Overall, an entire project achieves improved workmanship and efficiency.
The HS implementation of MiC on the Project delivers numerous benefits, including improved site safety for superstructure construction, better efficiency and quality control, shortened construction period, greatly reduced construction waste and on-site labour requirements. The wider deployment of the MiC technique for private development promotes a quality sustainable built-environment. This enables the local construction industry to confront the current major challenges facing private projects generally, including constantly increasing labour costs, diminishing supply of skilled workers (such as bamboo scaffolders, carpenters and steel fixers), and pressing construction periods.
Deployment of the MiC technique coupled with suitable BIM modelling will also greatly enhance the success of a building construction project. Further study is warranted on the design and use of steel MiC modules for multi-storey residential buildings, particularly their lightweight and faster dry connections that facilitate transportation and on-site handling.
In conclusion, the MiC technique for multi-storey construction has immense potential and will be a leading trend in private developments and the construction industry overall.
Acknowledgments
Siu Yin Wai & Associates Limited would like to thank the Hong Kong Housing Society for the opportunity to use the MiC technique in the pursuance of innovation and green construction, helping to pave way for the construction industry and a better future for Hong Kong.
This article was prepared by Ir Prof Dr Siu Yin-wai, Ir Benny Lai Siu Lun, Ir Prof Paul Pang and Ir Yuen Yat-chung, all of Siu Yin Wai & Associates Limited