Back
Digitising BEAM Plus assessment in times of COVID-19: Challenges and opportunities
By Mr Icarus AU, Mr Karl CHAN, Mr Johnny CHIU, Ir C S HO, Ms Priscilla LIU, Mr Tim LO, Mr C C TSANG, Mr Edo WONG and Ms Helen YIP
The COVID-19 pandemic has brought the world to a standstill, setting in motion one of the most substantial disruptions to economic activities, social lifestyles and environmental resiliency in human history. Stagnation has been seen in the entire building life cycle of the construction industry, where COVID-19 is often considered as a force majeure to request time and financial relief. Given the high-level interdependence of human resources in the building and engineering industry, special working arrangements and social distancing measures could be barriers to efficient project management, plan submissions and statutory approval, making delays inevitable. Nonetheless, the pandemic presents a golden opportunity for process automation that enables the building industry to rely less on manual processing and human interaction. By so doing, the way is paved for more efficient, certain and consistent design and construction workflows.

In Hong Kong, most of the construction data submitted for statutory approval are processed manually by engineers and built environment professionals. As Hong Kong's largest local conformity assessment scheme for sustainable built environment, the BEAM Plus assessment system is no different from other statutory approval processes. As shown in Figure 1, in the early days of BEAM Plus assessment, data input throughout the entire project assessment cycle was 一processed manually by built environment professionals with the aid of conventional technologies such as MS Word documents and Excel templates. Moreover, assessment information was exchanged through a semi-secure file transfer protocol ("FTP") without workflow and versioning control to properly track the whereabouts of different files. The manual processing of BEAM Plus assessment in these early days restricted the possibility of providing an efficient and credible evaluation of green buildings for the building industry and the larger society.

Figure 1. The evolving assessment practice of the BEAM Plus assessment
In line with the Government's policy objective of Hong Kong Smart City Blueprint and to minimise potential business disruptions arising from future pandemics, BEAM Society Limited ("BSL") has taken a bold and innovative approach by building a customised Assessment Automation System called "iBEAM" to automate the overall preparation, assessment and analytics of BEAM Plus assessment. This is the first fully automated platform in Hong Kong that enables engineers and other built environment professionals to understand the design and construction standards of green buildings and conduct a credible assessment of the green merits of their built projects. In this article, the authors discuss the general functionality of iBEAM and the different innovative solutions applied in the iBEAM stakeholder engagement process to cope with the various restrictions under COVID-19. Also discussed are the possible future upgrades of iBEAM to meet industry aspirations and the government policy agenda addressing Smart City and Smart Construction.
General functions of iBEAM
iBEAM is a system customised to meet the rising demand of quality green building assessments in Hong Kong and the Greater Bay Area. It aims at automating the current green building assessment and other business-related processes to drive efficiency, reduce dependence on human operation, enhance consistency and mitigate risk of bribery and other irregular practices. To meet industry's aspiration for a reliable and fast-tracked construction approval process, iBEAM is built to operate under a 24/7 environment with a reliability of 99.95%. The seven modules of iBEAM shown in Figure 2 form the backbone of the system and provide users with a smooth and seamless experience in understanding and assessing the green merits of their built projects.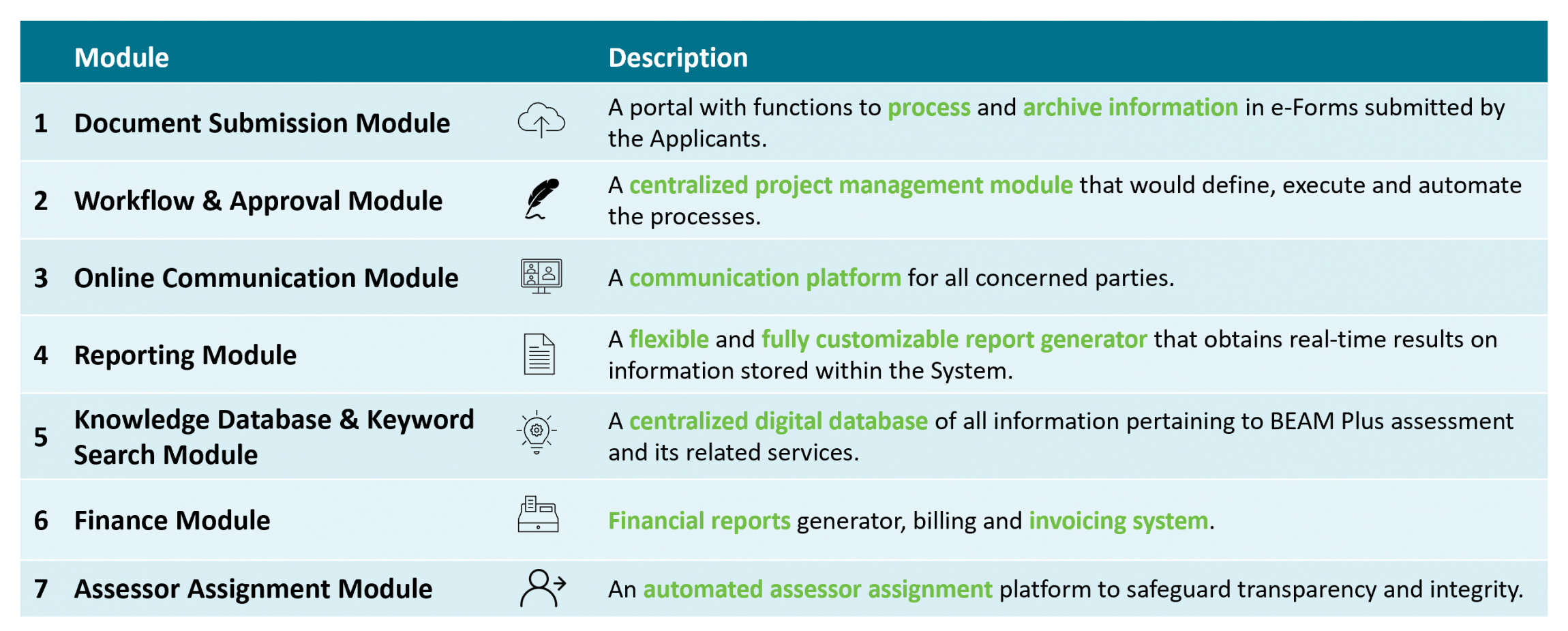 Figure 2. Seven modules of iBEAM
An interactive user interface shown in Figure 3 has been developed on iBEAM with the objective of aligning the system of document submission, approval, online communication and reporting modules. Through this user interface, users can easily manage architectural and engineering data submitted for BEAM Plus assessment, assessment progress and reports necessary to comply with requirements of clients and regulators. Knowledge database and keyword search functions are also integrated into iBEAM to enable engineers and built environment professionals to find standards and best practices to incorporate sustainability considerations and BEAM Plus assessment requirements into their architectural and engineering design.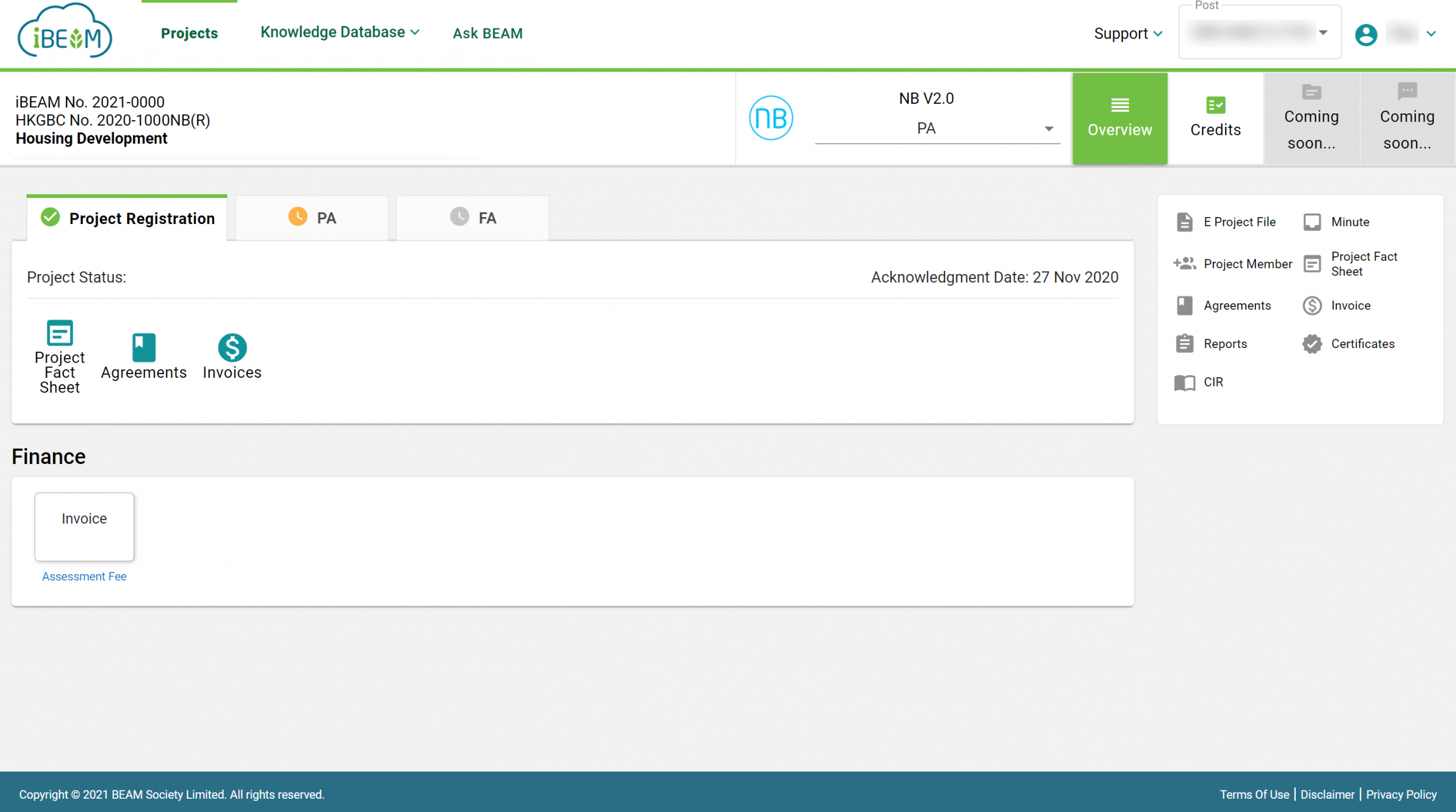 Figure 3. User interface of iBEAM
Key administrative functions are also built into the back end of iBEAM to improve the overall efficiency of processing non-technical information pertaining to BEAM Plus assessment. The automated finance module enables users to estimate the BEAM Plus assessment fee and process payment of the BEAM Plus assessment without requiring a customer service representative. To speed up the assessment process, the assessor assignment module automatically pairs BEAM Plus projects with appropriate assessors once the project is submitted to BSL for assessment. These key administrative functions improve the overall efficiency and credibility of the BEAM Plus assessment and minimises irregularities and malpractices that might arise during the assessment process.
Engaging stakeholders in times of COVID-19
As is the case with many other organisations, the operation of BSL has been significantly impacted by COVID-19. BSL has had to observe social distancing restrictions including hosting large-scale stakeholder events which could only be physically attended by fewer than 50 people. Development resources also had to be rearranged to accommodate the production slowdown caused by social distancing measures. Despite the obstacles and regulatory restrictions, BSL has still been able to engage various stakeholder groups to mobilise meaningful feedback for iBEAM. Positive stakeholder engagement atmosphere has been created through the adoption of innovative information communication technology and reprogramming of system infrastructures to enable early test-bedding of iBEAM functions.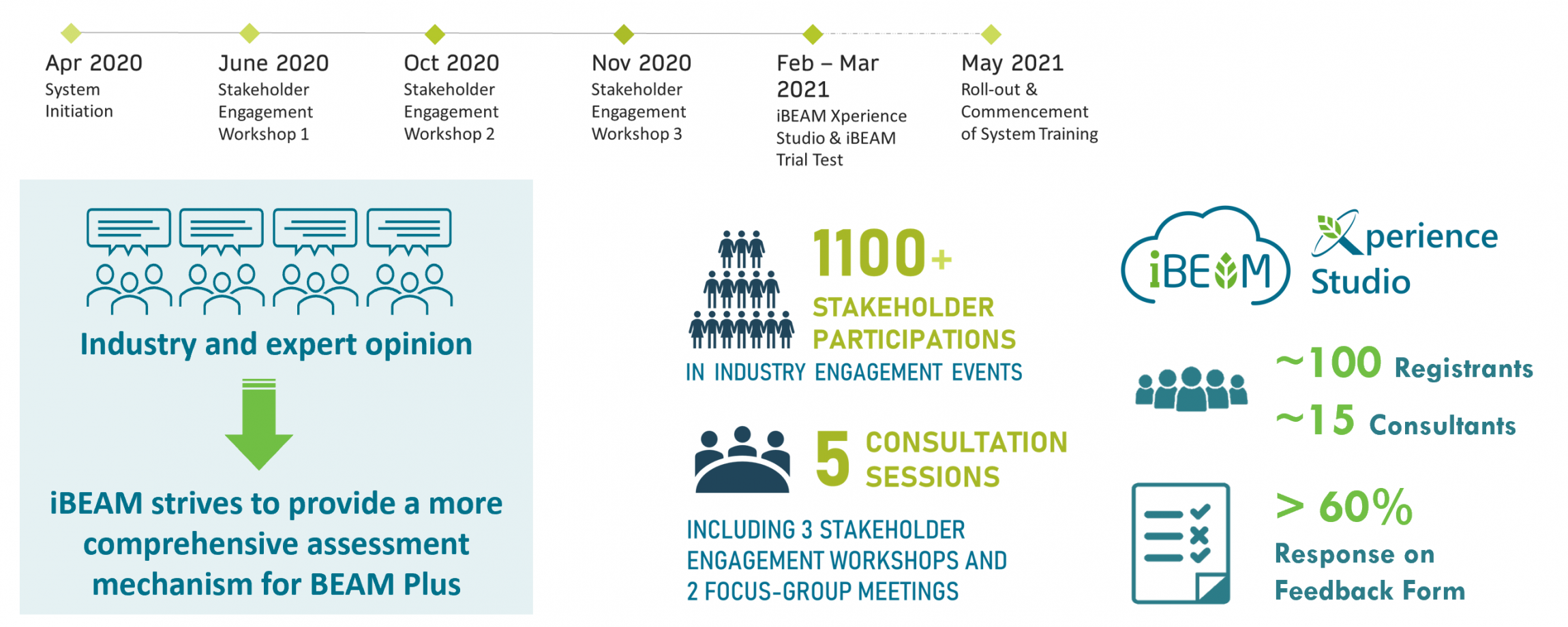 Figure 4. Creating impact through industry participation
Three rounds of stakeholder engagement workshops were organised online throughout the development cycle to cope with COVID-19. The workshop videos have been made available on YouTube and BSL's website, together with the workshop presentation materials. Each session was divided into three parts consisting of updates on iBEAM development status, system prototype demonstration and an interactive Q&A session. After the workshops, response to queries was compiled to provide BSL's views and carry out further action. To ensure that the iBEAM system meets future user expectations, participants were invited to complete a questionnaire to provide valuable feedback and comments after attending the workshops online. By taking stakeholder engagement workshops online, over 1,300 external stakeholders were engaged in the system development process, giving them opportunity to provide their views on the system functions and features of iBEAM despite social distancing restrictions under COVID-19.

In addition to stakeholder engagement workshops, inviting stakeholders to evaluate system performance of iBEAM from a user perspective is key to ensuring that the system is compatible with building industry practices. To realise this objective, BSL has hosted two types of user experience sessions: iBEAM Xperience Studio and iBEAM Trial Test. These enable external stakeholders to gain firsthand exclusive access to the iBEAM user interface. Such exclusive access has allowed participants to navigate iBEAM thoroughly before BSL formally rolls out the system for public testing.

Normally, user experience sessions are conducted within BSL's office environment to prevent unauthorised download of important development data and information. However, this method was unfeasible due to social distancing restrictions that barred guests from visiting the office and conducting user experience sessions using BSL's local workstations. To balance the need for proper user experience sessions and the data security of the iBEAM infrastructure, BSL set up a beta version of iBEAM in a dedicated testing environment within the cloud platform to act as a testing ground for different users to test the functionality and practicality of iBEAM. The testing environment is segregated from the development environment, minimising the possibility of mixing unwanted user experience session data into the development environment which might affect the overall database integrity. The cloud platform is also operated on a 24/7 basis to allow stakeholders to perform testing at their own convenience.
With this innovative setup, around 50 participants and 15 professional consultancies were gathered to participate in the user experience session. The innovative setup within the user experience session not only makes early testing of iBEAM more convenient and possible in times of COVID-19, but also helps BSL to understand industry-wide user preferences for different system features on iBEAM. This process enables BSL to make positive refinement of iBEAM system interfaces and strengthen system functionality and practicality before the system is rolled out for general usage.
Future system expansion
With big data and artificial intelligence arriving on the scene, data analysis and exchange have become more convenient, efficient and effective. While the Government is actively pursuing accessible and high quality standardised information, the building industry is demanding up-to-date data to make continuous improvements in sustainable and green design. Using these, BSL is paving the way for future expansion of iBEAM to support the Government's policy surrounding Smart City and Smart Construction. This is consistent with our mission of providing a common data environment that enables reliable green building data to be exchanged across different platforms in the building industry.
Four possible expansion options, as shown in Figure 5, are in the pipeline to cater for the future demand of the building industry. First, natural language processing and artificial intelligence could be embedded within the iBEAM assessment process to enable the system to act as a personal assistant to the professional assessors in validating complex information within a BEAM Plus assessment. This technology could enhance the credibility of BEAM Plus assessment and improve the reliability of data reported from a green building assessment. Second, plugin could be developed to extract metadata from BIM and GIS, which can be directly imported to iBEAM for assessment. This plugin could enable engineers and built environment professionals to submit multiple green building assessments with just a single set of built asset data, reducing the time needed to customise multiple sets of built asset data for different assessments.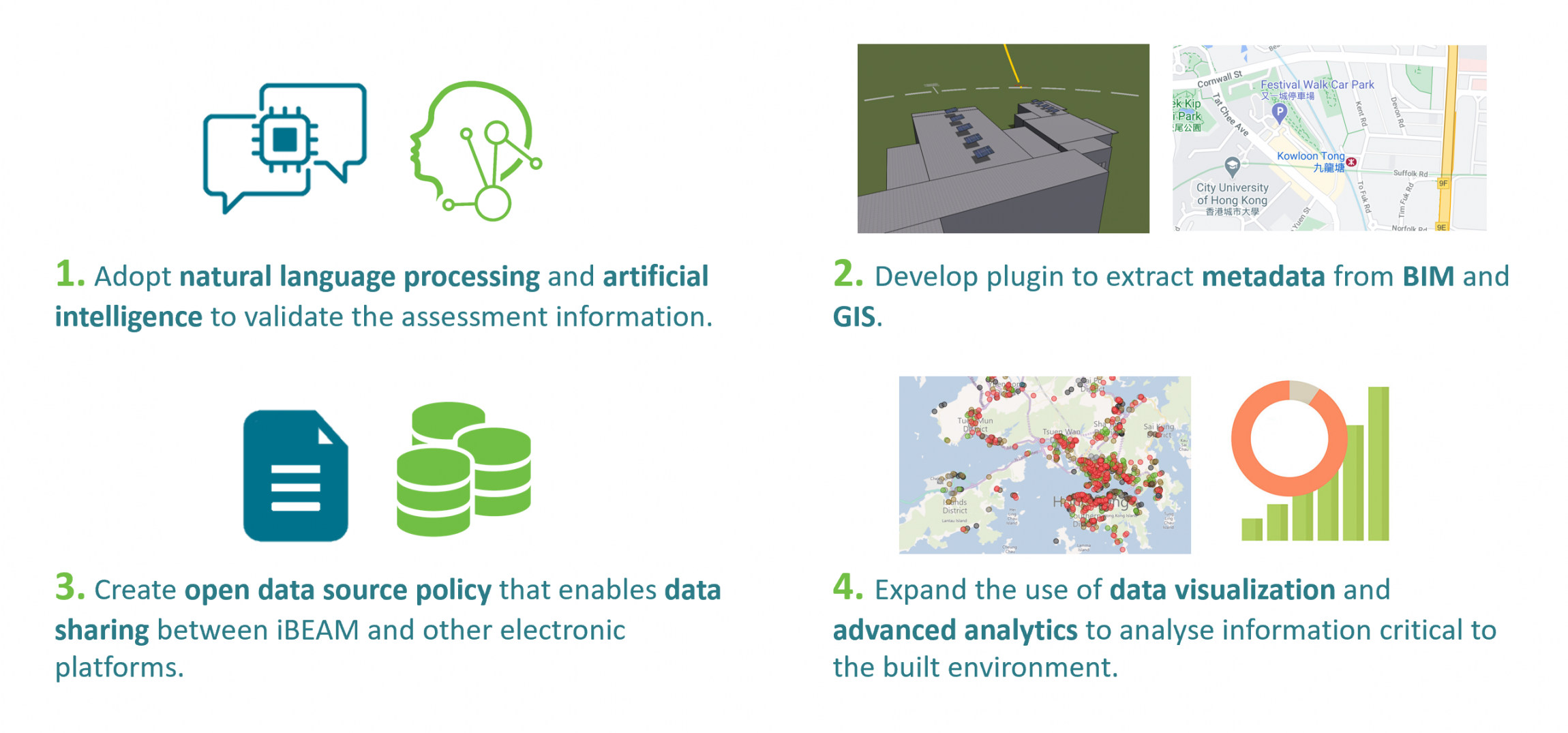 Figure 5. Possible system expansion
Third, an open data source policy could be developed to allow the data submitted for iBEAM to be exchanged with other electronic platforms. With this policy, users can use iBEAM as a single platform to assess the green and sustainability merits of their own buildings against green financing certification schemes and other green building assessment schemes available in the market. Finally, data visualisation and advanced analytics could enable the public to monitor progress of buildings and communities towards carbon neutrality. In addition, policymakers would be in a position to introduce appropriate policy measures for Hong Kong's buildings and communities to meet full carbon neutrality and environmental resiliency.
Along with the possible future development trajectories, it is envisioned that iBEAM will become more powerful and efficient in the future. It allows green building assessment and data analysis of built environment to be more efficient and consistent to meet the building industry's demand for a more dynamic and credible assessment process. It will also function to meet the Smart Environment and Smart Government objectives stated in the HKSmart City Blueprint. By supplying the necessary environmental, social and governance data on buildings and communities, Hong Kong's overall environmental management framework would be enhanced.
Conclusion
The first phase of iBEAM was successfully launched in May 2021. More than 3,000 permanent accounts have already been set up on iBEAM. The number of permanent accounts has been growing steadily as more engineers, property owners and built environment professionals are seeing the value of green design and are willing to adopt green elements in the engineering process. With the ongoing COVID-19 pandemic, organisations also continue to actively pursue reduction of in-person meetings and site visits as a health and safety measure. Therefore, an automated system with the capability to act as a data warehouse will certainly be an important tool, allowing engineers and built environment professionals to virtually monitor and manage the overall progress of their built projects.
BSL is rolling out more enhancement functions on iBEAM, which will further strengthen user experience during the green building assessment process. These will also facilitate industry stakeholders in understanding the green and sustainability merits of their built projects in a more comprehensive manner.
Acknowledgement
The authors would like to express gratitude to Sr Frankie So and the members of the iBEAM Project Steering Committee and iBEAM Roll Out Task Force at BSL for their unfailing support in the iBEAM development process. The authors would also like to thank Mr Darren Fok, Mr Benny Leung, all BSL colleagues and the GTI analyst programmers working on the iBEAM project for contributing their ideas and input that make iBEAM a reality.