Back
The Honorary Fellow 2022 - Ir Alfred W K ChanEngineering's power to change environment, society and governance for the better
What power does a mechanical engineer have to improve the environment, society and governance? For HKIE's 2022 Honorary Fellow Ir Alfred W K Chan, his love of engineering powered a long and storied career that made significant changes in the areas of market growth, safety, service excellence and environmental protection. During his 30-year tenure at the helm of Towngas, the humble and hardworking Managing Director powered the local utility, transforming it into one of Asia's most respected customer-centred conglomerates.
Evolving from engineer to business executive
Ir Chan's long career has distinct stages: three months training in Sweden in a heavy machinery manufacturer; two years working with Chiap Hua, a light industrial company in Hong Kong; one year overseas training at the Hawker Siddeley Aviation (now known as British Aerospace) in the UK; 14 years in marine propulsion equipment with Outboard Marine, an international group, followed by almost 30 years in the energy and utility company Towngas.
Ir Chan recalls on his career growth and evolution, "The turning point from my position which was mostly engineering oriented to also covering marketing, field services and general administration took place when I was with Outboard Marine (Asia)." He joined as a young industrial engineer, eventually becoming the President and General Manager of the Group's Asia Pacific operations.
His proudest achievement during his 14 years at Outboard Marine was the successful implementation of "Six-Sigma" and "Just-in-Time" in the Outboard Marine operational approach back in the mid-1980s. He recalls, "We became the master of quality-at-work among industry in Hong Kong. We rated first globally within the Group and received a lot of praise."
Powering growth and change as an acclaimed Managing Director
Ir Chan joined Towngas in 1992 and became Managing Director in 1997 until his retirement in 2022. During this time, he received many accolades and leadership awards, including being named five years in a row from 2015 to 2019 as one of "The 100 Best-Performing CEOs in the World" by Harvard Business Review. "The key to sustained success in the 21st century will be to always keep ESG (Environment, Society, Governance) in mind whatever you do," he says. "Towngas takes pride in being on the top 100 CEO list. A great encouragement to the Towngas people indeed."
The transformation of Towngas from a local utility to a diversified conglomerate was no small feat. "In the past two and half decades, Towngas has ventured into the fields of city gas, city water, sewage and municipal waste treatment, landfill gas utilisation, renewables, unconventional energy, telecom, aviation fuel storage and so on. None could be successfully and safely achieved without the sound application of engineering excellence," Ir Chan explains and modestly adds, "I just happened to be at the helm of all these business assertions."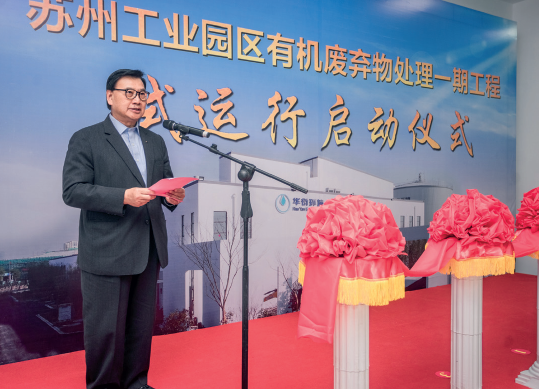 In 2019, Ir Chan officiated the inaugural organic waste utilisation project at Suzhou Industrial Park, signifying an important step forward in realising "waste-to-treasure"
His legacy notably includes establishing key city gas joint ventures in China. The first one was in 1994 at Panyu and Zhongshan, and Suzhou in 2001 was the first one outside Guangdong. Towngas now serves more than 40 million gas accounts in Mainland China and has the well-earned reputation of upholding strict international safety standards as China's safest gas company.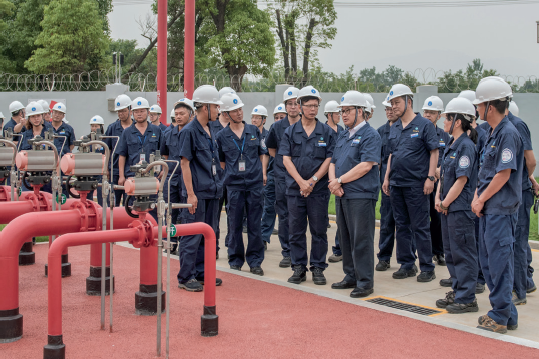 To uphold a strict international safety standard for joint ventures in China, Ir Chan personally led safety inspections at a liquefied natural gas (LNG) site at Anqing city, Anhui province in 2018
One of Ir Chan's most memorable moments at Towngas occurred in 2006 when the first cargo of LNG arrived at the receiving terminal in Shenzhen to be used as part of the feedstock for producing town gas. Ir Chan explains the importance, "This is under a 25-year long term purchase contract, which has so far saved Hong Kong town gas consumers almost HK$20 billion."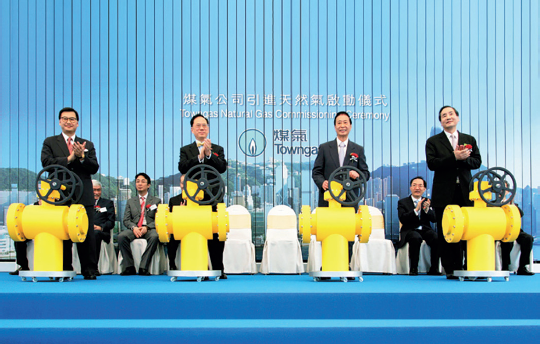 The Natural Gas Receiving Station at Tai Po Production Plant was commissioned in 2006, marked a significant milestone in Towngas' history
Ir Chan credits innovation for his success at the helm of Towngas. He asserts, "Embracing a 'Change' mindset is most crucial in organisation culture for any enterprise to thrive. I really treasure the times I saw the mindset in Towngas people shift from a traditional utility to a market-oriented, customer focused company."
From mentee to powerful mentor
After graduating, his two overseas training opportunities built the foundation of his later work as a mentor. As a young engineer, he was machining, fabricating and assembling Airbus wings in the UK and of this time he says, "I must have been among the first Hong Kong engineers at that early stage with hands-on experience programming numerical control metal cutting machines. I was fortunate enough to meet excellent mentors who passed to me knowledge and know-how in their specialties, with patience, understanding and enthusiasm."
Since then, Ir Chan has put in a lot of attention and gravity in the Scheme A training programmes of the HKIE in the companies he has worked for. He says, "I became a qualified training sponsor early in my career and took up the mentorship for a number of mechanical and industrial engineering trainees directly."

Of his community work over many years with numerous societies and organisations, his most honoured and enjoyable role was being Council member, then deputy Chairman and finally the Chairman (2017-2018) of the Hong Kong Management Association. He values its over 60-year history focusing on enhancing management skills in Hong Kong and its respected reputation among the business community.
Powering ahead through never-ending curiosity and innovation
Ir Chan says he always keeps a curious mind which allows him to foster a sense of creativity. He explains, "My habit of innovation, coupled with my engineering background has generated interesting solutions, and keeps me connected to an ever-changing world."
Ir Chan has two pieces of advice for young engineers. The first is an equation:
G = I x I. G is Growth, either organisational or personal, and I x I is Innovation multiplied by Implementation (where both require strong professional initiatives and knowledge/experience). The second is "No service needed is the best service", that is, to try to always look for the root cause of the problem and resolve it so that it will never show up again.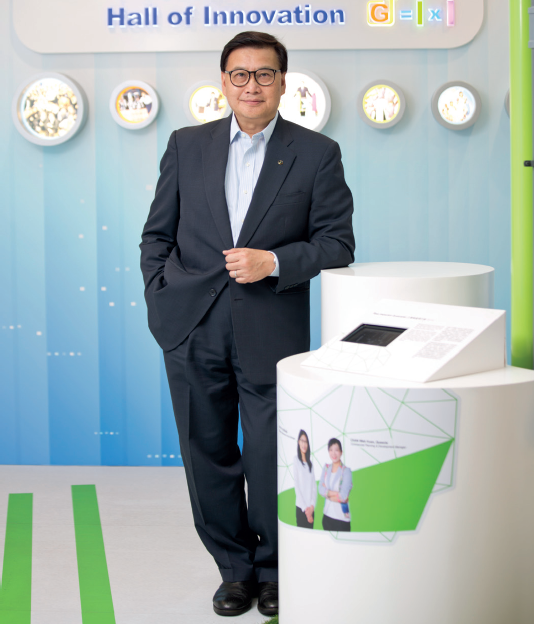 The Hall of Innovation was established by Ir Chan in 2015 to showcase the creative innovations developed by Towngas staff
This June, Ir Chan reaches the significant milestone of retirement at the age of 71. After having worked for nearly half a century, he says he is now a free man – free to pursue his hobbies of classical music, photography and Chinese history after decades of dedicated service to improving enterprise value, corporate culture, the environment, governance and society.