Back
The President's Award 2022 - Ir Martin K K CheungWorking and living at full blast
This year's President's Award recipient Ir Martin K K Cheung is passionate about the word "blast," which he uses to describe his life full of "enjoyable experiences" and his life philosophy, "to blast as long as it lasts (活好當下)"!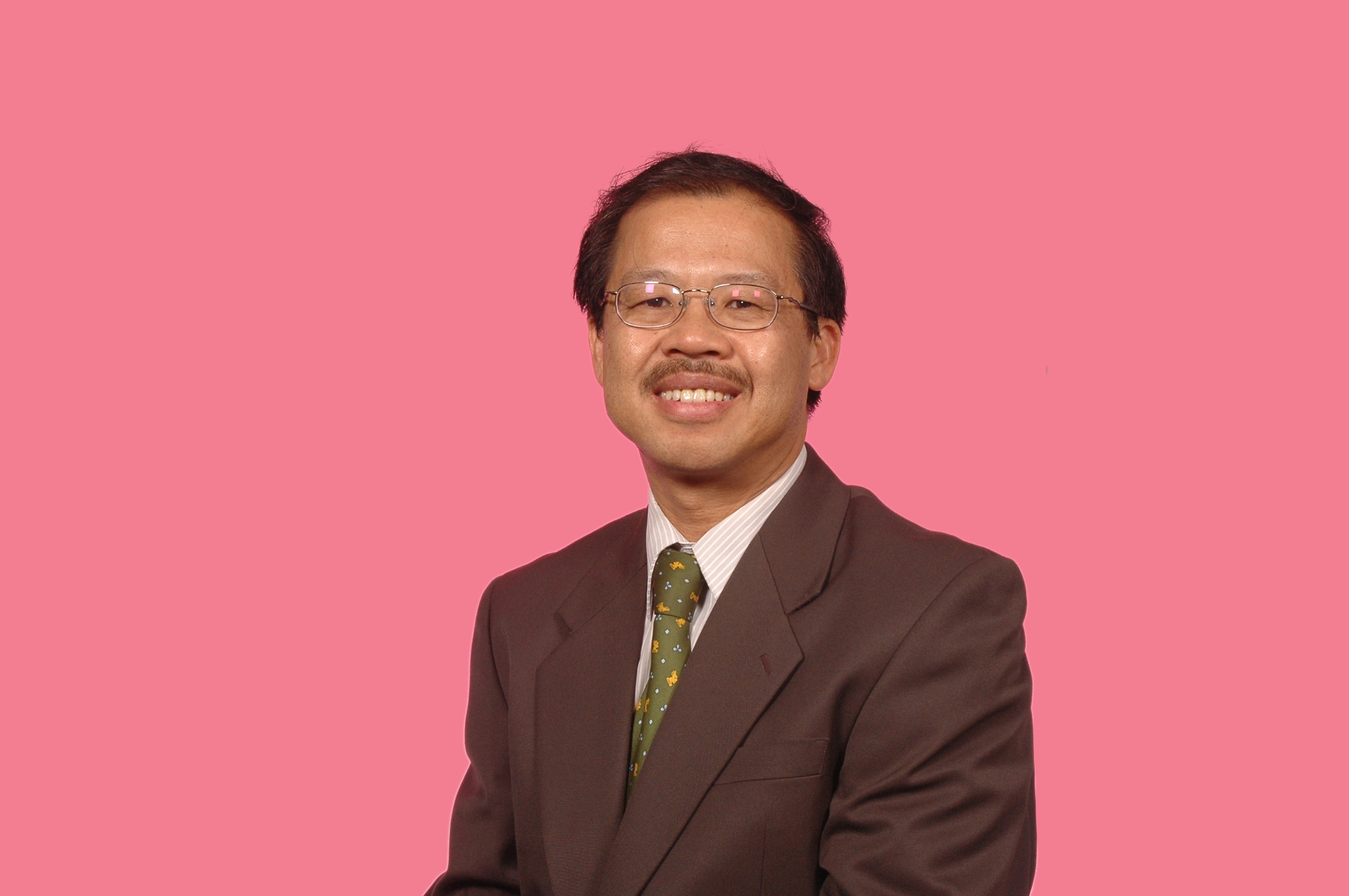 Ir Martin K K Cheung
Ir Cheung enjoyed working at "full blast" over his nearly 50 years as an engineer. He says, "I always worked hard to finish assignments at full blast, diligently and decisively."
Excelling at maths and physics in secondary school, he was encouraged by his teachers and his father to study civil engineering, plus his grandfather was a building contractor who further fueled his interests. He graduated from The University of Hong Kong (HKU) in 1974 with a Bachelor of Civil Engineering. In 1991, he obtained his Master of Public Administration (MPA) from HKU.

Ir Cheung describes his engineering achievements as "blasts from the past." For 33 years, he was at the Housing Department (HD) working on site formation and building projects for public housing. Of his career, he reminisces, "I was involved with major blasting work involving more than 25 million cubic metres of earthwork to create urban land for public housing." He personally took part in the final blasting under the project of Tiu Keng Leng Development on 30 January 2000, explaining, "This final blasting during my career holds personal major significance and marked the completion of critical site formation activity."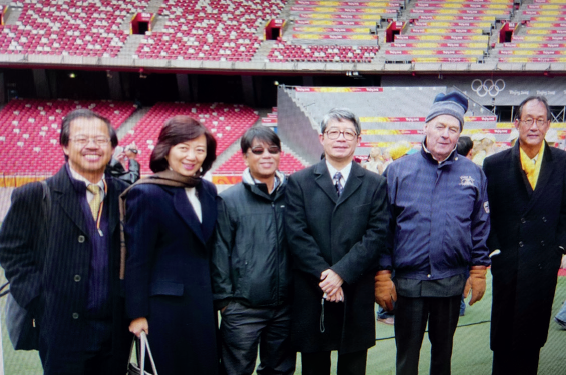 HKIE Executives' visit to Beijing 2008
Young engineer Martin in Civil Engineering Office/Public Works Department, 1976
Teamwork at work and in life
As the youngest of 12 children, Ir Cheung describes himself as a "born team-player," elaborating, "I learnt early on that family life involves teamwork requiring mutual support and sharing." This was the main reason he chose a career in civil engineering – primarily because it is a profession of team building. Subsequently, he led project teams to complete more than 20 land formation contracts for the HD, with the largest project as Chief Engineer steering the Tiu Keng Leng Site formation. As Chief Engineer/Assistant Director-Projects, Ir Cheung led teams to help deliver 100 hectares urban sites and 500,000 flats. He states, "I strongly believe engineers have played an important role in shaping Hong Kong to make it a world class city – its infrastructure sets it apart from regional competitors."
He was appointed to lead the HKIE working group to devise the Continuing Professional Development (CPD) System at the end of 2001, which became one of his most important long-term endeavours when he became chairman. Adopting the "incrementalism" strategy, he remarks that the purpose was, "aiming at small successes in small bites." He incrementally obtained consensus of the various divisions before conducting a wider member survey. The mandatory CPD system was successfully implemented on 1 January 2006.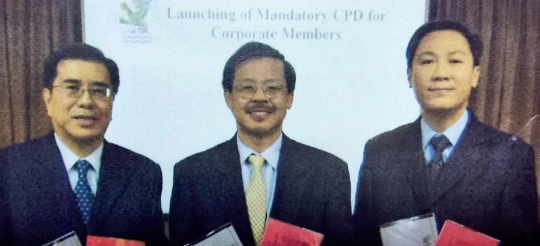 As CPD Chairman introducing the Mandatory CPD

Ir Cheung as Facilitator, HKIE LegCo Forum
Belief in teamwork extends not only to Ir Cheung's professional career but also to his personal life. His active social life includes hobbies such as being part of an 11-side football team, a five-member guitar band and annual dragon boat racing.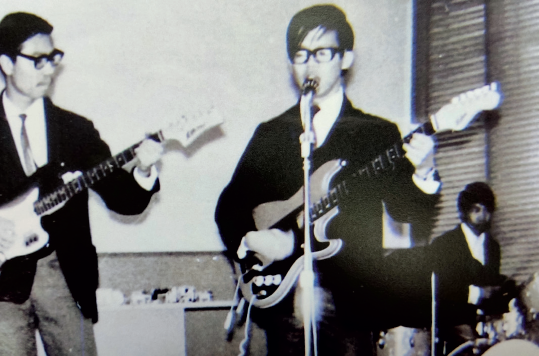 Played guitar band at college, 1967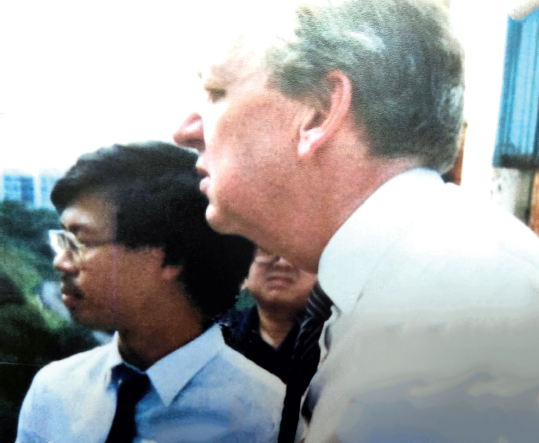 Ir Cheung as Chief Engineer for Shau Kei Wan site formation
Soft skills to achieve 'genuine happiness'
Ir Cheung believes that genuine happiness comes from sharing and caring and contributing to society. Having been an HKIE volunteer for nearly 18 years, he is driven to mentor others. "I advise young engineers to pay greater attention to learning and practising soft skills, as attitudes determine one's altitude on the career ladder," he recommends. Critical soft skills include public engagement and networking, and Ir Cheung frequently facilitates seminars at HKIE on the importance of soft skills in the workplace. He proudly expresses, "My most rewarding experience in my HKIE volunteer work was getting to know many top-notch engineers who served on the Council/Committees. I treasure these social encounters which make my life happier."

In addition to volunteering, his belief in public engagement has played a major role in his career. As the development of land inevitably draws opposition from different stakeholders, he pioneered the process to resolve objections to public housing projects. He states, "Successful public engagement helps to overcome hurdles in the development process of engineering projects. It requires careful planning and organisation. Networking and social skills are essential."

Valuable soft skills have rewarded Ir Cheung well during his work as member and chairman of many associations and societies. For instance, when he retired in 2012, over 1,300 colleagues took part in two farewell dinners.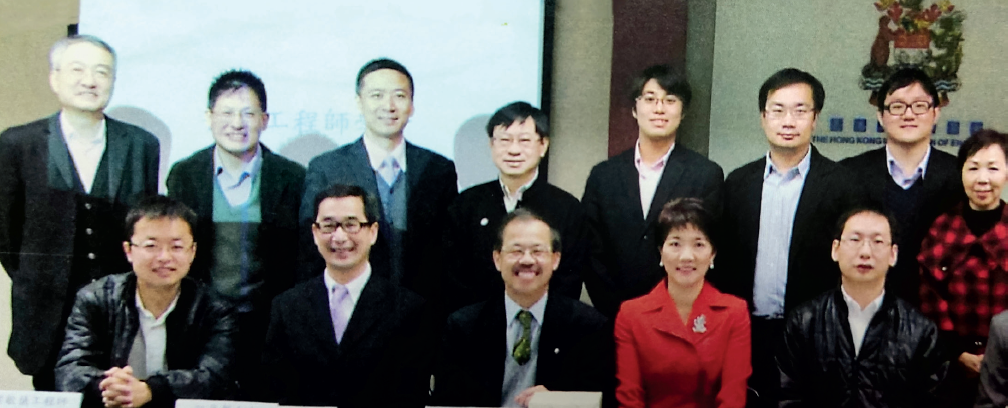 As CPD Chairman receiving District Council Members at HKIE
Having a blast while it lasts
Even in retirement, Ir Cheung shows no signs of slowing down. He says enthusiastically, "I am fond of having 'a blast as long as it lasts' (i.e. enjoy the most of my life)." 2022 marks the milestone of his 45th anniversary of being a professional engineer, as well as his 45th wedding anniversary with his wife, Mary. Ir Cheung has led a storied and colourful career that reflects his personal beliefs and philosophy – a real blast!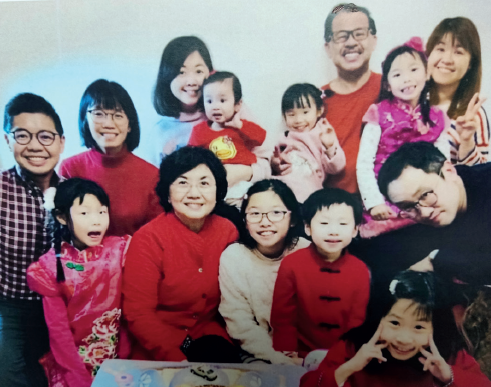 Ir Cheung with his seven grandchildren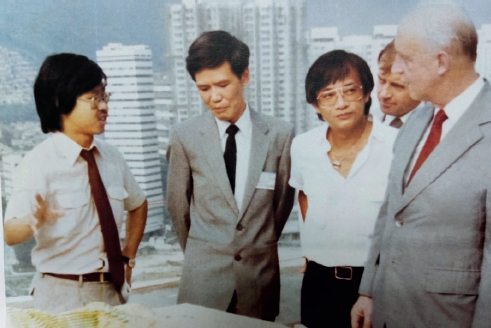 Talking to Governor Edward Youde regarding Ap Lei Chau Site Formation, 1982