Back
Young Engineer of the Year Award 2022 - Ir Tang Whai TakLooking to the future while honouring the past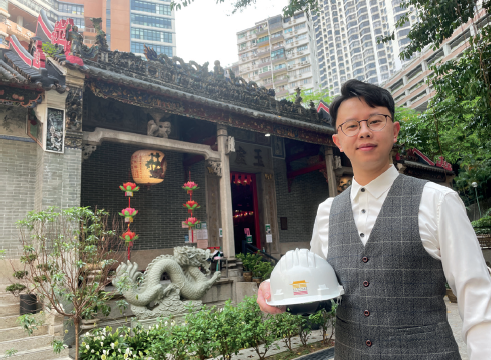 Ir Tang oversees 24 historic Chinese temples across Hong Kong
For Ir Tang Whai Tak, being a civil engineer is about practicality and serving a larger purpose. As someone who is constantly looking for solutions to future problems, he enjoys employing these methods to preserve the past and honour his cultural roots. On being an engineer, he says proudly, "It is rewarding to see your ideas being realised and built that actually serve a function."
Step out, step up: looking ahead
His career started with a leap of faith. He grew up in the UK but decided to work in Hong Kong, saying, "I wanted to step out from my comfort zone. I had to adjust to the work culture in Hong Kong." Ir Tang graduated from Imperial College London in 2009 with a master's degree in Civil Engineering and later obtained a Master of Public Administration from The University of Hong Kong. Since then he has dedicated himself to working in the public sector. His motto is, "Step out, step up", to step out of your comfort zone and step up to lead the change.
Participating in the HKIE 40th Anniversary Sports Day with Imperial College London engineering alumni
Ir Tang has worked in various works departments of the HKSAR Government, from local projects to large-scale infrastructures including the Universal Access Programme, Greening Master Plan and the Northern Link. He is invested in the importance of the Greening Master Plan and is committed to enhancing the city's resilience by introducing blue-green infrastructure through finding space in Hong Kong's urban environment to plant trees and shrubs. He believes in the principle "Right tree at the right place" in building community consensus.
Optimistic about his career in Hong Kong, Ir Tang explains, "In the decades to come, the city will continue to invest significantly in its infrastructure and there will be great demands on engineers. It is a good time to join the profession as there will be all sorts of different projects."
Ir Tang delivering talks on contract management
Clearly having thrived outside his comfort zone, Ir Tang now represents Hong Kong on the Standing Committee on Young Engineers/Future Leaders of the World Federation of Engineering Organizations, collaborating to promote the United Nations Sustainable Development Goals. One of his proudest moments occurred in 2019 when he gathered practitioners from eight economies and hosted a threeday International Young Engineers Exchange Forum in Hong Kong, the first of its kind.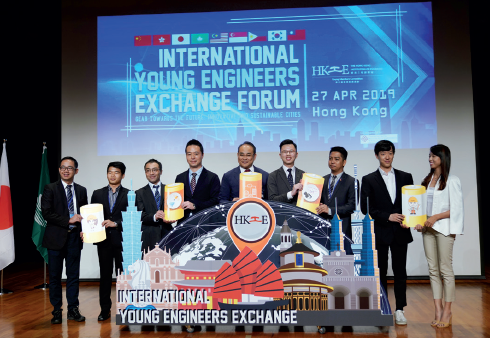 Presiding at the International Young Engineers Exchange Forum
Taking the past into the future
Ir Tang is dedicated to using the future to preserve the past. As Project Manager for the Chinese Temples Committee, he heads the multi-disciplinary project management section for maintaining historic temples which is driving digital transformation in asset management of local heritage. In this capacity, he heads 13 staff, handling over four consultancies and 15 contracts while looking after 24 directly-administered temples. Some of the more well-known ones include Sha Tin Che Kung Temple, Hung Hom Kwun Yum Temple and Joss House Bay Tin Hau Temple.
Notably, Ir Tang is proud of setting up a sub-team for asset management and R&D. "As the public gains knowledge and raises expectations on conservation, the committee seeks to undo some of the modifications to return the temples back to their original outlook," he says proudly, "For the renovation of Cha Kwo Ling Tin Hau Temple, we dug up historic records, discussed with the Antiquities and Monuments Office, and restored its look that more closely matches with its original intention and the surroundings."

He also highlights trials of 3D printing for repair of art crafts, thereby addressing the problem of an ageing workforce and lack of skilled labour. The creation of "digital twin" with VR and AR helps professionals and the public to see the temples in their entirety. The project allows for one-stop digitalised management of historic Chinese temples by using advanced technology to preserve the past.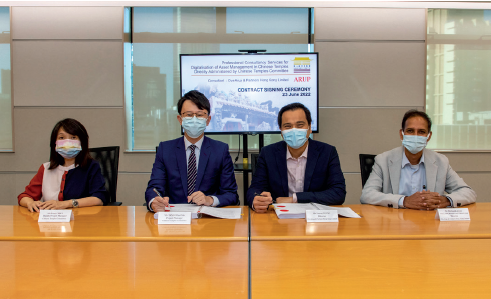 Committed to change – awarding contract for digitalisation of temple asset management
Having impact and changing for what lies ahead
As a young engineer, Ir Tang believes in the ability of others like him to make an impact in the world, saying, "We must act fast in order for engineers to lead the society in meeting committed sustainability targets by 2030 such as carbon neutralisation." He believes that engineers must help in the effort to "implement international standards to tackle common problems, such as urban land contestation, gentrification and climate change."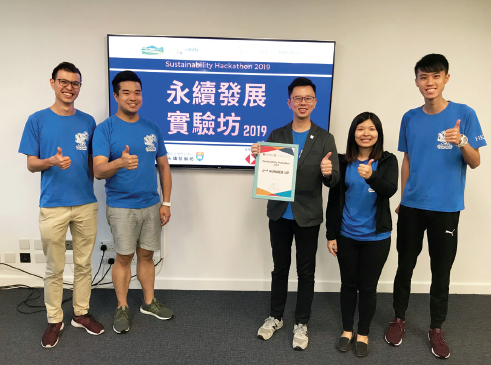 Winning an award at Sustainability Hackathon 2019
He is currently a HKIE Council Member and Executive Member. "With the trust in me, I wish to bring the views of young members into the policymaking and long-term planning of HKIE," he elaborates. He is a HKIE Professional Assessor and a Mentor for the Institution of Civil Engineers. He is also a part-time lecturer at Hong Kong Institute of Vocational Education and HKU School of Professional and Continuing Education teaching project management and ethics.

To young people wishing to pursue a career in the profession, Ir Tang advises, "Be open-minded, try out different tasks and gain a variety of experience. You never know where life is going to take you, but opportunities are seized by those who are always prepared."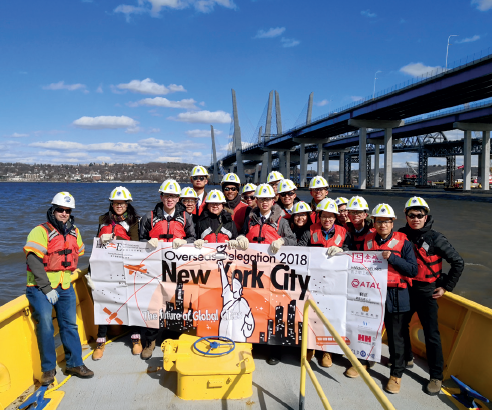 Leading a delegation to New York City to study the future of global cities