Back
Effective Collaborative Safety Leadership: Trust-based engagement to achieve results across boundaries.
Can the trust-based approach be replicated by other companies to build a safer workplace?
This article does not address leadership styles, skills or attitude as there is more than enough out there to read about the importance of these attributes. Rather this article is aimed at introducing a new paradigm of safety focusing on how to integrate natural human behaviour and performance – and our ability to control unpredictability – into organisational systems with successful outcomes.
Safety is often delegated to safety professionals or a specialised department entrusted with the responsibility of managing and maintaining it. Safety managers and officers are well trained and as a whole are competent. However, accidents occur in construction and more often than not the vagary of human behaviour rears its ugly head. The Effective Collaborative Safety Leadership approach is not a substitute for existing safety rules and safety management systems, but instead to build them up in tandem. The approach described here is particularly suitable for organisations with low accident rates and where the cause of adverse events is no single easily identifiable failure of the existing safety system.
Background
Under the Airport Authority Hong Kong (AAHK) Third Runway Division Contract 3801, project management set out to construct sections of the new automatic passenger vehicle and baggage handling system tunnels for the new Third Runway System (3RS) Project at the Hong Kong International Airport, connecting the expanded Terminal 2 and new Terminal 2 Concourse and terminal building. 3RS includes the reclamation of 650 hectares of land north of the existing island airport, along with the construction of 3.8 km of runway and associated taxiways. The 3RS project began in 2017 and is planned to be completed in 2024.
Construction safety has been the foremost priority in the construction industry. The accident rate per 1000 workers reduced from 369.3 in the 1990s to 219.9 in 19961 with the help of technical improvements, improved systems and procedures. It was further reduced to 68.1 in 2003 with the improvement of systems and overall training of workers. The accident rate then gradually flattened out with minor reductions each year, reaching 29.0 in 2019. Despite ongoing improvements made in past years, the average number of fatalities was 0.08 per 1,000 workers by 2020,2 which is still higher than any other industry.
Holding the firm view that trust is the missing link in construction safety, YHL Consulting engineered the Augmented Collaborative Safety Culture (ACSC) programme emphasising building such trust with effective communication across stakeholders and developing a collaborative safety culture among all parties. With the ACSC, safety is not only about the workers, but about teamwork where collaboration is required at all levels involving workers, subcontractors, management of contractors and the employers who work together towards construction safety. This is further supported by the use of the New Engineering Contract (NEC) for 3801, where collaboration is emphasised at the heart of the contract between the Employer and the Contractor. This contract means that the contractor is no longer bound by an overly complicated contract and can focus more freely on well thought-out, creative, and value-engineered solutions to overcome numerous engineering challenges. One such solution on Contract 3801 was the utilisation of the ACSC program, which fostered a culture of safety and where safety goals were widely understood through good communication and collaboration across all levels.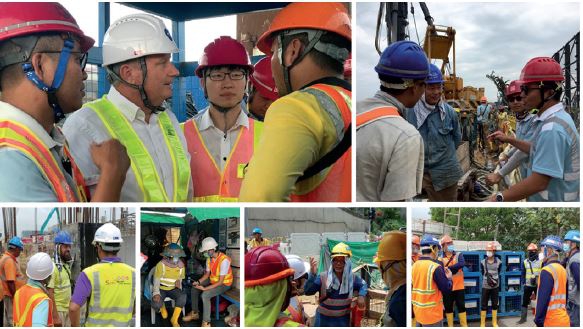 Engagement at all levels
Trust is the key to safety
The ACSC consists of four major pillars: Trust, Communication, Collaboration, and Ownership. Each pillar is closely linked with the others, and every initiative implemented on Contract 3801 was carefully selected to focus on developing these four major pillars.
Trust is the foundation for the formation of safety culture and establishing trust between parties is also crucial for developing the other pillars. One of the key initiatives to build the groundwork of trust is the utilisation of the Behavioural Engagement and Observations (BENO) programme. BENO establishes the trust loop through the selection of observers from the site management team to engage and talk to workers on-site. The opportunity for daily communication with management appears to initially be unusual when compared to traditional construction culture. However, as time progressed, workers gradually opened up to talk about their own views and concerns about the site, such as requests for cleaner toilets, short breaks during hot days, better eating facilities and so on. The observers collected these comments which were further reviewed and followed up on a weekly basis by site management, ultimately resulting in real and actual improved site conditions that
reflected the feedback.
A circular trust loop was thus created, where the workers came to understand that their feedback was heard and actions were implemented on-site in a timely manner. This further reinforced the trust between workers and management, which further encouraged workers to talk about the problematic issues on-site, thus transforming habits and attitudes site wide. Slowly as the trust loop improved with the encouragement of the observers, workers attained psychological safety to talk about more sensitive issues, such as their views on site safety and other safety issues on-site. An environment was created where safety was regularly discussed, understood, and practised on-site among frontline personnel. This is known as safety culture.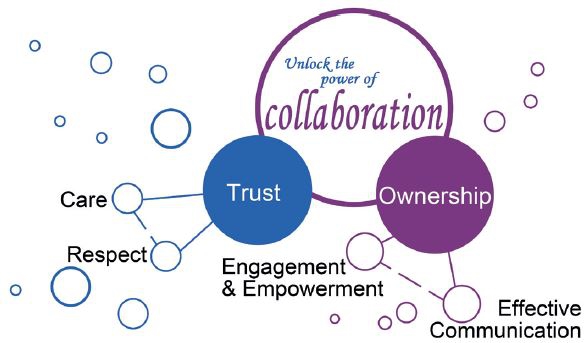 Trust-Collaboration-Ownership model
Effective communication
Trust, however, can only be developed and improved upon when it is repeatedly fostered between two parties, highlighting the importance of effective communication. Trust can take a long time to build up and can easily be broken down by miscommunication. In the ACSC, many branch programmes were targeted to enhance communication including weekly review meetings such as the "Action and Follow-up" programme. The actions required by management were concluded through following up on workers' feedback, ending with the production of a poster to convey/report the results back to the workers.
The review meetings were also carried out by the observers, where they would often discuss in depth with workers about frequently contested issues such as the lack of toilets in the tunnel shafts or the importance of housekeeping. This allowed workers to gain a better understanding of the operational or logistic difficulties from management's perspective in implementing a certain request or the reasoning behind enforcing certain house rules. Moreover, workshops and toolbox talks regularly took place to further help workers understand the required safety goals and standards by site management. These programmes served as a communication channel for workers and management to understand each other's needs and build trust based upon mutual understanding.
Mutual collaboration and project-wide ownership
The building of trust between site management and workers is a must in building safety culture, but mutual collaboration of all parties on-site is also crucial for success. In the ACSC, all parties were involved, and each review meeting included AAHK and China State Construction Engineering (Hong Kong) Limited where all subcontractors' representatives were invited to put their opinions forward and contribute to improving site safety. The involvement of subcontractors was notably crucial as traditionally they have little or no participation in the decision-making and strategic developments on-site. As the first point of contact with workers on-site, it was important to get their perspective on the current safety policies and compliance. By empowering subcontractors to participate in the decision-making process, for example, in the review meetings, they could then be part of the safety programme and have their ideas and goals aligned with the rest of the site team. Only when all parties started to "own" the programme could a safety culture be instilled, sustained, and improved upon.
Data analysis and agile approach
Despite the success of the ACSC model in formulating a safety culture on Contract 3801, safety culture is very dynamic and is easily subjected to external factors. This being the case, the ACSC had to take an agile approach thus allowing it to quickly identify changes and address key issues accordingly. This was crucial for the long-term development and success of safety culture on Contract 3801. The existing framework in the ACSC with the daily BENO talks and weekly review meetings already provided a basis for good weekly progress to be recorded. Other mini-programmes also existed to help different parties adapt to the constantly changing site environment. This could be seen occasionally such as when disagreements occurred between the client, main contractor, and subcontractors over certain safety procedures and how a task could be performed practically. Despite rising tensions between these parties, a facilitated working group was formed consisting of representatives from all three parties. The disagreements were resolved after a few meetings when all parties agreed on a common solution balancing safety requirements and practicalities of construction for the respective works to be undertaken.
This agile approach called for the importance of the ACSC to adapt to change in a timely manner, which brought forward the extensive use of data analysis with a variety of data collection methods. One of our core data sources was the Health and Safety Climate Questionnaire (HSCQ), which was completed by management and subcontractors on a weekly basis to give a score from 1 to 5 on the Linkert Scale on eight indicators which included worker safety commitment, management communication, management collaboration, progress, stress, etc.
The data from HSCQ was then compared with other key indicators such as observer participation and worker engagement together with other seasonal audits and survey results. This allowed the weekly capture and assessment of the current situation on-site which became a core part in our regular sprints and decision-making process. This information was necessary to manage the project, to ensure that it could function as required under expected and unexpected conditions alike, as well as being necessary for any learning and improvement to take place.
For example, the "Stress Buster" programme to reduce general stress was utilised when it was anticipated that an upcoming trend for increased stress levels was being recorded. When social restriction orders occurred due to the COVID-19 pandemic, meetings were adopted to a hybrid style (by Zoom meetings and limited number of staff allowed in a meeting room at any one time). Training for online migration and regular daily engagement was undertaken with each subcontractor being asked to provide support and weekly theme-based video sharing from senior management to all staff including workers to maintain contact and care throughout the pandemic. From the accumulated data, the predictive power of the indicators was then shared at the weekly review meetings. This acted as a warning indicator for the ACSC team and the related parties to act proactively before problems occurred.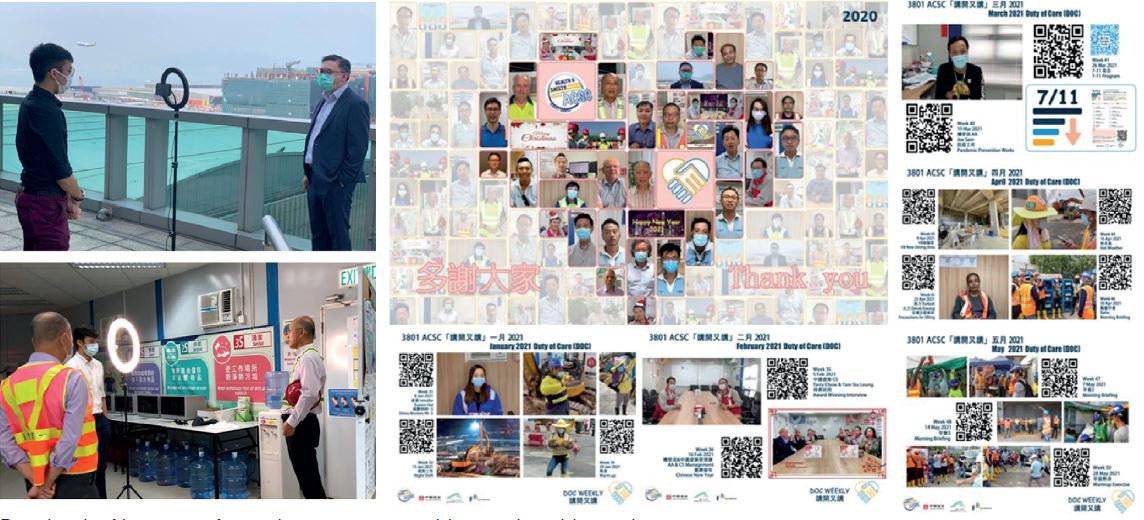 Pandemic: New ways for senior management to reach out to workers
Now is the time for change
It has been four years since YHL Consulting facilitated initiatives to drive the Augmented Collaborative Safety Culture on Contract 3801. It was initially evident and later proven that given the right conditions and opportunities, each of the four pillars of Trust, Communication, Collaboration, and Ownership would naturally support and strengthen each other. In a world where engineering projects are growing increasingly complex, on a scale bigger than ever, within timeframes shorter than ever, that collaboration is key to working on such projects. With multi-talented teams working together, effective communication becomes essential to reach better results. As important as communication is to driving a culture of learning, if a team is not learning, how can it improve upon a situation or prevent an accident from occurring again? A learning culture must also be a no-blame culture, otherwise no one would share critical information when blame or hardship is a known or anticipated result.
Decades of research and voluminous theories exist about the importance of preventing accidents through a strong safety culture. The greatest challenge is the translation from research and theory into practice. By showing this can be done in a real-world scenario, the ACSC becomes a tool for changing the face of safety culture. When the four major pillars of Trust, Communication, Collaboration, and Ownership are transformed into a step-by-step pragmatic programme that can then be easily integrated into any existing construction site project, the result is the strengthening of safety culture. Individuals are much more willing to change their behaviour if they trust others to do so as well. We know this kind of trust matters immensely. It has become essential that the management of employers, contractors, and subcontractors establish collaborative safety culture by building trust from the very beginning of a construction project.
Being extremely complex, construction is interconnected such that everything affects everything else. There is an ongoing need on construction sites to work collaboratively and to bring together all the skills, knowledge, and experience of the personnel on a project to ensure the challenges are met of keeping everyone safe and healthy, progressing and completing the works on programme. Together with ACSC's agile approach and the predictive power of the data analysis, this programme can prevent safety accidents and drive the investment into collaborative facilitation between all concerned parties so that the ultimate outcome is a positive downstream impact on project resources and efficiency.
Fostering mutual trust and establishing a psychologically-safe environment is imperative for people to report safety concerns without fear. With these in place, there is hope that accidents can be prevented or minimised, leading the way towards a stronger safety culture being developed on Hong Kong construction sites. We can do it together. Let us make the change now, together.
References
Yeung W (2011). Work Safely in Construction Sites 2011 – A Preventive Approach. In: CIC Seminar on Handling Construction Work Injury Cases and Site Safety [online]. Hong Kong: OSHC. Available at: <https://cic.hk/cic_data/pdf/about_cic/news_and_update/past_event/eng/Dr Winson YEUNG.pdf.> Accessed on 23 May 2022].
Occupational and health statistic bulletin (2021). Issue No.21. Hong Kong: Labour Department.