Back
MiC site office: An integration of construction efficiency, sustainability and homey design
Faced with challenges in the construction industry over the next decade and beyond, the Development Bureau in 2018 formulated Construction 2.0 as the platform for change. This rests on three key pillars: Innovation, Professionalism and Revitalisation. The use of Modular Integrated Construction (MiC) is one of the initiatives under Innovation, which aims at driving forward productivity, efficiency and enhanced project delivery outcomes.
The Shek Wu Hui Effluent Polishing Plant Project is designed to upgrade the capacity and treatment level of the plant over a 15-year period. The Drainage Services Department (DSD) takes the MiC initiative forward to construct multi-storey site accommodation for the resident site staff (RSS) and contractors within a constrained site, under the Main Works Stage 1 of the project. As the site accommodation will be the office for staff over an extended period, the design team integrated sustainability in the building design. Serene colour patterns with simple and neat layout add a human touch to the office environment. The panoramic view outside the office is maximised by rearranging a conventional vertical rectangular window into a wide horizontal strip, providing an unprecedented experience for users of the MiC office.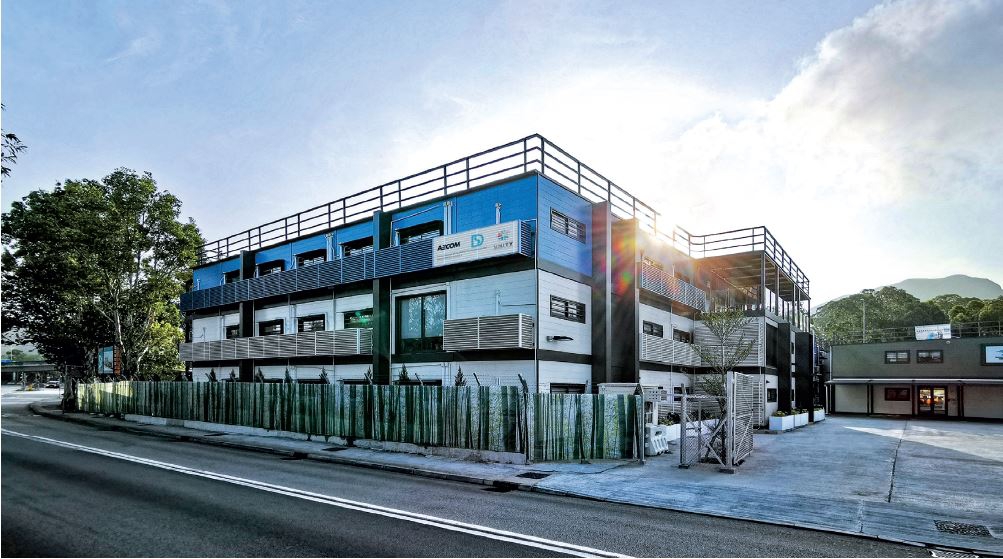 DSD Shek Wu Hui Effluent Polishing Plant Main Works Stage 1 Project
Why MiC?
Modular Integrated Construction (MiC) refers to the complete off-site factory pre-construction of volumetric modules of buildings with most finishes, building services and even furniture. By transferring fabrication works to a factory, the safety and quality performance is better controlled. This includes minimising the impact of inclement weather conditions, lack of working space and other site constraints, which help to improve productivity and sustainability.
Many benefits are anticipated when the design maximises the use of equivalent modules.
About Shek Wu Hui Effluent Polishing Plant Project
The scope of the project includes upgrading the existing Shek Wu Hui Sewage Treatment Works to increase the treatment capacity from 93,000 m3/day to 190,000 m3/day. Its sewage treatment level will be upgraded in three stages to tertiary standard for conversion into "Shek Wu Hui Effluent Polishing Plant". Currently, the Main Works Stage 1 commenced in September 2019 and will increase the treatment capacity to 140,000 m3/day.
Project proponent

Drainage Services Department, HKSARG

Design Consultant and Project Manager

AECOM Asia Company Limited

Contractors

DC/2018/06 - Kwan Lee – Chun Wo Joint Venture*

DC/2018/07 - Kwan Lee – Chun Wo Joint Venture

DE/2018/03 - The Jardine Engineering Corporation Limited

DE/2018/04 - Bestwise Envirotech Limited

Expected completion of Main Works Stage 1

2025
*Note: Kwan Lee - Chun Wo Joint Venture is the Main Contractor for erecting the MiC RSS Site Accommodation

Building typology
The three-storey RSS Site Accommodation has a total floor area of 1,620 m2 situated at San Tin, Yuen Long and is designed to accommodate around 190 staff. The office comprises rooms of various sizes, which has caused difficulties in preparing appropriate designs.
Typical modular size: 3 m (width) x 12 m (length) x 2.64 m (height)

Optimising structural member sizes and location within a modular is important. This allows more efficient design and provides better spatial quality by reducing the number of columns within the office
Shek Wu Hui Effluent Polishing Plant RSS site accommodation
| | |
| --- | --- |
| No. of storeys : | 3 |
| Each modular size : | 3 m (width) x 12 m (length) x 2.64 m (height) |
| Each modular weight : | about 3.5 Tonnes |
| Modular no. per floor : | 15 |
| Area per floor : | 540 m2 |
| Total floor area : | 1,620 m2 (540 m2 x 3 storeys) |
| Total no. of staff : | about 190 |
| Production cycle for : | 10 days each modular |
| Assembling days for : | 7 days whole office |
Design considerations
Building form follows function
The design has made good use of modular design features and off-site fabrication benefits so that the functions of the rooms and spaces could be easily fitted. Minimising the modular types is essential in MiC design and construction. Efficiency is improved by repetitive work to assemble equivalent modular units to shorten the construction period. To achieve this objective, functional planning is very critical at the outset. For the RSS site accommodation, all the function rooms are located at the perimeter of the building and most fit into one module. The central office area adopts an open plan studio design. The main advantage is improved office permeability where equivalent modules can be used.
Schedules of use and office layouts follow the modular grid system
A determining tactic is to adopt 45 MiC units for the whole building each with 3 m width, 12 m length and 2.64 m height, such that each storey consists of the same number of units (i.e. 15). The length (12 m) is four times the width (3 m) so that the columns or walls are at 3 m intervals in general which forms the gridlines of the whole building structure.
Standardised functions per module
To benefit the construction process, some rooms and spaces such as office rooms, cubicles, toilets for each floor and window openings are standardised. Typical furniture designs and socket locations are also adopted.
Visual vista and daylighting corridor
To maximise the amount of daylight to office spaces, visual and daylight corridors are introduced on different floors. Large windows have been equipped at ends of corridors. More natural daylight is allowed and outside views form a visual vista.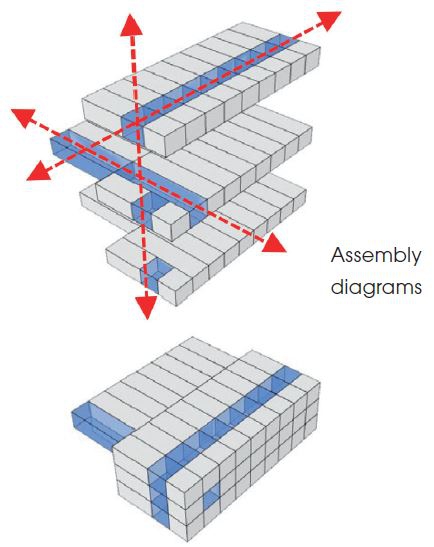 Off-site factory pre-construction: Fixtures, finishes, building services
Over 80% of the fixtures, finishes and building services in the office were completed in an off-site factory, including floor finishes, pantry installations, restroom/shower installations, room partitions, doors, windows, electrical distribution boards, lighting installations and air-conditioners.
Construction process and highlights
A total of 45 modular units, for three storeys, were assembled in seven days. The setting out of each unit was accurate and the installation process completed with minimal site assembly. The advantage of using MiC as an innovative construction method has been fully demonstrated.
Sustainable green features and homey design details/decor
Incorporating sustainable green features to MiC can add further value to this new innovative building typology. Given the site constraint in building height restrictions and limited site areas, holistic site planning is important. Maximising
the amount of natural daylight, plus incorporating natural vegetation on vertical walls and balconies provide better liveable working space for all occupants.
All the following design approaches and features have been incorporated in this RSS accommodation.
| | |
| --- | --- |
| Building orientation : | Responds to site constraints and opportunities |
| Natural daylight : | Responds to sun path and maximises natural lighting and energy efficiency |
| Vertical greening : | Provides visual relief, seasonal interest and reduces heat gain |
| Solar panels : | Provide alternative renewable energy |
| Shading devices : | Reduce glare and heat gain |
| Balcony : | Offers semi-open space for relaxation and shading for interior spaces |
| Panoramic window : | Provides good ergonomic design and better visual proportion |
| Open plan design : | Provides better visual permeable space and enhances communication |
| Office transparency : | Transparent partitions allow natural lighting |
| Light colour tone : | Reduces heat gain and provides good light reflection |
| Design engagement : | Engages stakeholders in the design process |
| Subtle art decor : | Provides a better home-like office environment |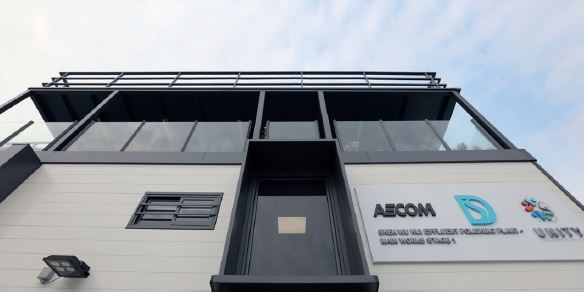 Balcony next to the reception area serves as better transitional space for shade and relaxing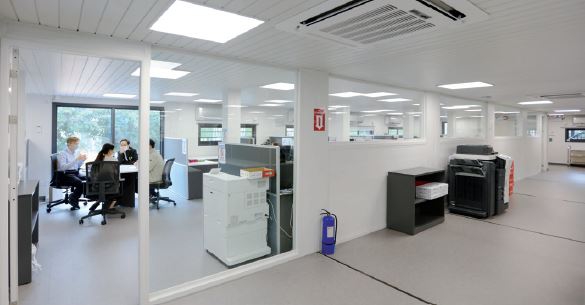 Transparent partition promotes visual connection, natural daylight and permeability of an office space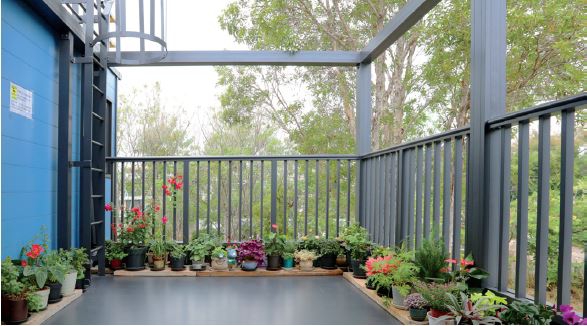 Terrace gardening with various flowering plants enriches the natural ambience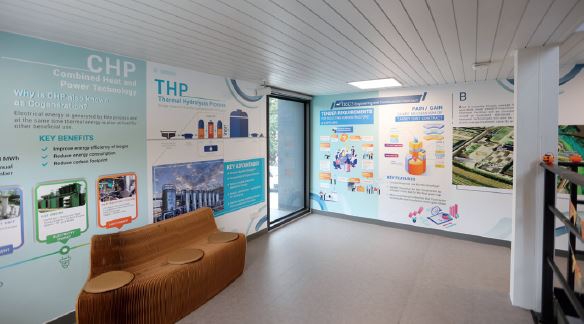 Communal spaces integrate a large window facing south and informative wall graphics to create a peaceful discussion hub