Back
Battery energy storage system at Hong Kong International Airport
HKIA under expansion
Hong Kong International Airport (HKIA) is one of the world's leading airports. More than 120 airlines operate at HKIA, providing connections to about 200 destinations worldwide, including Mainland China.
To strengthen its position as the pre-eminent international aviation hub and a key growth engine for the economies of Hong Kong and the Greater Bay Area (GBA), HKIA is undergoing a series of expansion projects and facilities enhancement. These include the Three-runway System, expansion of Terminal 1 (T1), construction of Sky Bridge to connect T1 and T1 Satellite Concourse (T1S), construction of HKIA Community Building, and more.
Urgency to increase essential power capacity
Considering its size, number of buildings, plus various assets and systems, HKIA's electricity demand and consumption is enormous. Before the COVID-19 pandemic, annual electricity consumption of HKIA reached 299,760 MWh, with an electricity intensity of 3.99 kWh per passenger.
Owing to the various development projects at HKIA, an increasing number of assets and systems will be commissioned, which inevitably leads to continuous growth of electricity demand. Therefore, aside from the normal power supply, upgrading the existing emergency power capacity is critical to cope with increased essential loads in the future.
Overview of Battery Energy Storage System (BESS)
Battery Energy Storage System (BESS) is an electrochemical type of energy storage system (ESS) that uses a group of rechargeable batteries to store electrical energy. Electrical energy is stored as chemical energy during charge and vice versa during discharge. BESS is mainly comprised of batteries, control and power conditioning systems (C-PCS), and auxiliary systems that provide a suitable working environment and protection for batteries and C-PCS.
BESS is a viable option for customer-side ESS applications in terms of its storage capacity and discharge time. It is also the fastest responding source of power on grids. Since BESS is made up of stacked batteries, the desired voltage and current level can be obtained by connecting the batteries in electrical series and in parallel. Hence, the output rating of a BESS is flexible and can be tailored as needed.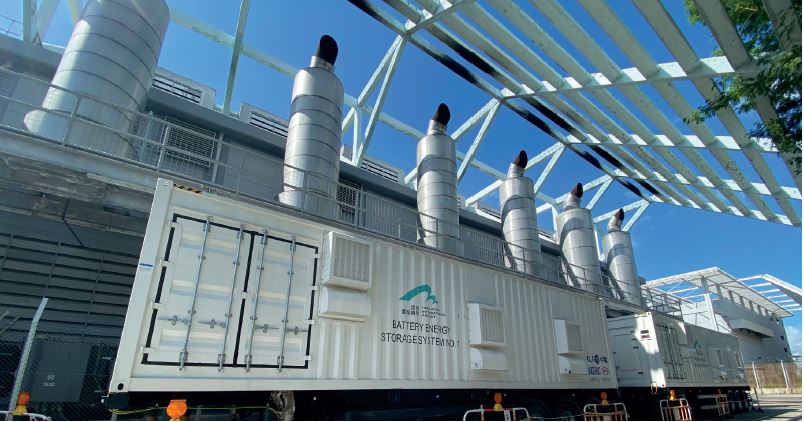 Figure 1: Site view of BESS containers in the generator house
Incentives to implement BESS as essential emergency power supply at HKIA
Site constraints in the generator house
Before the BESS project, emergency power was solely supplied by emergency diesel generators in the generator house. Installing an additional generator seemed to be the most straightforward method. Due to limited space, however, installing an additional generator would involve the expansion of the generator house, hence making the option less economical.
On the other hand, the modular design of BESS and the fact that it can be made self-contained led it to be an ideal supplement to the existing emergency diesel generators in the generator house.
Seeking an environmentally friendly solution
Conventional emergency generators run on diesel oil, which is a derivative of crude oil and contains a heavy amount of carbon. Carbon dioxide (CO2), a type of greenhouse gas, is released during the combustion of diesel fuel. Also, diesel emissions involve air pollutants including unburnt hydrocarbons (UHCs), carbon monoxide (CO), nitrogen oxides (NOx) and particulate matter (PM). On top of that, noise pollution has been an issue of generator-based essential power sources.
Contrary to the above, BESS-based essential power source operates by storing electrical energy from the grid and releasing it back to the airport's own 11 kV power grid. Similar to electric vehicles, carbon emission of BESS depends on the generation mix of the grid. Furthermore, carbon emissions will be much lower than that of conventional generators which solely rely on diesel fuel. As the generation mix of the grid becomes greener in the future, the carbon profile of BESS will also improve. Also, the use of BESS over diesel generators eliminates the problem of local air pollution and noise pollution.
Details of BESS at HKIA
Overview of design
The BESS at HKIA comprises three 40-foot BESS containers, which in total provide an additional 4 MVA emergency power capacity for at least 30 minutes. All three BESS containers are installed on trailers outside the existing generator house. Owing to this container-type design, the need to expand the generator house is eliminated and further provides flexibility and mobility for operational requirements.
Formation of a BESS container
Each BESS container is mainly comprised of batteries, battery management system (BMS), power conversion system (PCS) and power management system (PMS). Also included are auxiliary systems such as heating, ventilation and air conditioning (HVAC) system, and fire suppression system.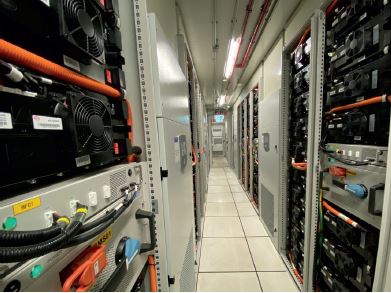 Figure 2: Interior of the BESS container
There are 18 battery modules per rack and eight battery racks in each container. Thus, a single BESS container is capable of providing rated power and capacity of 1.34 MVA and 0.933 MWh respectively. The BMS is deployed for monitoring the condition of the battery cells, battery modules and battery racks in the BESS container. Parameters include voltage, current, cell temperature, state of charge (SOC) and state of health (SOH). Cell balancing, protection functions, and communication with PCS are also enabled by the BMS.
The PCS provides AC/DC and DC/AC power conversion between the BESS and the electrical distribution network. It supports off-grid operation, offers a variety of protection on both the DC and AC side of operation against abnormality in voltage, current, frequency, and provides synchronised check protection during grid connection.
The PMS obtains measurement data from BMS, PCS and the power meters. This operational data and status data of BESS are used to control the PCS and operate the system. When BESS encounters a system problem or malfunction, PMS detects the failures and sends alarms to the operators through the system interfaces. The functions of peak shaving and valley filling are also available in PMS. The predicted cooling load from existing systems can also be received by PMS, which on request will make short-term re-scheduling for peak shaving.
Electrical system configuration
BESS provides 11 kV output through a 400 V/11 kV step-up transformer installed outside the generator house, as shown in Figure 3. With the connection to the 11 kV switchboard, BESS is linked to the existing high voltage (HV) network. Emergency power is thus supported in the terminal, sea water pump house and airfield HV network of HKIA.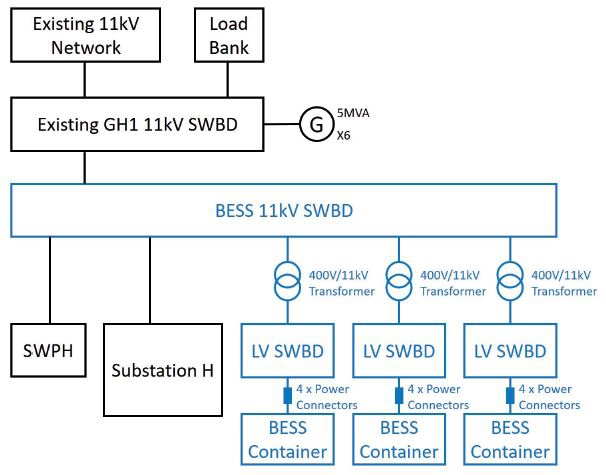 Figure 3: Electrical schematic of BESS system
Challenges encountered
BESS is the first high voltage battery energy storage system in Hong Kong. Throughout the project stages from feasibility study and design to installation, testing and commissioning, the team has made concerted effort to liaise and coordinate with different parties such as power utilities, battery suppliers, experts and contractors. Due to the COVID-19 pandemic, the delivery of equipment was affected. In addition, some specialists from Mainland China could not come to Hong Kong for on-site testing and commissioning as planned due to immigration restrictions caused by the pandemic. With the aid of virtual platforms, on-site testing and commissioning were held successfully. Overall, the project was completed timely and within budget despite the challenges.
Features of BESS as an emergency power source
As an emergency power source, BESS supplies power to the terminal in parallel with the emergency generators during a power outage. It also provides temporary power supply for the sea water pump house (SWPH) when required. Compared with conventional diesel emergency generators, the self-contained modular outdoor design of BESS containers does not require a room for containment. As such, this design provides a degree of flexibility during design and installation. Furthermore, due to the trailer design with power plug equipment, BESS containers can be utilised as a mobile power source during an emergency.
BESS can also be used as a green loader during routine load tests of the generators. In the past, generated energy during the load tests had to be dissipated as waste heat from the 11 kV load bank, which was merely a resistive coil. Replacing the loader with BESS allows the generated power to be charged back into the batteries and discharged when needed. The implementation of BESS as a green loader enables the reuse of waste heat energy and leads to reduction of carbon footprint during tests.
Power peak shaving is also an important feature of BESS. It could be charged during the non-peak demand period and discharged to the 11 kV power grid of the airport during the peak demand period. Thus, the power peak over a day is shaved or flattened. Peak shaving can provide substantial economic benefits to daily operation of the airport.
A high precision of peak shaving could be achieved by incorporating Weather Forecast for Air-conditioning Control System (Weather FACTS), which is a load predictive control model using big data analysis. Raw data input on weather, seawater temperature and flight index predicts the cooling load for the coming 24 hours. Owing to the high relation of cooling load and power demand in terminal buildings, the model was adopted by the PMS of BESS to generate a dynamic control peak shaving schedule. This strategy offers a more flexible and resilient response, if required, to cope with climate change or fast-changing weather.
Conclusion and way forward
The global market for BESS has grown significantly in recent years. BESS has developed a wide range of applications from customer-side to grid-side. The growing market and wide applications have led to further studies and development of BESS-related technologies. As a result, BESS plays an important role in the energy system.
After the completion of this project, various parties in the industry have shown interest in applying BESS elsewhere in Hong Kong. Visits have been arranged with major companies and organisations.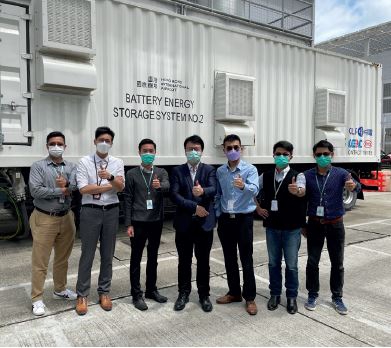 Figure 4: BESS project team
References
Divya K C and Ostergaard J (2009). Battery energy storage technology for power systems—An overview. Electric Power Systems Research, vol. 79, no. 4, pp. 511–520.
Wang X, Ding Y L, Deng Y P and Chen Z(2020). Ni-rich/Co-poor layered cathode for automotive Li-ion batteries: promises and challenges. Advanced Energy Materials, vol. 10, no. 12, p. 1903864.
Ouyang D, Liu J, Chen M, and Wang J (2017). Investigation into the Fire Hazards of Lithium-Ion Batteries under Overcharging. Applied Sciences, vol. 7, no. 12, p. 1314.
Robson P and Bonomi D (2018). Growing The Battery Storage Market 2018. Energy Storage World Forum.