Notices
Obituary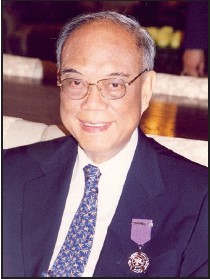 In memory of Ir Prof CHEUNG Yau Kai
O.B.E., S.B.S, Ph.D., D.Sc., D.E., D.Sc.(Hon), L.L.D. (Hon), F.R. Eng., F.R.S.C., M.C.A.S., F.H.K.A.E.S., F.H.K.I.E. (Hon), F.I.A.C.M.
Ir Prof Cheung Yau Kai passed away on 23 September 2022 at the age of 88 in Hong Kong.
Ir Prof Cheung was born in Hong Kong in 1934. He won scholarships for both the Medical and Arts Faculties of The University of Hong Kong (HKU). He studied medicine for one year and returned to the Mainland to study civil engineering at the South China Institute of Technology, obtaining his B.Sc. in 1958. After practising as a civil engineer in Chengzhou for a few years, he went on to study and obtain a Ph.D. at the University of Wales in 1964. The University of Wales subsequently awarded him a D.Sc. in 1973.
Ir Prof Cheung held his first Chair in Civil Engineering at the University of Calgary, Canada. He then went on to become Professor of Civil Engineering and Chairman of Department at University of Adelaide, Australia. He returned to HKU to be Professor and Head of Civil Engineering in 1977. He was the Dean of Engineering from 1978 to 1987. From 1988 to 1998, he was Pro-Vice-Chancellor and was also Acting Deputy Vice-Chancellor of HKU from 1996 to 2000.
Ir Prof Cheung was awarded Honorary Fellow of HKIE in 1991 and The HKIE Gold Medal in 2004. He joined the HKIE Hall of Fame in 2010. Ir Prof Cheung was made a Fellow of the Royal Academy of Engineering in 1987. He became a Founding Fellow of the Hong Kong Academy of Engineering Sciences in 1994. In 1995, he was made an Officer of the Most Excellent Order of the British Empire (OBE). He was elected a member of the Chinese Academy of Sciences in 1999 and a Fellow of the Royal Society of Canada in 2002. In 2003, he was awarded the Silver Bauhinia Star by the HKSAR Government. In the same year, the World Federation of Engineering Organisations awarded the Medal of Excellence in Engineering Education to him.
Ir Prof Cheung was a world renowned researcher in computational mechanics and finite element method in civil engineering. He was a pioneer in developing the finite element method and finite strip method particular for plate and shell analysis. He devoted his life as a scholar and an educator, and he had inspired generations of students at HKU. His generous and outstanding contributions to the education and research in civil engineering in Hong Kong will always be remembered.
He is survived by his three sons and three grandchildren.
The HKIE's Submission to External Organisation
Update on "SARTOR3" (Standards and Routes to Registration 3) and "UK-SPEC" (The UK Standard for Professional Engineering Competence)
Mandatory Continuing Professional Development Requirements for Corporate Members
Mandatory Basic Safety Training under the Factories and Industrial Undertakings Ordinance, Cap. 59
Online CPD Logbook for Members of the HKIE
HKIE Transactions Special Topic for 2023
Innovations and Technologies for Carbon Neutrality
Call for papers
The HKIE Grand Award 2023
Membership
CPD programme
General Information