Back
Innovative energy project in gas dehumidification for improving indoor air quality
From passive to active humidity control
"I have an intriguing observation. Even on hot and blazing days in summer, we always prefer putting on a jacket in shopping malls, hospitals and commercial buildings. With 'cold-coil' cooling, can we achieve the optimal thermal comfort setting? Emerging separate sensible and latent cooling systems can provide an energy-efficient solution to precise indoor temperature and moisture levels control," explained Ir Don Cheng Hill Kwong, General Manager of Commercial and Industrial Marketing and Sales Department of Towngas.
A conventional heating, ventilation and air conditioning (HVAC) system manages two kinds of cooling loads: sensible and latent. Sensible cooling is achieved by an evaporator that reduces the temperature of the supply air. Dehumidification is considered a key feature of HVAC systems for thermal comfort and is an energy-intensive process. The "cold-coil" latent load cooling cools the air to near saturation (relative humidity (RH) > 90%) for moisture removal, and the air needs to be overcooled until it falls below the supply air temperature.
It is envisioned that Towngas will create a low-carbon future. Unlike "cold-coil" dehumidification, desiccant dehumidification relies on absorption and involves latent cooling specifically. Hence, conventional air-conditioning can provide sensible cooling at a higher chilled water temperature, which eases the burden on the cooling load and allows a smaller chiller size.
The gas desiccant dehumidifier consists of a silica-gel-based honeycomb desiccant wheel, a processing stream and a reactivation stream. The desiccant wheel rotates at about eight to ten revolutions per hour between the two streams to remove moisture directly. At the same time, the moist wheel section turns to the reactivation side, where a hot air stream, heated by a gas burner or a hot water heating coil, drives off the moisture and regenerates the ability of moisture removal.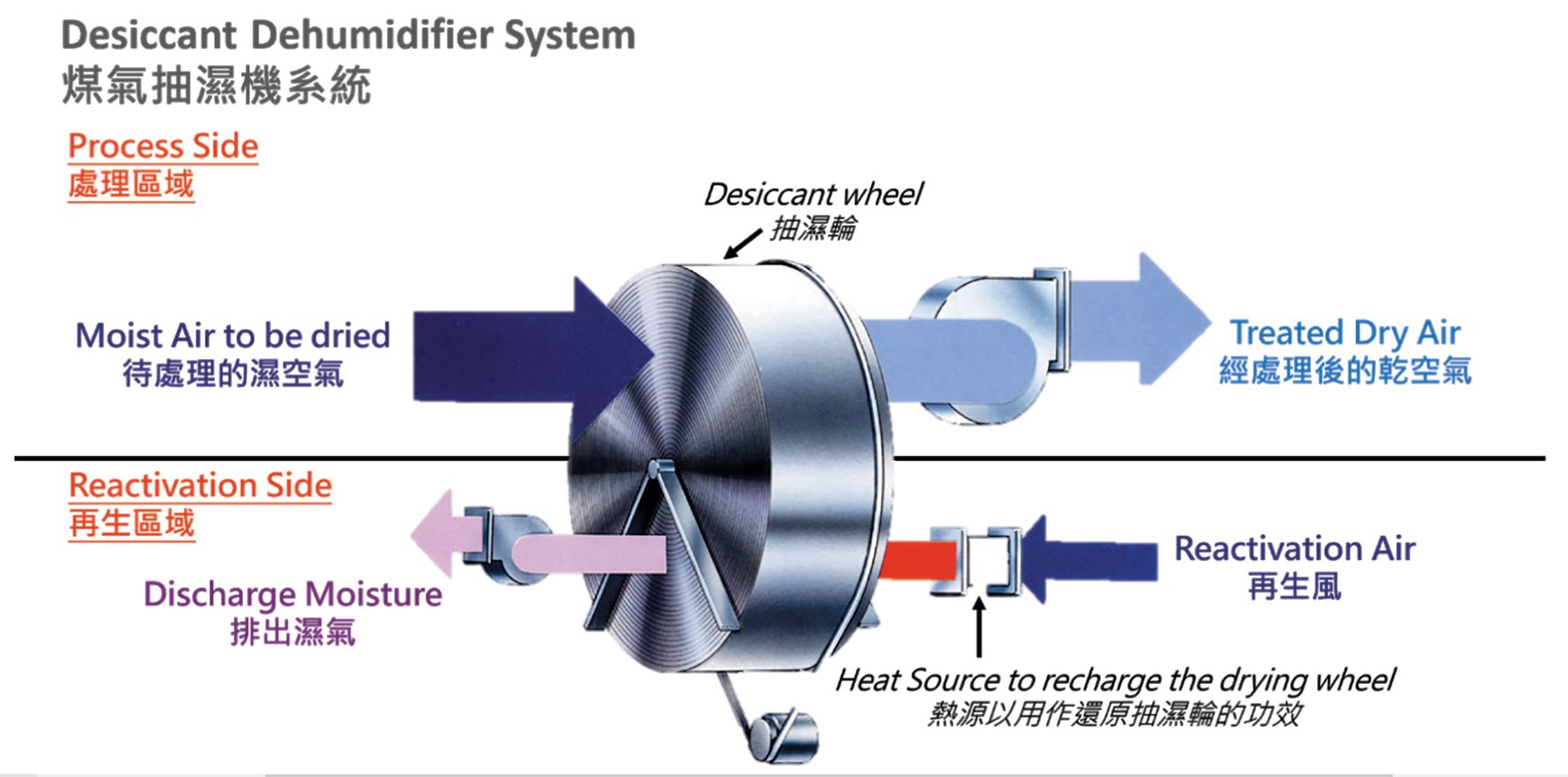 Energy saving in desiccant dehumidification
A psychometric chart can demonstrate the difference in energy usage between the conventional HVAC system and the energy-efficient desiccant dehumidification. A conventional system cools the air until it is saturated (point 1 to point 2), then continues to cool it to condense out moisture (point 2 to point 3), overcooling the air to reach the desired moisture content level (point 3 to point 4) and reheats it (point 4 to point 5) to reach the desired condition (point5). "Cold-coil" latent cooling overcools the air and hikes up electricity usage and carbon dioxide emissions.
On the other hand, the desiccant dehumidification system removes moisture directly, bringing the air from point 1 to point 6, then mixes it with cool air from cooling coils (point 3 to point 5) to reach the desired condition at point 5. This approach can lower the cooling load and dry the air to the desired humidity level. Desiccant dehumidification harvests energy savings up to 2.5 to 3.5%/ºC for chilled water temperature and 1.5 to 2.5%/ºC for the HVAC system.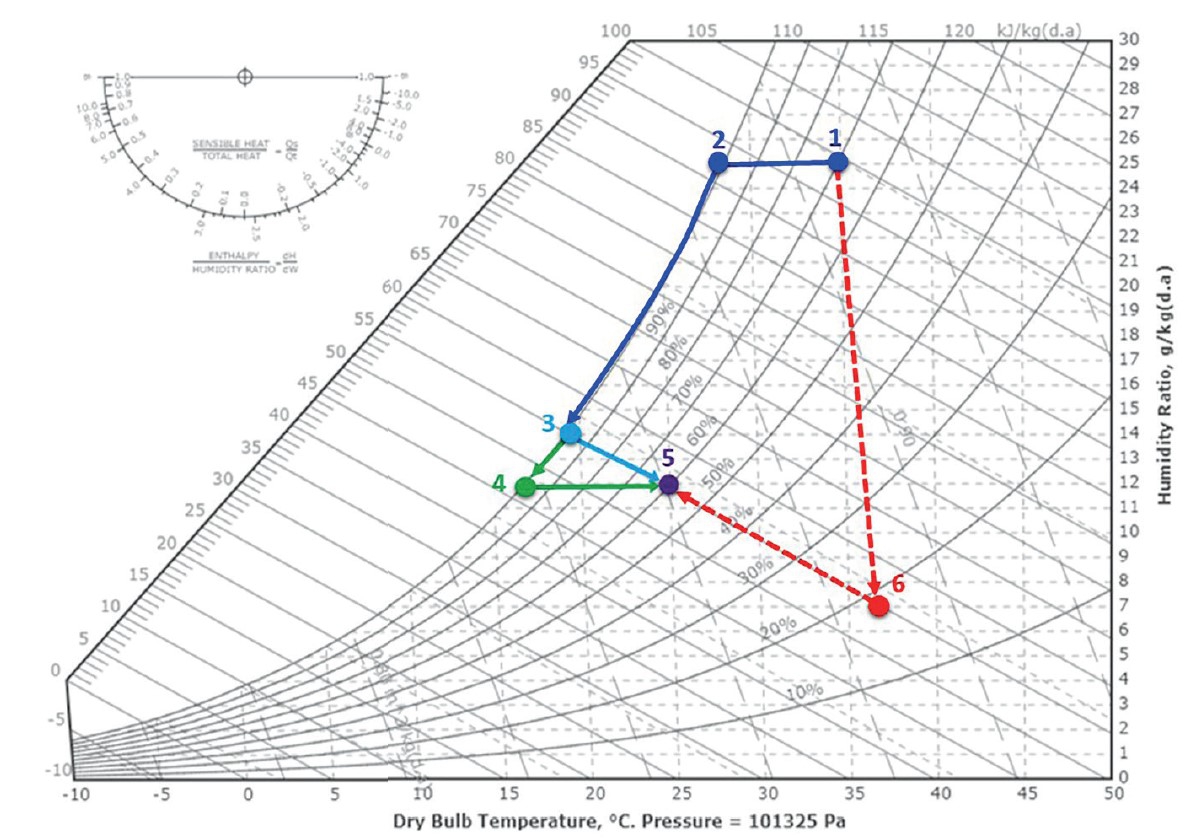 Integrated Primary Air-handling Unit (PAU) with desiccant wheel
With limited plant room space in Hong Kong's commercial buildings, the building service equipment takes up most of the available space, and it is not preferable to install a standalone gas desiccant dehumidifier system with ductworks and accessories. In light of this, the team has developed an all-in-one solution that incorporates the desiccant wheel with the Primary Air-handling Unit (PAU) design and combines the components into a single unit. It offers flexibility to suit clients' needs and minimises ductwork installation.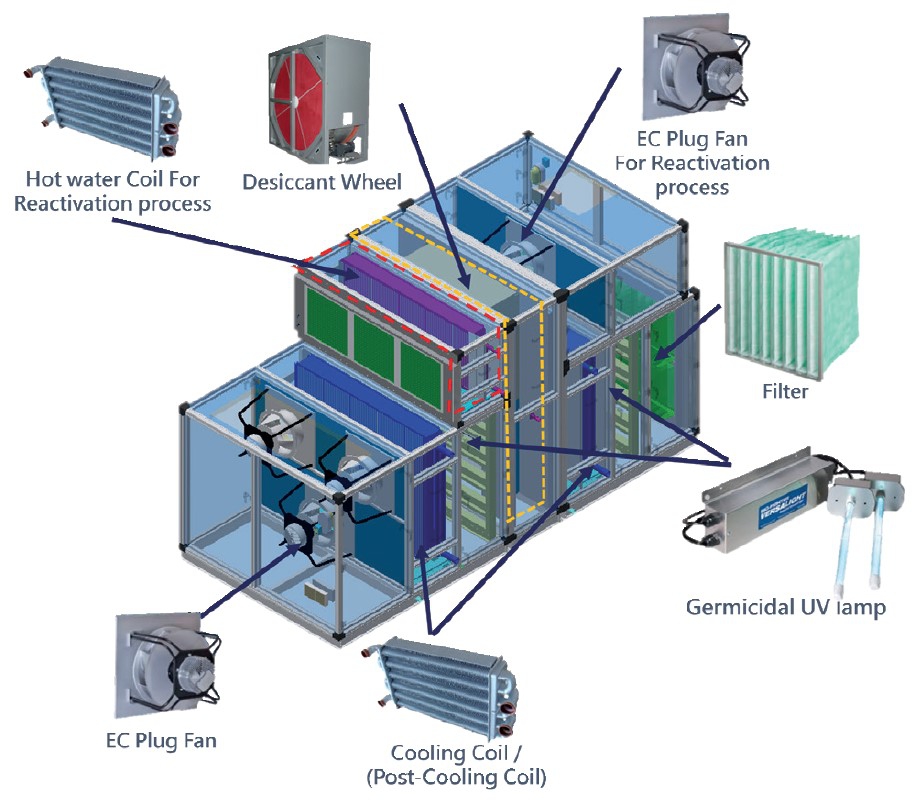 "We provide a tailor-made dehumidification solution for clients. On top of cooling and humidity control, the Integrated D-PAU could be installed with a range of add-on functions, and it can also be driven by the on-site renewable energy system," said Ir Don Cheng.
H Zentre at Tsim Sha Tsui
Located on Middle Road in Tsim Sha Tsui, H Zentre is a single complex that embodies the elements of dining, wellness and medical centre within the same building, and has attained the Final Platinum rating from the Hong Kong Green Building Council BEAM Plus.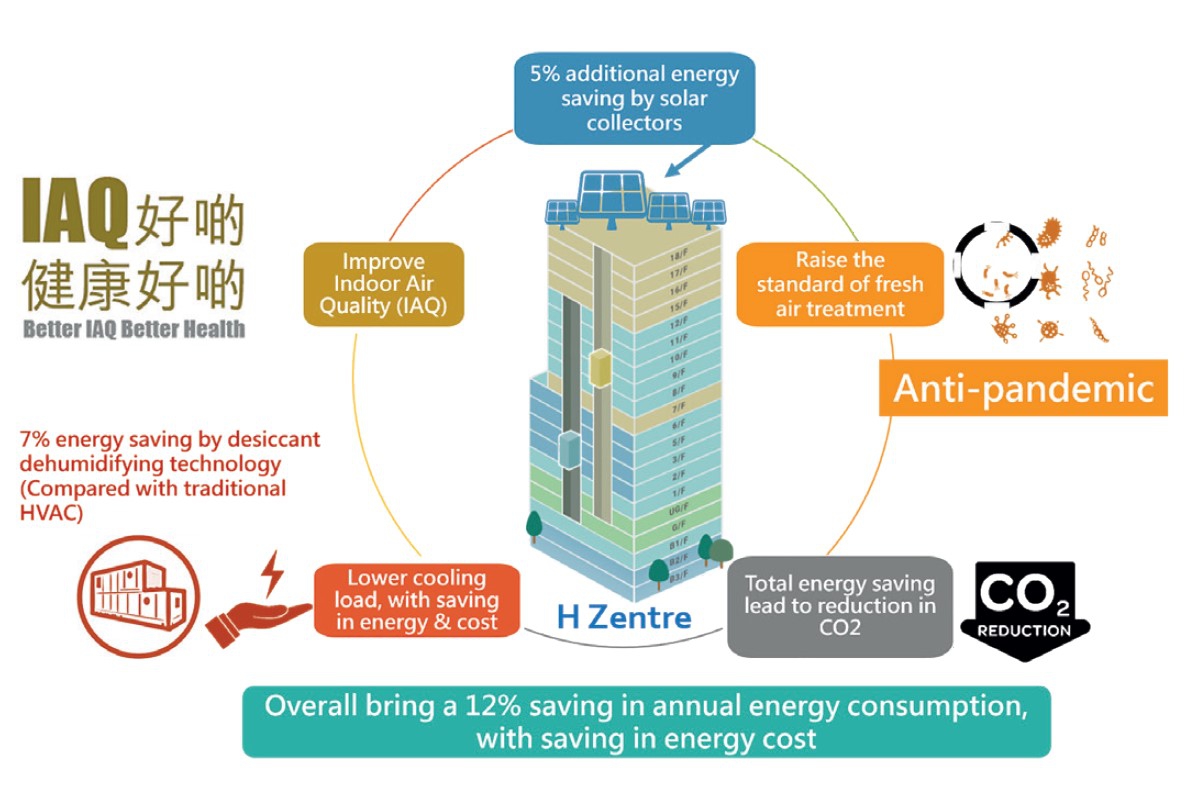 To maintain a good Indoor Air Quality (IAQ) for the ten floors of the wellness area that houses medical centres and clinics, individual Primary Air-handling Units were purpose-built, with a designated air intake and exhaust channels to provide adequate fresh airflow while minimising cross-contamination. On each wellness floor, Towngas has deployed one Integrated D-PAU.
Solar thermal collectors yield more renewable energy
The regenerating temperature of the low-temperature desiccant wheel is 70°C, and the heat source is driven by an on-site solar collector system and a gas hot water circulating system.
65 evacuated tube solar thermal collectors are mounted on the flat roof and have a remarkable efficiency of 70%, whereas the efficiency of traditional solar monocrystalline photovoltaic (PV) collectors is at 15 to 22%. Maintenance is also easy as the evacuated tube can be independently repaired when it is out of service, without affecting the system operation.

To combat solar intermittency and provide an uninterrupted humidity solution, five instantaneous gas water heaters and a 4,000 L water storage tank were also installed. Additionally, two temperature sensors were placed on 3/F and 11/F to monitor the average ambient RH and control the dehumidification operation. When the ambient average RH exceeds 55%, it will trigger the hot water modulating valve to stay open and provide an adequate heating load for regenerating the desiccant wheel. When the ambient average RH is below 55%, solar thermal hot water will bypass the D-PAU, and the heat in the hot water tank will be collected. The gas water heaters serve as a backup heating source when the hot water in the storage tank falls below 70°C.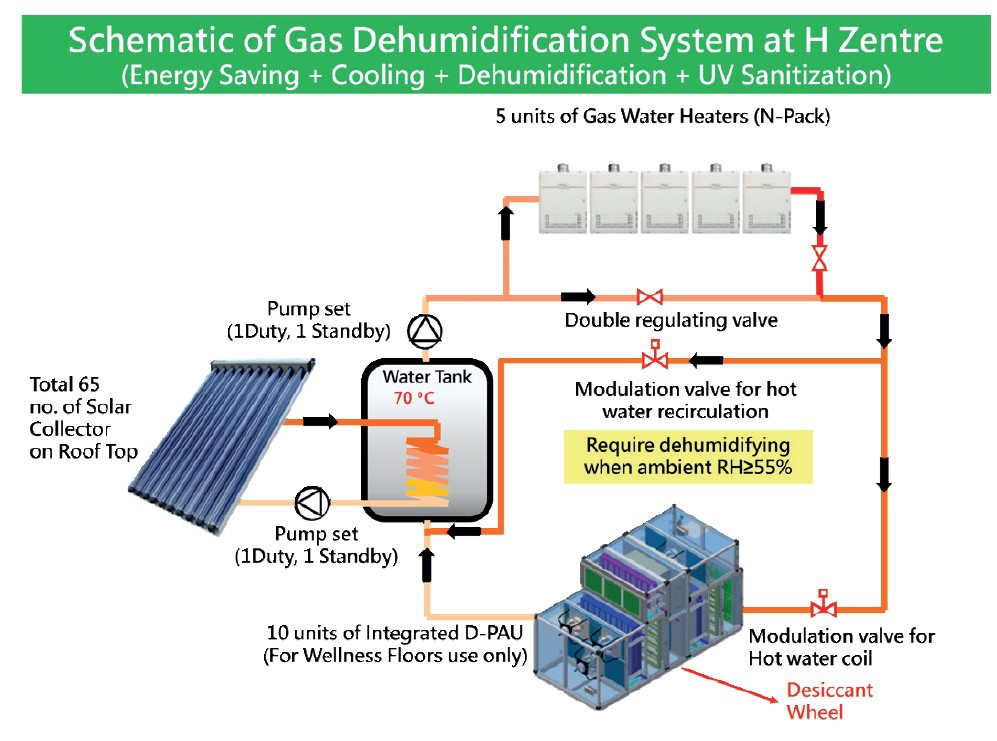 The utilisation of renewable energy brings about further energy-saving ways. At H Zentre, the application of D-PAU harvests a total energy saving of 357,000 kWh per annum compared to an existing conventional A/C system, equivalent to saving 195 tonnes of CO2 annually. Together with the solar collector, they can cut 12% of the HVAC running costs for the building.
Ultraviolet light
For instance, in response to the COVID-19 pandemic, germicidal UV light is also installed in the off-coil position of Integrated D-PAU for fresh air sanitisation. It can generate UV-C at 254 nm to inactivate and remove pathogens within the HVAC air stream. UV-C has been recommended by many organisations, including the American Society of Heating, Refrigerating and Air-Conditioning Engineers (ASHRAE) and the US Centers for Disease Control and Prevention (CDC). Scientific publications such as Bianco et al. (2020) even reported that a "very small dose" of 254 nm UV-C was enough to achieve full inactivation of the SARS-CoV-2 virus. This UV light system is to sanitise fresh air in medical-oriented commercial buildings. This additional component helps meet the ever-rising hygiene standards for fresh air treatment.
Proven and precise indoor temperature and humidity control
According to on-site measurements, the RH at H Zentre's wellness floors is constantly maintained at the designed condition of 55% RH at 23.5ºC. The team also measured the temperature and the RH on other floors, and the measured thermal condition (77.4% RH at 21.4ºC) did not fit well with the designed condition. The proven track record shows that the desiccant dehumidification system can effectively remove moisture and achieve precise humidity control, which inhibits the growth of fungi, musty odours and bacteria according to the ASHRAE's guidance.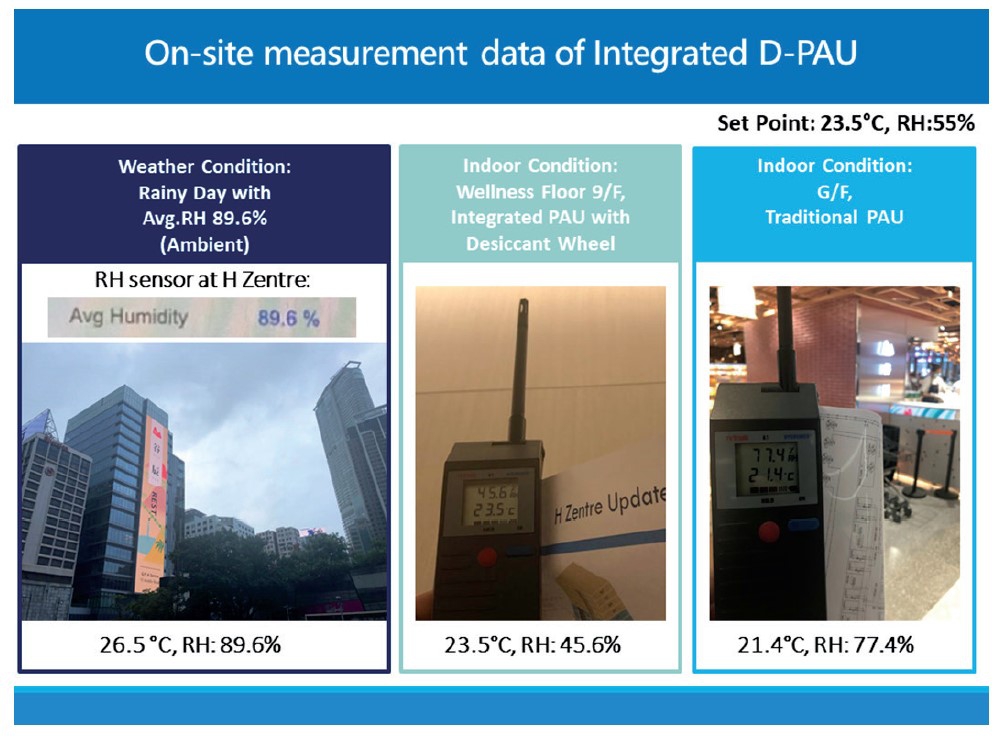 Recognition from the industry
"We are really flattered by the recognition from renowned professional engineering bodies, which is a testimony to our excellent performance in energy saving and precise humidity control with the Integrated D-PAU," says Ir Daniel Fung Man Kit, Head of Strategy & Innovation and Commercial - HK Utilities, Commercial Division.
To gain a comprehensive evaluation of the actual amount of energy saved by the gas desiccant dehumidification systems in food factories, hospitals, hotel rooms and commercial buildings, Towngas has built up a rapport with academia and has been collaborating in research with the School of Energy and Environment (SEE) at the City University of Hong Kong (CityU) since 2019. A research paper entitled "The effect of humidity on Indoor Air Quality (IAQ) – Comparisons of HVAC systems using condensation dehumidification and desiccant dehumidification in Hong Kong" was published in early 2021. The paper, honoured with the Environmental Paper Award – Certificate of Merit by the Hong Kong Institution of Engineers (Environmental Division), reveals the environmental benefits of precise humidity control and carbon emissions reduction brought about by deploying desiccant dehumidification.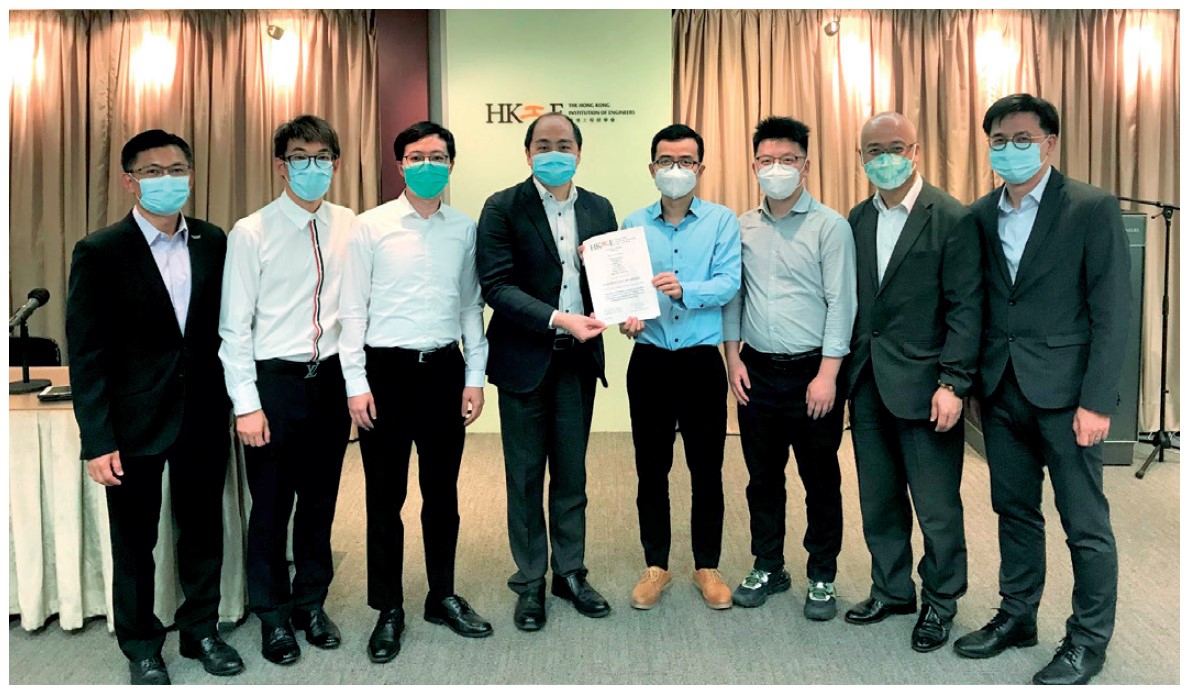 Ir Dr Raymond Chan (4th right) of the EV Division presented the Certificate of Merit to Mr Don Cheng (4th left) from Towngas at the 2020/2021 Environmental Paper Award Ceremony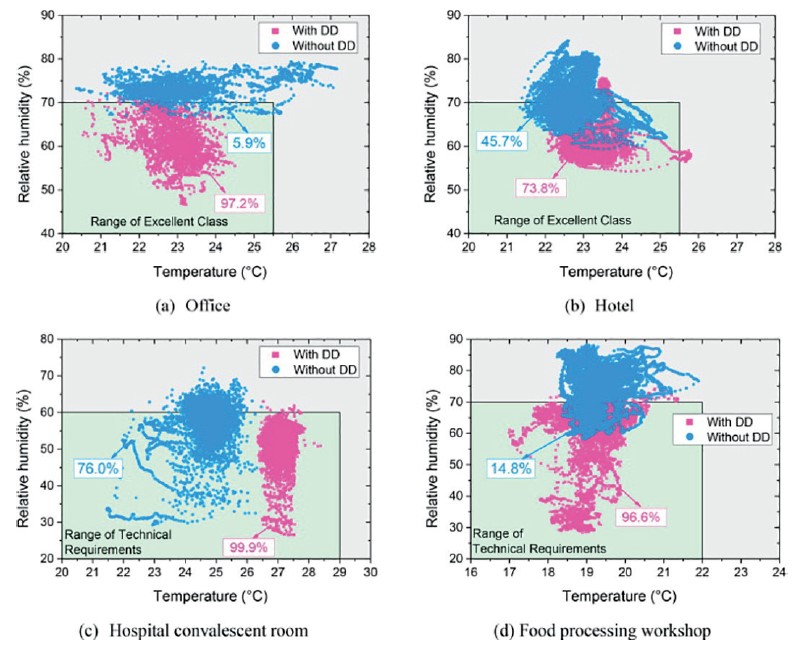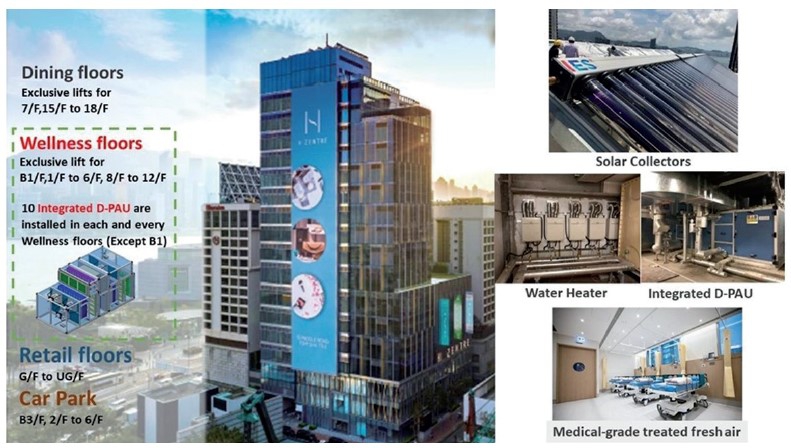 Ten Integrated D-PAU are installed in each and every Wellness floor (Except B1)
Ir Don Cheng co-authored the research paper "On-site measurement and simulation investigation on condensation dehumidification and desiccant dehumidification in Hong Kong" with CityU professors, and the paper has been published in the Journal Energy and Buildings (Volume 254), an international journal with a focus on new proven practices aimed at reducing the energy needs of buildings and improving indoor environment quality. With the aid of on-site measurements and building simulations, Towngas and academics from CityU conducted a thorough analysis based on energy consumption, humidity control, mould growth, industry requirements and economic benefits.
The result for energy saving has spoken for itself. After the actual installation and the full substantiation of the yearly operating cost, the Integrated D-PAU and the solar collection project at H Zentre have been awarded the International Innovative Energy Project of the Year by the Association of Energy Engineers (AEE). This Award recognises the achievement of renewable energy utilisation that has a significant impact on climate change and the attainment of sustainability goals. The project has also received the Best Project Award (Second Runner-up) from the Institution of Mechanical Engineers (IMechE) Hong Kong Branch and is also the first winner under the new category, "New Design in COVID-19 Age".
At their invitation, we have also arranged a technical visit to H Zentre co-organised by the Hong Kong Institution of Engineers (Gas and Energy Division) and Institution of Gas Engineers and Managers (Far East District Section).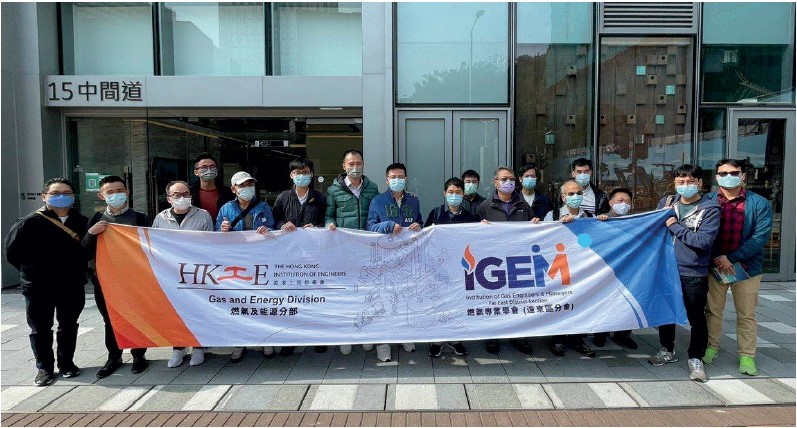 iGEM x HKIE: Technical visit to H Zentre's Integrated D-PAU
Hong Kong Baptist Hospital
Humidity control is of utmost importance to hospitals and healthcare facilities. Inadequately ventilated space can facilitate the build-up of chemical and biological contaminants. As microbes travel through water vapour in the air, undesirable temperature and humidity levels in operation wards can trigger bacterial, fungal and viral infections and pose great risks to patients, staff and visitors. The moisture condensed on surfaces leads to corrosion or micro-corrosion of critical medical equipment, resulting in inaccurate device readings.
As part of its ongoing development in services and technology, Hong Kong Baptist Hospital collaborated with Towngas to renovate its Primary Air-Handling Unit (PAU) on the rooftop. The unit provides precise control of supply air at 22ºC with 60% RH for the nurses' station, ward area on the seventh floor, and the computerised tomography (CT) room.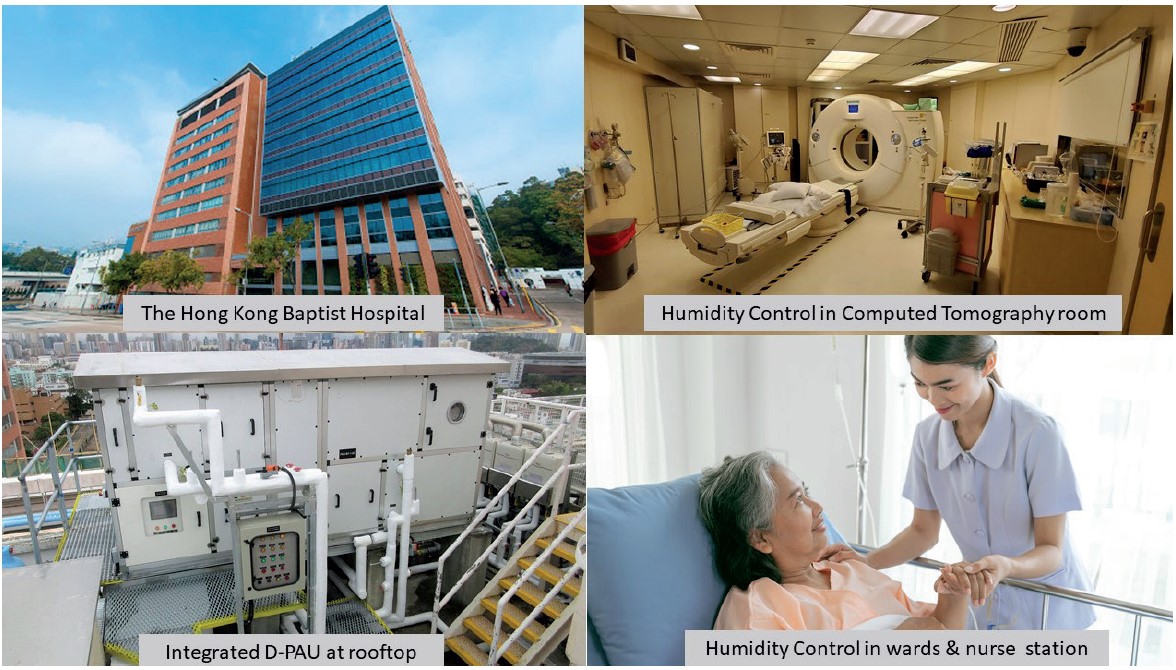 Space heating
With the heating coil in the Integrated D-PAU, "cool in summer, warm in winter" has been made possible. During winter, the Integrated D-PAU can be switched to space heating mode, which offers all-weather thermal comfort year-round. It can even reduce patients' demand for warm clothes and linen, bringing further savings in laundry and other operational costs for the hospital.
Smart technology
An interactive touchable smart control panel is embedded in the body of the Integrated D-PAU. The smart control panel is compactly built and does not require additional mounting space on-site. With fewer relays and cables, the chance of malfunction is minimised, and it offers a reliable control and demonstration panel to operators.
With the built-in touch screen display, real-time airflow rate, temperature and RH can be monitored at a glance. The operator can alter the setting to desired supply condition with the user-friendly touch screen display. The collected data such as supply air conditions, outdoor air conditions, supply airflow and running hours can be stored and retrieved for advanced energy system analysis. With the capability of the Internet of Things (IoT) extension, users can acquire the status and real-time condition of the Integrated D-PAU anytime, anywhere.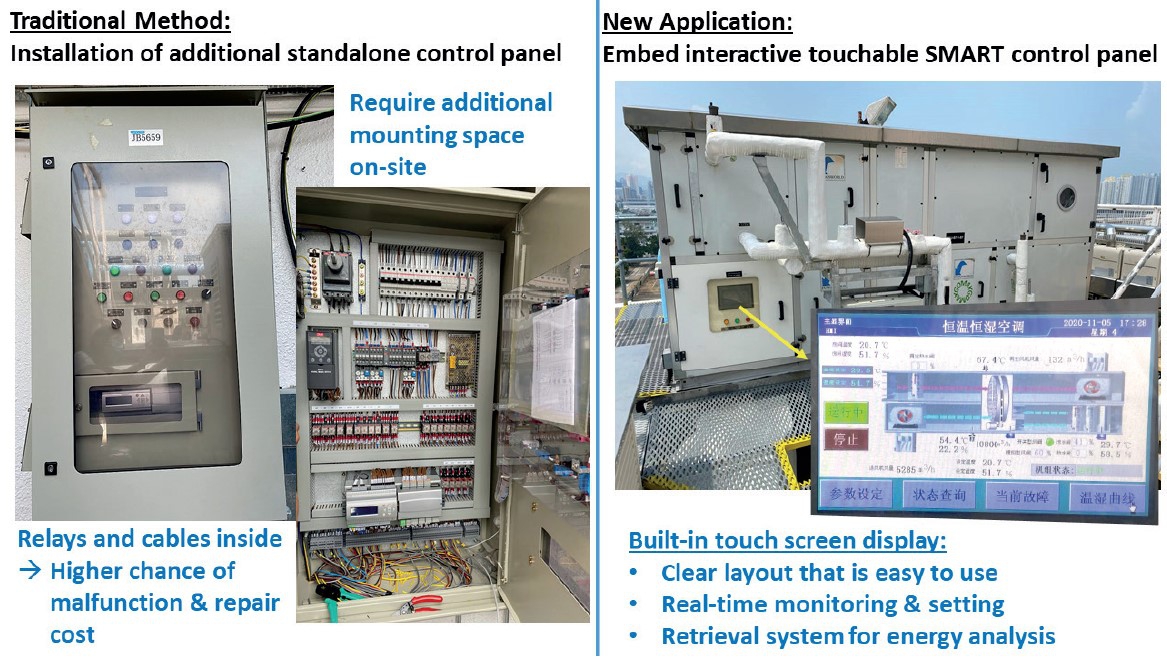 Stay cool without warming the Earth
According to the International Energy Agency's "The Future of Cooling" report, space cooling is set to become the world's single largest area of electricity use in buildings by 2050. Without any action taken to address energy efficiency, the energy demand for space cooling will have more than tripled by 2050, amounting to a consumption of as much electricity as all of China and India today. The majority of new demand will come from emerging economies with hot and humid climates. Several startups are trying to push things further. Transaera, a company co-founded by two Massachusetts Institute of Technology (MIT) educators, is attempting to boost energy efficiency by tackling humidity in the air separately. The company is developing advanced, highly porous materials that serve as attachments to the HVAC system, removing the moisture in the air before it enters a standard PAU unit.
It is a mounting challenge as well as an amazing opportunity to explore bountiful and multi-faceted solutions, given that the basic technology in air conditioning has not changed a lot since it was invented 100 years ago. With its expanding applications in various areas, such as the industry sectors, desiccant dehumidification could be one of the effective measures against climate change.