It's high time to digitalise
By Hong Kong Cyberport
As Hong Kong undergoes a digital renaissance and evolves into a smart city, digital transformation has taken root across businesses and industries. Likewise, the construction industry is undergoing a transformation towards smart construction. Although developments in construction methods, such as Building Information Modelling (BIM), Modern Methods of Construction (MMC), Modular Integrated Construction (MiC), and Multi-trade integrated Mechanical, Electrical and Plumbing (MiMEP), have gained pace, implementation of digitalisation technologies has remained modest.
Despite accelerated digital transformation in the postpandemic world, fewer than half of the projects surveyed implemented construction digitalisation technologies or tools, according to a survey1 conducted by the Construction Industry Council (CIC) in 2021.
An increasing number of start-ups have been developing solutions to help the industry adopt smarter practices across the value chain, and reap the benefits and efficiencies that technology and digitalisation deliver. One of them is GeoXpert, a local start-up hailing from Cyberport, the digital tech flagship of Hong Kong.
Tapping into geospatial data and insights
Founded in 2019, GeoXpert has a vision of developing geospatial data and insight solutions for the construction industry. Kevin Chan, the co-founder of GeoXpert, was impressed by the potential of Geographic Information Systems (GIS) in addition to spatial and temporal data during his decade-long tenure at Insight Robotics, another start-up co-founded by himself. Kevin and his founding team believed in the value of GIS solutions to construction companies, and they decided to build a business around it. Having launched GeoXpert, they joined the Cyberport Incubation Programme in 2020 to further their aspirations.
GeoXpert's first batch of products included a GIS platform and a service using drones to provide aerial surveys of construction sites. Thanks to their cost-effective and time-saving benefits, both products were quickly adopted by construction companies and public utilities such as Chun Wo Development Holdings Ltd, CLP Power Hong Kong Ltd, and the Chinney Alliance Group Ltd. During the execution of the projects, GeoXpert realised the increasing demand of smart survey system, as well as spatial data of the internal areas of construction sites, which were usually covered throughout the construction period. Given the rising popularity of the Building Information Modelling (BIM) across the industry in recent years, GeoXpert has ridden on the trend and developed a Smart Site Supervision System called "Collaborative Working Platform on the Web for Geo-tagging Multimedia and BIM", or "GXBIM" for short.
Kevin Chan, the co-founder of GeoXpert, was impressed by the potential of Geographic Information Systems (GIS) in addition to spatial and temporal data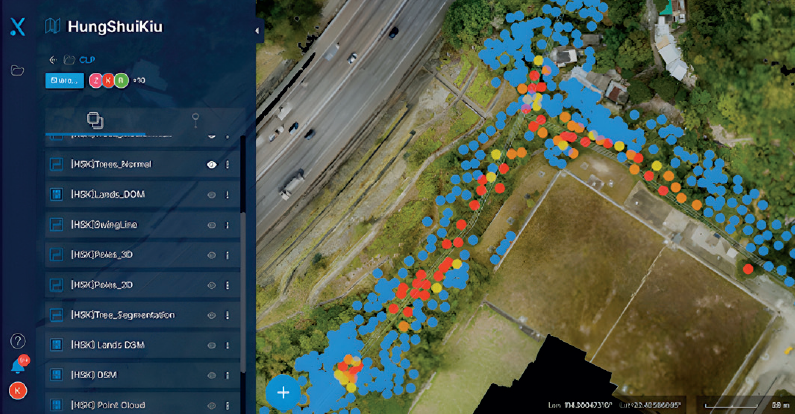 The platform for vegetation management platform on GeoXpert to show risk level of trees based on their proximity to the power grid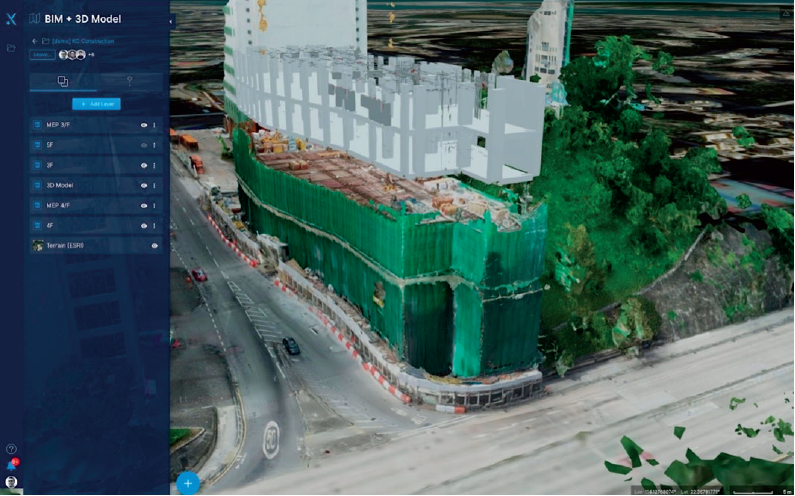 Applications on construction progress monitoring by showing the 3D model and Building Information Modelling (BIM)
GXBIM enables architects, consultants, and contractors to track the progress and check for defects of construction sites without physical presence. On-site workers simply need to upload images or videos of the construction site, including those captured by drones, 360 cameras, smartphones, or CCTVs, to GXBIM's cloud-based web portal. The system will convert these materials into geo-referenced 360-degree images that could be incorporated into BIM models via AutoDesk Forge, a cloud-based developer platform widely adopted by the construction industry. Architects, consultants, and contractors can then access the information on any device, monitor construction progress, detect flaws remotely, create defects reports, collaborate with colleagues, suppliers, and clients in real-time. Moreover, GXBIM can map an area of 10,000 sq ft in just two hours, as compared with traditional three-dimensional mapping, which may take up to ten days.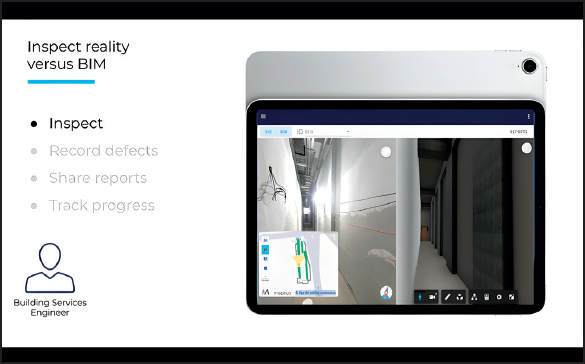 GXBIM platform showing the synchronisation of the 360 view and BIM, allowing users to have an intuitive impression on site status
In addition to the software, GXBIM offers a wide range of hardware that help construction companies improve site safety and environmental performance. By leveraging the Internet of Things (IoT) and utilising Radio-frequency identification (RFID) sensors, GXBIM enables construction companies to supervise worker safety via helmet beacons, proximity sensors, heat stress or temperature sensors; machinery performance such as vibration and fuel consumption, door open status, lift or crane position; and environmental safety covering noise level, seismic vibration, toxic gas level, groundwater level through automation and digitalisation.
The remarkable performance and value offered by GXBIM to construction companies earned it a spot on the Construction Innovation and Technology Fund (CITF). The one-billion fund, established by the HKSAR Government, aims to promote technologies including software, machinery, and equipment that boost productivity, improve building quality, ensure site safety, and enhance environmental performance. CITF, along with the Construction Innovation and Technology Application Centre (CITAC), is part of the Development Bureau's Construction 2.0 blueprint2 for strengthening the city's regional leadership in construction, and addressing the challenges facing the construction industry through innovation, professionalisation, and revitalisation.
A serial entrepreneur's endeavour to help digitalise construction
GeoXpert was not Kevin's first foray into the construction industry. He had previously invested in Hong Kong RFID, an IoT and RFID technology company with relevant expertise in smart construction solutions.
One of the signature products of Hong Kong RFID is an RFID-based Building Component Management System (BCMS). It assists builders in tracking building components reliably, accurately, and efficiently throughout the building lifecycle, from design and construction through to maintenance and demolition.
As Kevin explained, traditional hand-written markings on facades and other building components can be difficult to read, and easily obscured or damaged. By assigning RFID tags and unique IDs to building components such as cement, rebars, pipes, doors, glass curtains, and even piles, constructors can easily peruse and update information in the RFID tags by scanning them with portable devices. They can track the components, access the most recent information and reports online, and import the latest data into BIM. Constructors can also monitor quality control and manufacturing history, remove paperwork, reduce human error, and streamline the entire construction operation in a more systematic manner. Most importantly, the technology makes people's lives easier by saving time, manpower and money.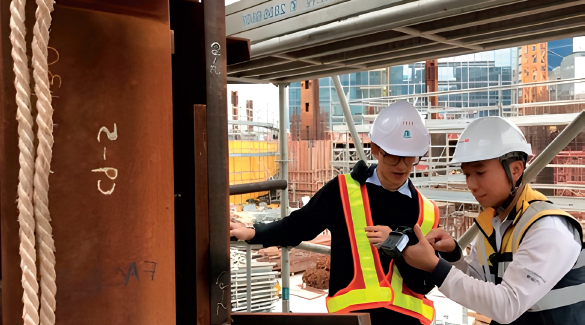 Work in progress on-site using RFID scanner to mark electronic record to each individual building component.
The long lifespan of RFIDs has contributed to the tags' data storage capability, which could last for decades – well beyond the building period. The Housing Department, for example, has applied Hong Kong RFID's system to a public housing project, which was subsequently awarded for innovation. Upon completion of the construction, the system was handed over to the facilities management department.
With RFID tags and digitalised records, the department can conveniently carry out maintenance and place replacement orders simply by scanning the tags. Regular Electrical and Mechanical (E&M) inspections, which were formerly performed on paper, can now be completed digitally, thereby saving a significant amount of time and effort.
Since the Housing Department project, Hong Kong RFID has provided hardware, software, and consultancy services to projects such as the Liantang/Heung Yuen Wai Boundary Control Point, the Hong Kong West Kowloon Station, the New Shek Wu Hui Sewage Treatment Works, and the Tseung Kwan O and Tin Shui Wai Hospitals. With a market share of 90%, Hong Kong RFID is the industry leader in this niche in Hong Kong.
A technopreneur by coincidence
Interestingly, despite having co-founded and invested in several I&T start-ups, Kevin does not come from an IT or engineering background. After being forced to withdraw from the university following the Asian financial crisis, which put his family under economic strain, Kevin turned to traditional businesses to make ends meet. He began with running a restaurant membership business to help restaurants with loyalty card promotions. As the economy gradually recovered, he took his profits and spent three years investing in stocks. He returned to entrepreneurship afterwards and started a business to help concert producers in Macau sell tickets and secure corporate sponsorship, which was considered a novel concept at the time. He even expanded the business to Zhuhai and Guangdong and opened branch offices in Shanghai and Beijing.
Kevin's brush with I&T happened almost by coincidence. With Insight Robotics, he chanced upon co-founder Rex Sham, who was developing wildfire detection robots as a researcher at The University of Hong Kong. Kevin believed that the robots could make a meaningful contribution to forest management and demonstrate the potential for a viable business. He offered to partner with Sham to turn the robots into marketable products and use the technology to drive impact. When he came across Hong Kong RFID, Kevin was intrigued by the potential of RFID/IoT, subsequently deciding to take over the company from its original founders to further develop the business. Furthermore, he sought to leverage the market of Hong Kong RFID to enrich his knowledge about the construction industry and ecosystem. All along, he was driven by an interest in technology, a wish to change, and a strong business acumen.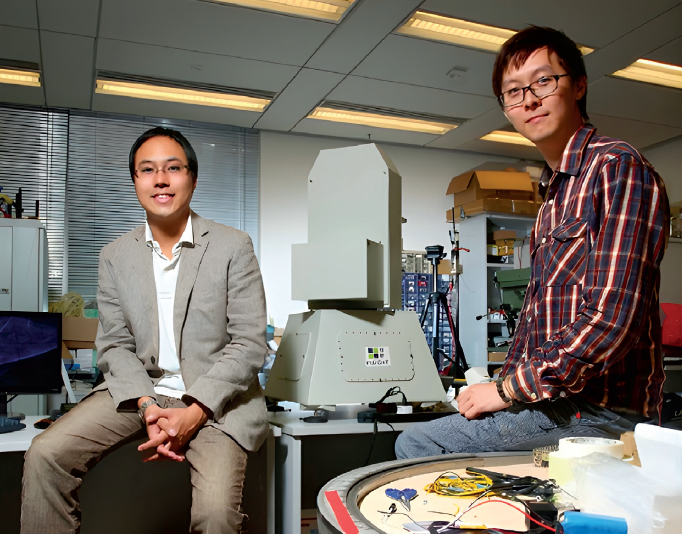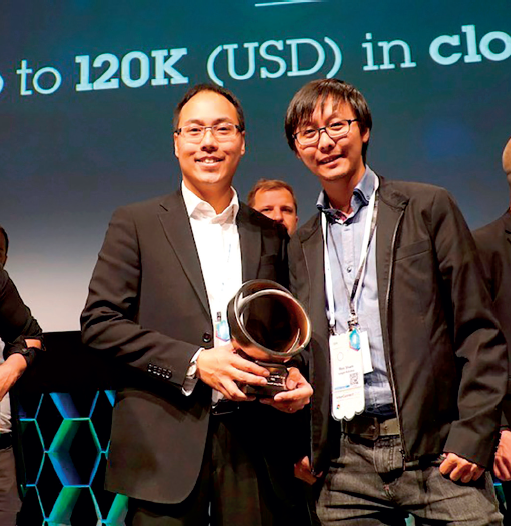 Insight Robotics was named Entrepreneur of the Year 2015 at the IBM SmartCamp Global Finals in Las Vegas, Nevada
I&T opens opportunities, continually
Even today, Kevin continues to explore the applications of new digital technology and develop use cases and business models, not only to explore new business ventures but also to uplift existing ones.
As a case in point, while working on GXBIM, GeoXpert came across an opportunity to develop spatial and GIS software for the Lands Department's Common Spatial Data Infrastructure (CSDI). The project was a government initiative to build a scalable sharing platform for the exchange of high-quality, standardised, and up-to-date spatial data of Hong Kong, which anyone can access via a one-stop portal. The infrastructure would reduce the need for construction companies and contractors to contact government bureaux and departments one at a time to receive the latest maps and updated information each time they wished to start a project.
GeoXpert grabbed the opportunity and worked on the project for nine months. During the project, Kevin was further intrigued by the potential applications of spatial data, which he believed had yet to be fully explored.
When stuck, pivot to thrive
An opportunity soon arose when GeoXpert identified the need to chart a new path for growth. Despite the success of GXBIM, its application was largely confined to construction sites in Hong Kong. The different regulations, workflows, practices, and habits of construction companies in other markets challenge GeoXpert in its large-scale implementation of GXBIM. The system has to be customised and localised for each market, which would shoot up the costs and resources that the start-up has to invest. This "ceiling" in GXBIM's development prompted Kevin to pivot the model of his business once again.
Having witnessed the power of spatial data during the CSDI project, GeoXpert is now in the process of developing an online platform for spatial data transformation – one that will be powered by artificial intelligence (AI) and cloud computing. Once completed, the platform will allow any user to convert their photographs or videos into data that can be applied to create two-dimensional, three-dimensional, or 360-degree maps, or input into enterprise resource planning and construction management software for further modelling or mapping. Kevin anticipates that by focusing on providing technology and software to assist users with data transformation, GeoXpert will be able to address the needs of a broader range of customers and roll out the product to more markets.
Kevin admitted that, despite his years of experience in the business, identifying the right product and the right market remains an arduous challenge. Even with top-notch products and cutting-edge technologies, the business could only stay local and hardly scale up if the targeted market has limited room for expansion.
Thus, Kevin chose to refocus GeoXpert's business and develop new products that could canvas a broader market. By focusing on the data transformation business, which can be utilised by anyone who wants to build three-dimensional models, including production studios, independent creators, gaming companies, or perhaps City Information Modelling (CIM) developers, GeoXpert could turn from a medium-size business into a unicorn with a global presence.
To further enhance the start-up's visibility, Kevin will rebrand GeoXpert as DataXquad, where "Data" refers to data utilisation, unlocking the potential from geodata to all kinds of data; and "Xquad" symbolises squad, representing the company's focus on their talents.
Finding the right ecosystem for I&T aspirations to take flight
Kevin's entrepreneurial journey and the challenges he faced are by no means unique. Start-ups that test the viability of their solution and business model frequently require, in addition to funding and the liberty to experiment, advisory, communal, and a variety of entrepreneurial support. Kevin chose to bring GeoXpert to the Cyberport Incubation Programme due to the latter's flexibility and the extensive support it offered, which could bolster the growth of the start-up.
The Cyberport Incubation Programme is a 24-month programme which provides start-ups with up to HK$500,000 financial assistance and up to HK$200,000 of on-site rental subsidy, in addition to a suite of financial, technical, and business advisory support to accelerate their growth. Incubatees have access to services ranging from idea prototyping, market validation, and mentorship through product commoditisation, business development, to global expansion. They may choose to join as on-site or off-site incubatees, with the former receiving rent-free office space and the latter administrative assistance.
What is more, incubatees are connected to a diverse community of I&T entrepreneurs, where they can find companionship, support, and even business and technology partnerships. The 1,800+ start-ups and tech companies within the Cyberport community specialise in a wide range of digital technologies, including financial technology (FinTech), Smart Living, digital entertainment, AI, blockchain, Big Data, cybersecurity and IoT. Collaboration and partnership amongst start-ups are very much encouraged, and vibrant.
Furthermore, incubatees enjoy access to a variety of value-added resources to accelerate their growth, which includes business matching and exhibition opportunities, nomination to top-class industry awards, overseas trade shows and business delegations, and career fairs.
More importantly, incubatees have access to Cyberport's premium networks. They can tap into the Cyberport Investors Network (CIN) for global, mainland and local investor connections to drive deal flow. They can use the Cyberport Technology Network (CTN) to access state-of-the-art technologies and solutions from top technology companies, such as Microsoft, Amazon Web Services (AWS), and IBM, to strengthen their own innovations.
Through the Cyberport Enterprise Network (CEN), they can participate in business matching meetings with enterprises and industry associations. When they are ready for further business development, they can obtain essential professional services from top professional service providers on fair business terms through the Cyberport Professional Services Network (CPN).
Kevin has found many of these offerings beneficial to the growth of GeoXpert. By joining the Cyberport Incubation Programme as an off-site incubatee, GeoXpert can maintain a multi-location team to explore other markets and harness overseas talents while developing tech solutions. Its staff is spread across Hong Kong, Taiwan, Malaysia, and the United Kingdom. Through meeting Cyberport community members, GeoXpert has found a partner in Mapxus, incorporating its 360-degree indoor mapping engine into GXBIM. Although Kevin is already well-connected in the construction industry, he finds Cyberport's networking events and investor meetings very helpful, particularly in enabling him to understand the contexts of various markets and gauging investor appetites. He is grateful for the opportunities that Cyberport has provided GeoXpert with.
Tremendous prospects ahead
In 2021, the CIC published the "Construction Digitalisation Roadmap for Hong Kong", identifying six "high-value digital application areas" where Hong Kong's construction digitalisation should be developed. These included using BIM, GIS, CSDI, and Common Data Environment (CDE) to form the "core" of construction digitalisation and achieve smart data sharing; using open spatial, three-dimensional spatial, and BIM data to facilitate Smart Planning and Design; deploying seamlessly networked sensors, IoT devices, and actuators to perform Smart Site Management; and integrating digital technologies with building management systems to achieve Smart Asset and Facility Management.
Although GeoXpert's and Hong Kong RFID's solutions are already geared towards these digital application areas, Kevin believes that there are still enormous prospects to be realised through digitalisation, especially when applied to the industry's standard operating procedures and decisionmaking processes. More importantly, as existing technologies are not sufficiently developed to satisfy the digitalisation needs of the industry, there is ample room for innovation and reinvention. Kevin is already looking forward to the day when robots can perform various construction tasks, such as painting and bricklaying, without human supervision and with fewer errors.
All of these goals are attainable, Kevin noted, but they will require engineers, industry practitioners, entrepreneurs, start-ups, and I&T incubators to collaborate, make use of their professional knowledge, and create the necessary industry-wide conditions and solutions. Hong Kong may also realise the vision of the CIC roadmap: all processes involved in the built asset lifecycle are streamlined and digitalised to continuously improve productivity and safety during planning, design, construction, and operation to achieve sustainability and a better quality of life.
References
Construction Industry Council (2021). Construction Digitalisation Roadmap for Hong Kong. (Online). Available at: https://www.bim.cic.hk/en/resources/publications_ detail/95. (Accessed 27 January 2023).
Development Bureau (2018). Construction 2.0 – Time to change. (Online). Available at: https://www.psgo.gov.hk/assets/pdf/Construction-2-0-en. pdf. (Accessed 27 January 2023).
Construction Industry Council (2021). CIC Research and Technology Development Fund Leaflet. (Online). Available at: https://www.cic.hk/files/page/147/Leaflet - CIC_ R&D Funding Scheme.pdf. (Accessed 27 January 2023).
Support opportunities
HKIE members aspiring to create digital solutions to seize the opportunities in the thriving I&T ecosystem and new economic development may find comprehensive support from the government and from incubators like Cyberport. Innovators can utilise Cyberport's programmes and network to be their springboard to success.
Cyberport provides a one-stop platform for every stage of the entrepreneurial journey and the financial assistance is up to HK$1.1 million. Cyberport offers the Cyberport Creative Micro Fund (CCMF) and the Cyberport Incubation Programme (CIP) to assist early-stage start-ups in prototyping and bringing ideas to life. Similarly, the Cyberport Accelerator Support Programme (CASP) sponsors burgeoning start-ups to seek out accelerator programmes for specialist support so that they may accelerate their growth. Meanwhile, the Overseas/ Mainland Market Development Support Scheme (MDSS) helps CCMF and CIP graduates expand into mainland China and across the globe by participating in delegation missions, exhibitions, and conferences. The Cyberport Macro Fund (CMF) co-invests in high-potential Cyberport start-ups with other investors.
Ir Eric Chan, a seasoned Chartered Engineer and the Chief Public Mission Officer of Cyberport, is excited to witness the power of innovation and creativity and the changes driven by digital technology. Eric said, "In the post-pandemic world where digital transformation accelerates globally, innovation and technology have become a key to business success and sustainability, instead of a nice-to-have. I sincerely encourage ambitious engineers to open their minds, embrace new ideas and technologies, and realise their potential in creating solutions driving society's advancement. With the core mission of talent cultivation and fostering industry development, Cyberport welcomes individuals who believe they have the next big idea to use Cyberport's entrepreneurship support platform to turn their dreams into reality. Together we could build Hong Kong as the international I&T hub."
Interested parties may visit https://cyberport.hk for information.
Besides Cyberport, the HKSAR Government also offers various funding programmes to encourage innovation. Another fund established by the CIC is the Research and Technology Development Fund3, which provides financial support for research projects aimed at improving the industry's performance and competitiveness. In its R&D Fund Research Agenda 2022, CIC listed out five research areas that the Fund focuses on. It includes the development of digital solutions to enhance site operations, site supervision, manufacturing, project control, and facilitating the checking of as-built against design. Under the area of "Construction Productivity", the fund encourages the development of AI for construction productivity enhancement and innovative technologies or tools for efficient construction management using 5G networks.
Details can be obtained at https://www.cic.hk/.