Back
"kNOw Touch" – contactless elevator control panel – pandemic fighter: uplifts anti-pandemic measures with a small twist at lifts
As an effort to fend off the pandemic, the Hong Kong Productivity Council (HKPC) has developed a touchless button solution named "kNOw Touch", a contactless elevator control panel using the laser curtain technology for the public to minimise the risk of virus infection through physical contact with potentially contaminated surfaces inside the lift. This innovation diminishes not only our risk, but also the fear of being exposed to virus while taking lifts in public places, thereby enabling us to "leave home safe".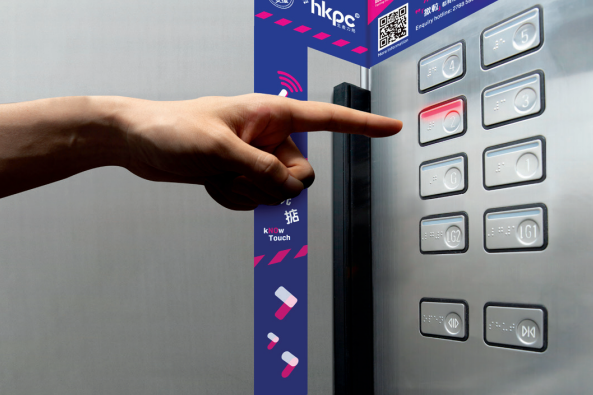 "kNOw Touch" is developed to minimise the risk of viral infection from the physical contact with potentially contaminated surfaces inside the lift
Avoid "Contact" in time of pandemic
Like many respiratory viruses, COVID-19 is mainly transmitted through tiny droplets released from the nose and mouth when an infected person exhales. A single cough can produce up to 3,000 droplets. These particles can land on other people, their clothing, as well as surrounding surfaces, but some smaller particles may remain in the air. To combat the virus, it has been very common to see teams of workers in protective gears spraying disinfectant in public places, buildings, offices, hospitals, shopping malls, restaurants and other affected areas, since the pandemic began.
However, it is still difficult for us to avoid indirect contact with the virus in public places. Several studies show that community transmission via indirect media-to-person also plays a critical role in the rapid spread of COVID-19. When infected people take lift, it is very likely that they would leave some germs on the buttons and side rails of the lift. Hence, the risk of viral infection with the traditional lift button is high. There are reported infection cases concerning contact with contaminated public facilities such as stairs and elevators in the apartment, which support the assumption of mediato-person pathway. In other words, susceptible groups such as elderlies and chronic disease patients are at risk of being infected either through direct contact with virus carriers or through indirect transmission via the contaminated environment media (media-to-person pathway).
In addition, an investigation has revealed an alarming quantity of bacteria, including Escherichia coli and Staphylococcus aureus, on the buttons of public lifts. Some samples even show that the total bacterial count of the buttons exceeds that of the toilet seat. While the bacteria are mainly brought in by people with poor hygiene awareness, those who come into contact with the bacteria may suffer from gastroenteritis, wound infection, and even kidney failure in severe cases.
Given the fact that COVID-19 can survive on plastic and steel for up to 72 hours, minimising physical touch with contaminated objects has become an essential part of the anti-pandemic efforts, particularly when it comes to pressing the lift buttons, which is often regarded as a hotbed for germs. Citizens all over the world have come up with different ways to press lift buttons indirectly. For example, they are using tissues, pens, keys and other objects instead of pressing with their bare fingers. After getting out of the lift, we still need to wash or disinfect our hands immediately as we have pressed the lift button, directly or indirectly.
Despite the many approaches we have taken, it has been difficult to keep us safe amid the prolonged outbreak of COVID-19. We need a sustainable, effective and thorough solution to avoid indirect transmission.
Pandemic fighter: "kNOw Touch"
How to prevent epidemic outbreak in public areas has become an urgent issue that needs to be addressed. HKPC, with strong support from both the Innovation and Technology Bureau (ITB) and the Innovation and Technology Commission (ITC) of the HKSAR Government, successfully developed "kNOw Touch – Contactless Elevator Control Panel" solution in mid-2020, as one of the approved projects under ITC's Public Sector Trial Scheme (PSTS) to combat the COVID-19 pandemic.
"kNOw Touch" is a cost-efficient and innovative technology application that allows users to select the corresponding floor by pointing their fingers at the floor buttons at close range without actually touching the panel. Echoing its name, "kNOw Touch" requires "No Touch". It is a sensor bar application for providing a touchless button interface which features a set of infrared distance sensors installed near the control panel of the lift and calibrated according to the distance and layout of the lift buttons.
The infrared touch-sensor is configured to emit an array of multiple infrared beams, receive reflected infrared beams, and calculate a vertical displacement and a lateral displacement according to the infrared beams to determine a corresponding information on coordinates, so as to perform mapping of corresponding lift button number and send a corresponding control command to the relay control device, which is configured to drive the corresponding relay contact to close according to the corresponding control command. As a result, the position of users' fingertip is located and mapped with the lift button panel by "kNOw Touch".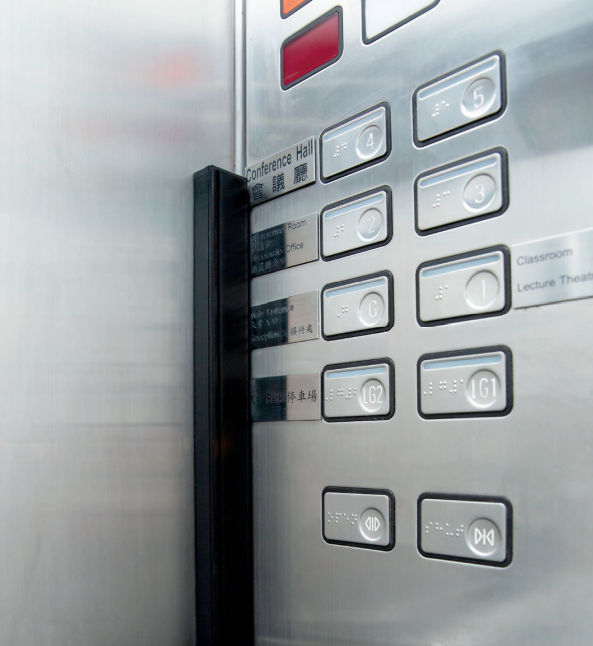 Echoing its name, "kNOw Touch" requires no touch with its touchless button interface featuring infrared distance sensors near the control panel, calibrated according to the buttons' distance and layout
By providing an alternative to pressing lift buttons, "kNOw Touch" tackles the hygiene concerns and reduces the risk of spreading bacteria and virus through physical contact with potentially contaminated surfaces. It will definitely help the general public to better protect themselves so as to combat the pandemic.
Easy to install and compatible to all types of button panels
One might be concerned that lift retrofitting or equipment modification would involve a lot of effort and cost. "kNOw Touch" is the ideal solution to tackle this. This cost-efficient technology application is easy and simple to install, requiring only a small technical twist without the need to change the original lift button system or perform vast mechanical alterations, thereby ensuring swift retrofitting. This innovation can be widely applied in different models and types of lifts, and at the same time, can easily replace conventional touch-based buttons with a sensor interface that can be activated without physical contact.
Award-winning showcase of technology commercialisation in Hong Kong
"kNOw Touch" is an exemplary showcase that demonstrates the success of Hong Kong technology (Hong Kong Tech) commercialisation. Committed to serving Hong Kong with innovative applied research and technology (R&D), HKPC collaborates with other world-class professional parties to commercialise the "kNOw Touch" solution, in building the brand of Hong Kong Tech and unleashing the potential of Hong Kong Tech internationally.
HKPC has signed two technology licensing agreements with Roborn DT Limited (Roborn) and Schindler Lifts (Hong Kong) Limited (Jardine Schindler) respectively to promote this timely and practical solution, not only in Hong Kong but also in Mainland, One Belt One Road Countries and the rest of the Asia-Pacific region, as a testament to HKPC's efforts to help the world to combat the COVID-19 pandemic as well as its proactiveness and professional competence in R&D and technology development application. Roborn and Jardine Schindler have adopted the "kNOw Touch" solution in the lift facilities of different building types in Hong Kong, as well as other regions including Mainland China, Macau, Taiwan, Japan, South Korea, Australia, India and Southeast Asia, promoting this homegrown innovation in overseas markets.
Moreover, "kNOw Touch" has already found its presence in many locations across Hong Kong such as government departments, office buildings of public and private organisations, Hong Kong International Airport, shopping centres, municipal buildings, places of worship, private housing estates, etc. The licensees will also provide aftercare services such as inspection, installation and maintenance.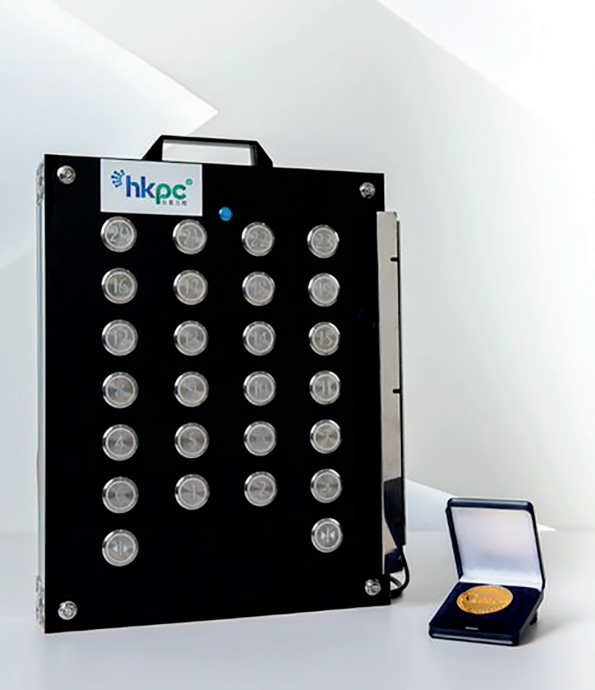 Having received local and international accolades including the Gold Medal at the prestigious 2021 Geneva International Exhibition of Inventions, "kNOw Touch" is now widely used across Hong Kong
With its timely response to and positive impact on the community, "kNOw Touch" has been awarded various local and international accolades, including the highest achievement of Gold Medal with Congratulations of Jury at the prestigious 2021 Geneva International Exhibition of Inventions, Gold Award in Smart Living (Smart Home) of Hong Kong ICT Awards, Winner (IT/Electrical) of 2021 R&D 100 Awards, Infrastructure Technology – Building Services and Facilities at the Hong Kong Business Technology Excellence Awards 2021, Innovation Awards at the TechConnect World Innovation Conference and Expo 2021, and Outstanding Healthcare Award at the Hong Kong Pandemic Innovative Digital Solution Awards (PIDSA) 2020.
The successful application of innovation helps us cope with healthcare challenges and social impacts arising from COVID-19. It is our core value to develop a practical solution to safeguard the public's health. It is encouraging that this initiative has been recognised by judges who are world-class specialists and won numerous local and international awards. With "kNOw Touch", the effective means for minimising the risk of COVID-19 transmission through touching lift buttons, we can keep enjoying a safer working, travelling, leisure and entertainment experience in everyday life.
Impact on Hong Kong's technical capability
Launched at the start of the pandemic, the cost-effective "kNOw Touch" solution leverages novel technology to solve the public's pressing demand. The National 14th Five-Year Plan supports the development of Hong Kong into an international innovation and technology hub. As one of the key R&D institutions in Hong Kong, HKPC will continue giving full play to its R&D strength, steering the development and adoption of innovative technologies.
The collaborations with Roborn and Jardine Schindler are successful showcases of the commercialisation of our R&D achievements. HKPC hopes that "kNOw Touch" will extend its reach beyond Hong Kong and tap into the GuangdongHong Kong-Macao Greater Bay Area market. By leveraging on the "dual circulation" opportunity, we believe the technology will flourish further, thereby building the brand of Hong Kong Tech, creating value for the community, and promoting the development of smart city.